20 Jan. 2019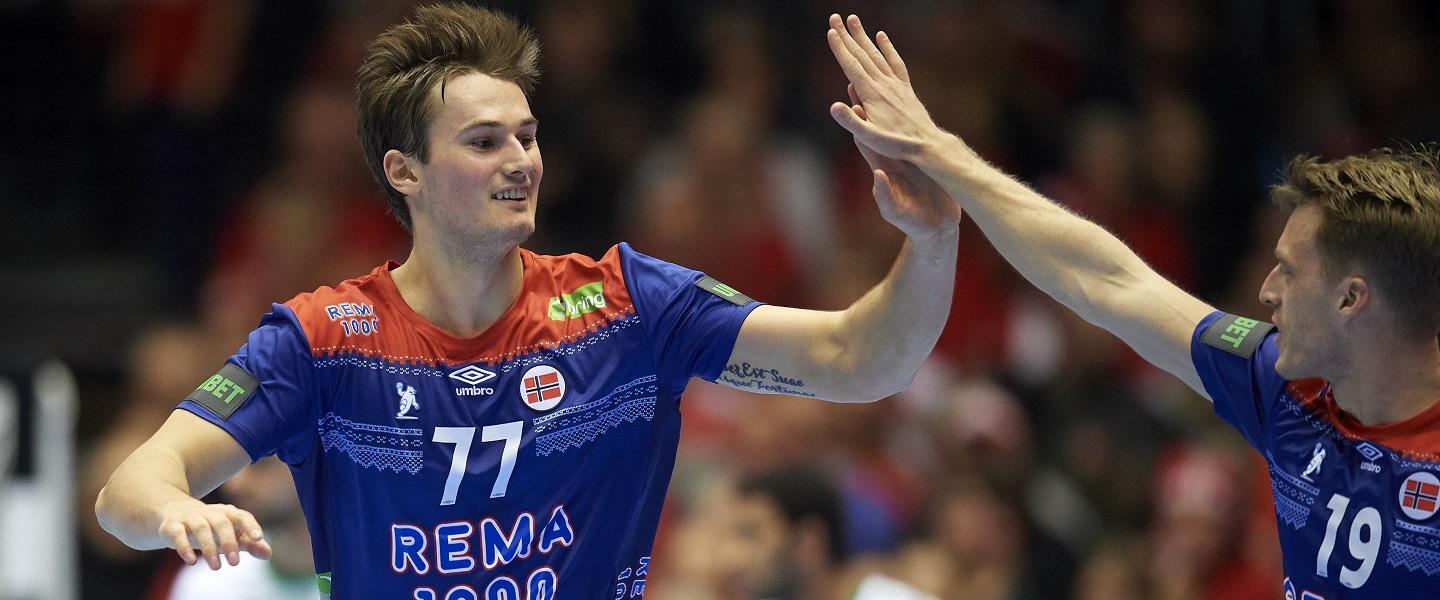 The 26th IHF Men's World Championship main round continues in Cologne and Herning with Brazil, Norway and Egypt facing must-win situations in their opening matches of this stage. All three sides, plus Croatia, were off on the first day of main round games on Saturday, when Denmark, Sweden, France and Germany collected victories.
In Group II in Herning, 2017 World Championship silver medallists Norway start their main round campaign with two points, while Egypt have one. The race in Group II is already down to four teams, as Hungary and Tunisia can no longer pass Denmark or Sweden. It is therefore up to Egypt and Norway to upset the group leaders – and whoever wins the clash on Sunday at 20:30 local time in Herning will take a significant step towards doing so.
Norway had a great run through preliminary Group C in Herning, taking four decisive wins before suffering their first defeat at the hands of Denmark. It had been expected to be a tighter contest, but Denmark controlled most of the match and built a lead as clear as nine goals before Norway closed the gap for a final result of 26:30.
"We had some really big problems in the first half with our attack and defence. We tried to make some changes in the second half, but we didn't manage to stop Denmark," said Norway coach Christian Berge in the press conference after the match.
It is no secret that Norway are hungry for success. After reaching the semi-finals at the EHF EURO 2016 and claiming the silver medal at the 2017 IHF Men's World Championship, the Scandinavian side are eager to win their first international title – and the quality of their team means they are surely on the cusp of such a success.
Egypt can expect to face a Norway line-up full of determination to do all they can to reach the semi-finals. With Norway, that usually means one thing – Egypt must be ready to run. Norway favour a fast game, which Denmark's excellent 6-0 defence largely shut down. Egypt's goals are perhaps not as lofty as Norway's, as the African side have not reached the main round for many years.
"We haven't been in to these games since 2001, so of course it's a big day for us. We reached our goal, and I hope we can do well in the main round," said wing Mohammad Sanad following their round five clash, where Egypt defeated Angola to secure their place in Group II.
Group I in Cologne:
Croatia and Brazil will meet for Sunday's first main round match in LANXESS Arena at 18:00. Croatia carried four points into Group I from preliminary Group B in Munich, while their Pan American opponents brought zero. With the leading sides in the Group, Germany and France, now on five points, Brazil cannot afford to lose against Croatia. Croatia have a touch more space to breathe, but there is little room for error in the main round with only two semi-final places available.
The second Group I match of the evening will see France looking to add another win after they defeated current European champions Spain 33:30 on Saturday evening. The defending world champions will meet Iceland, who take the court with zero points and are now fighting for a place in the Olympic Qualification Tournaments for Tokyo 2020. The match throws off at 20:30.
Group II in Herning:
Before Norway and Egypt take the court, Hungary and Tunisia will clash at 18:30. Neither side can make it to the semi-finals anymore, after their opening main round losses – Hungary versus Denmark and Tunisia at the hands of Sweden. Still, there are places in the Olympic Qualification Tournaments available, which is certainly motivation enough to work towards the highest ranking possible.
President's Cup
Qatar or Russia – which of those teams will succeed Poland as winners of the President's Cup? Russia have already been in the 2015 President's Cup final in Qatar but lost against the Czech Republic. After beating FYR Macedonia on Saturday, Russia are confident to take the trophy on Sunday in Cologne. On the other hand, Qatar were victorious in their match against Chile, which more than 11,000 fans followed live in LANXESS Arena – a new record record for this stage of the World Championship.
Before, Cologne will see another duel of Spanish-born coaches in the placement match 15/16, when the Macedonians (coached by Raul Gonzalez) lock horns with Chile, coached by Matteo Garralda. Even if they lose, Chile improve their best rank at a World Championship.
In Copenhagen, the matches for positions 17 to 24 will be carried out, starting with the match Japan vs Angola. The 2020 Olympic Games hosts are the only team at this championship without a single point on their account after losing against Korea on Saturday as Angola had beaten Qatar in their opener but then lost five matches in a row including Saturday's clash with Saudi Arabia. The Saudis will have an all-Asian duel with the unified Koreans for positions 21/22.
Austria had expected much more than playing for positions 19/20 against Bahrain one year before being co-hosts of the European championship. But they have won only one single match against the Saudis and were defeated five times so far, including the duel against Argentina on Saturday. After a great first half, Bahrain had lost against Serbia, therefore the Serbians have made it to the intercontinental placement match 17/18 against Pan American champions Argentina in the final GER/DEN 2019 match at Royal Arena in Copenhagen.
Photo: Jan Christensen