19 Jan. 2019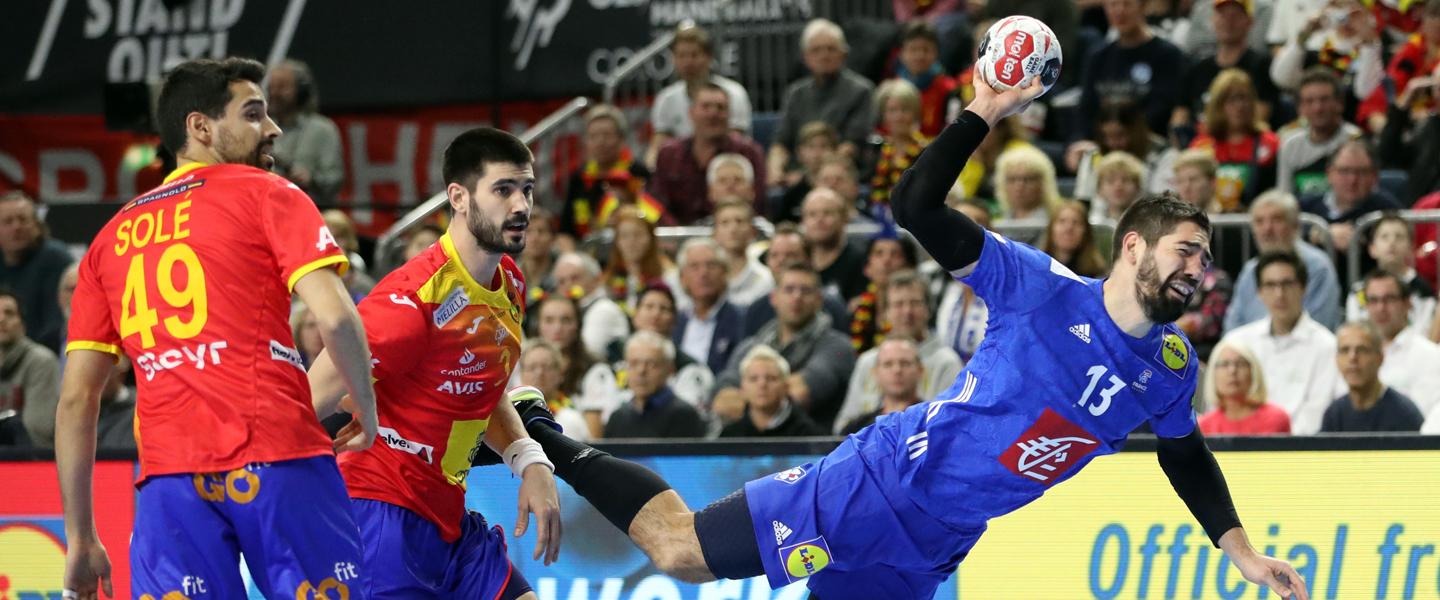 The IHF Men's World Championship title-holders France impressed against the European champions in the opening match of the Main Round – Group I in Cologne.

France vs Spain 33:30 (17:15)
Didier Dinart's World Championship title-holders France continue to improve at Germany/Denmark 2019 as, in front of 18,121 spectators in the LANXESS arena Cologne, they led the European champions for nearly all 60 minutes, except once, when the best player of the match, Spain's Ferran Sole Sala brought the scores level at 18:18 (34th minute).
This was the only time Jordi Ribera's team were in the game – a stark turnaround from a year ago when his side beat France 27:23 in the semi-final of the 2018 Men's EHF EURO.
"It was a big fight tonight against a good opponent exactly as last year in the semi-final," said Dinart after the match. "I feel that my players are focused and when Spain came back to tie, we managed to get back and keep in the lead."
Michael Guigou eased any nerves for France within the first four minutes, putting his side 2:0 up and helping them move to a five-goal lead in with five minutes remaining of the half (17:12), and if it had not been for an emphatic shooting display from Sole Sala, with nine goals in the first 30 minutes, then Spain could have been much further behind, but with France coasting, Dinart's team took their foot off the gas a little and an unanswered double from Sole Sala and one from Alex Dujshebaev saw the score much closer at the break (17:15)
Spain could also thank Arpad Sterbik, replaced overnight and arriving in Cologne this morning, who ended with 11 saves, and he watched his side bring it even for the first time since the opening whistle, but that was to be it as 6:1 run from the French took them five-clear again.
With recent replacements Nikola Karabatic and Melvyn Richardson making themselves count in the French side, the other teams at Germany/Denmark should take notice as 'Les Bleus' look to conquer the world again.
"France played a complete game for the whole 60 minutes with variants in their offence, which made it difficult for us to defend effectively," said Ribera after the match. "We played a lot of variants in our defence too, but the big point for France was at the end of the first half when they scored four goals in a row.
"In the second half, we started to turn the game, helped by our goalkeeper, and when it went to 18:18 we could feel the chance to win, but we did not take it."

hummel Best Player of the Match: Ferran SOLE SALA (ESP)