19 Jan. 2019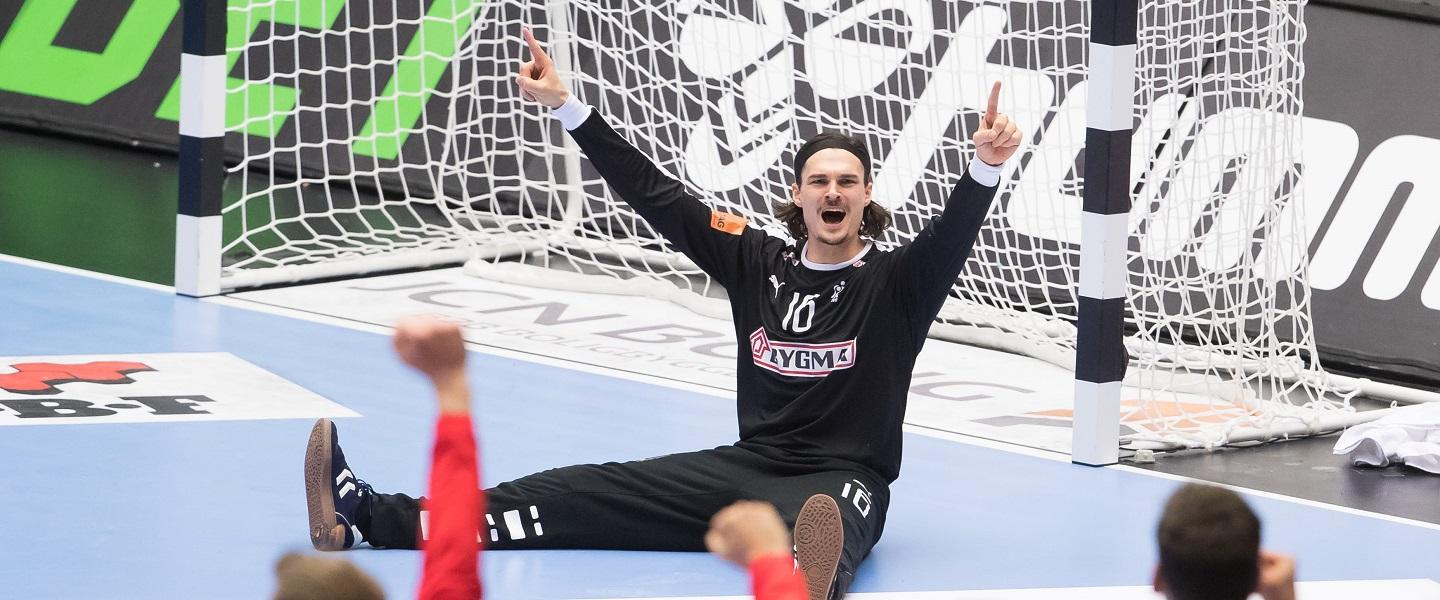 Can anyone stop Denmark? The 26th IHF Men's World Championship co-hosts continued cruising through their campaign with yet another comfortable win on Saturday night, as they defeated Hungary in their first main round match. Denmark joined their neighbours Sweden on six points at the top of the table thanks to the victory.
Following the results on the opening main round day, Tunisia and Hungary cannot pass Denmark or Sweden on the table, so both are now out of contention for the semi-finals. Egypt and Norway have yet to start the main round. They will clash on Sunday evening in what will be the African side's first match in Herning after their preliminary round campaign in Copenhagen.
Denmark vs Hungary 25:22 (15:10)
Some of Denmark's pace was gone from their usual fast-break game, but the World Championship co-hosts pulled off an impressive victory over Hungary to open their main round campaign nevertheless. For the first time, coach Nikolaj Jacobsen did not use his entire line-up, and a rather low number of Danish players – eight – contributed to the final score.
After his 14-goal game versus Norway, Mikkel Hansen led Denmark's attack again on Sunday night, tallying seven goals. In goal, Niklas Landin had his first imperfect performance after reaching the end of the preliminary round with an incredible average save rate of 45%. The Denmark captain was replaced by Jannick Green after the first quarter, who stepped up spectacularly behind the once again outstanding 6-0 defence and earned the hummel player of the match award.
It took Denmark 10 minutes to pull away from a one-goal distance, and they did not falter after that, steadily increasing the gap until the buzzer. They were the side that eliminated Denmark at the 2017 World Championship, defeating the Olympic champions in the eighth-final stage, but Hungary could not match Denmark's strength this time around.
Hungary coach Istvan Csoknyai tried different combinations, in the end favouring what were his strongest, tallest defensive options against the world-class Danish back court. For the second period, Marton Szekely came in to replace Roland Mikler between the posts. Hungary switched from 6-0 to 5-1, and at the other end of the court occasionally used two line players and two backs rather than a centre.
Though Denmark held the upper hand consistently, nothing was decided until the whistle as Hungary were still within reach, 25:21, with five minutes left on the clock. However, Denmark kept their opponents at bay and collected their sixth straight win at the World Championship.
Statements after the match: 
Nikolaj Jacobsen, coach Denmark: It was a hard game for us. The Hungarian team had good defence today and they were very aggressive. It was a victory we had to work for. 
Vladan Matic, assistant coach Hungary: We played very well today. Our young players played well, but we had problems with the Danish goalkeeper.