19 Jan. 2019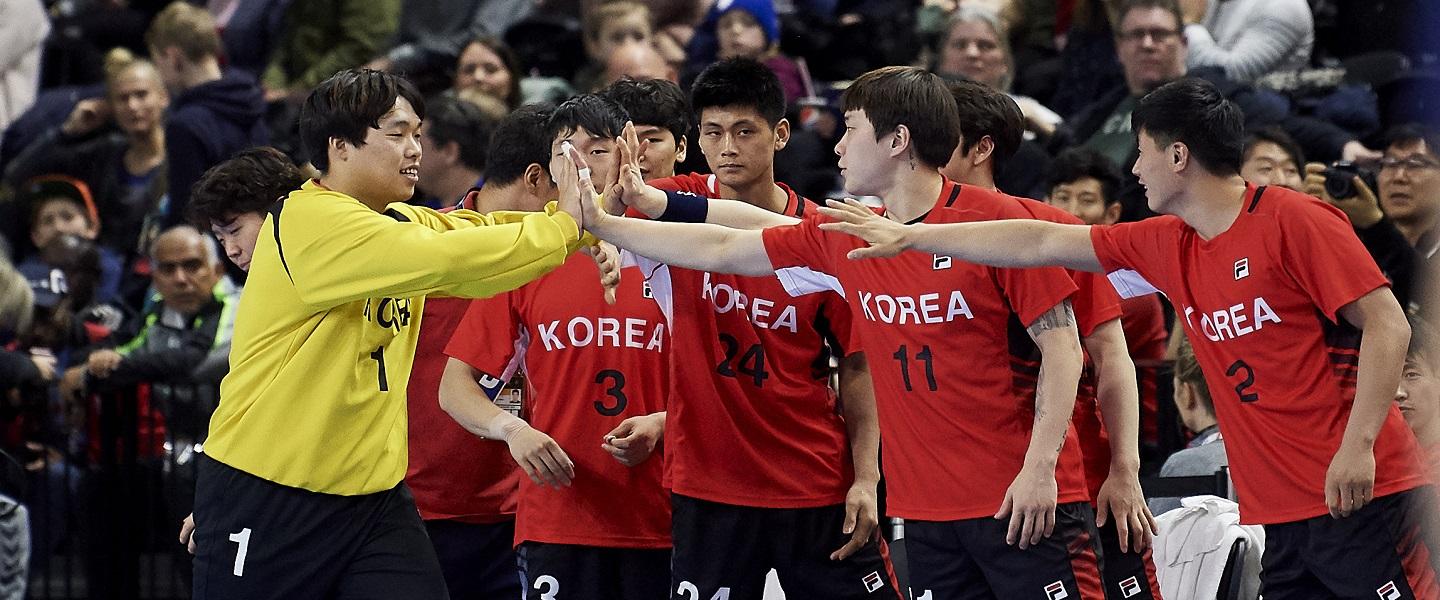 Korea - Japan 27:25 (12:14)


Two teams from Asia opened this weekend's Presidents Cup in Copenhagen. Both teams lost all their games in the group stage, but today Royal Arena would see one of them winning their first match.
Jeongu Kang from Korea was one of the players, who were in spotlight this afternoon. Kang had scored 25 goals in the tournament so far – and twelve of them were scored against Serbia. 
In the opening minutes, Akihito Kai, goalkeeper of Japan, benefitted from their one-man-advantage, due to a suspension. The goalkeeper scored the 1:1 after four minutes.
Japan were getting better as the first half progressed. Adam Yuki Baig scored on a fast break, and Japan took a 4:3 lead in the 9th minute.
Royal Arena had to wait 10 minutes for the 'Kang show' to start. He levelled the game at 4:4, and afterwards the Korean key player scored four goals in a row.
Even though Korea tried to play an aggressive defence line, Japan still managed to find the gaps they needed. Remi Doi scored his third goal this afternoon and put Japan in the lead, 7:9 after 20 minutes.
Yuto Agarie gave Japan a three-goal lead in the last minute of first half but the 'Kang show' was not over yet and just before the end of the first half, he had scored his sixth goal to bring Korea back within two at half-time: 12:14.
Korea started the second half better. They scored twice on their first two attacks (14:14) but Japan quickly responded with a goal (14:15). After Anri Remi Dor got a two-minute suspension, Japan called for a time-out, which was followed by a goal right away (15:16). 
From that point on, the match got intense with goals for both teams. The lead between Japan and Korea was always changing until the last two minutes. Even though Anri Remi Dor scored his 10th goal in the game (25:25), Korea broke through the Japanese defence and got two penalties in the last two attacks. Taehun Jo scored safely to the win 27:25.
This historic first win for the unified team means that they are going to play for 21th rank tomorrow, while Japan are playing for 23rd.
hummel Player of the Match: Jeongu Kang (COR)
Statements after the match
Japan coach, Dagur Sigurdsson: It was a tough game for us, with a lot of suspensions. Korea did the 5-against-6 well. I think that this tournament has been very emotional for us, and especially the last match against Bahrain. We never really came back after that.
Myong Choi SIN, Korea: We are very pleased with this win. It has been a difficult championship for us. Japan played very well, and I think that we won today, because we had a very good goalkeeper, which helped us a lot. Tomorrow we will do our best again, and fight for audience who are here to support us.
Jeong Kang, Korea: This is my first championship on this level, and today was my first win, it was of course a nice experience. Before the game we were a bit nervous, because Japan were getting better and better, but we fought and gave everything we could.
Shinnosuke Tokuda, Japan: It was the worst game for us, today. It's not our way to play handball. I'm sorry that we didn't handle to show more fight and spirit. I hope that we well improve and show tomorrow.