19 Jan. 2019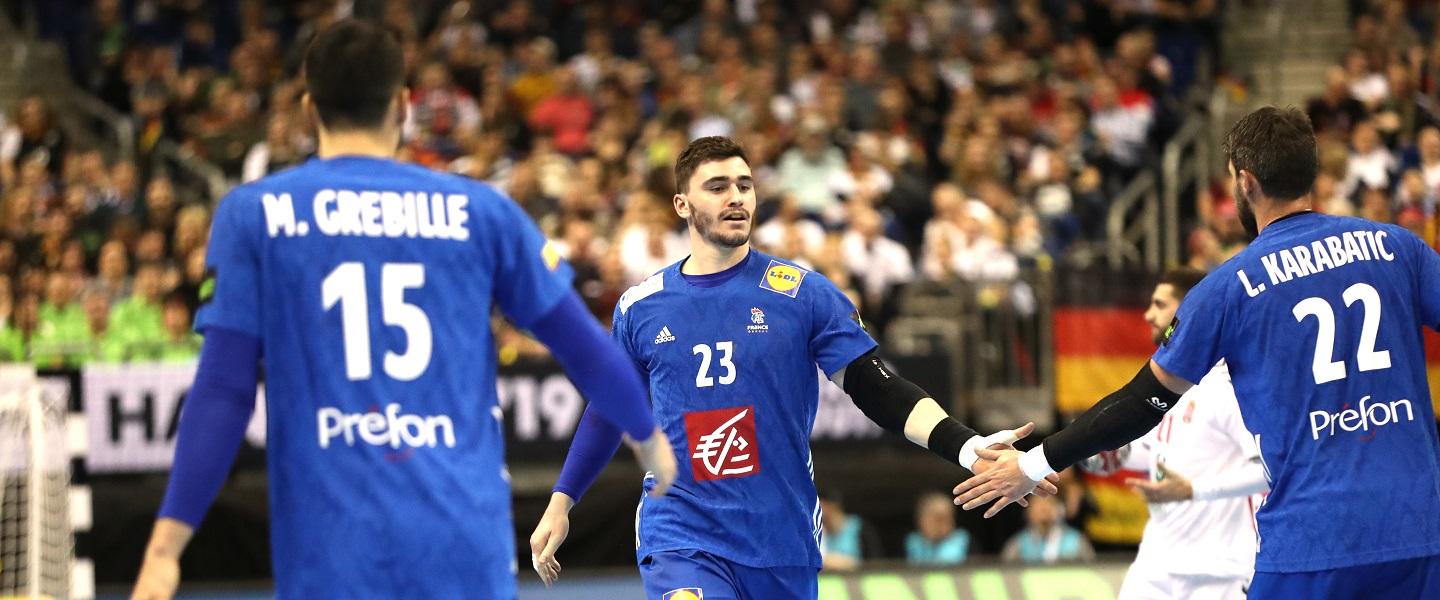 The 26th IHF Men's World Championship said goodbye to Munich, Berlin and the Preliminary Round on Thursday and welcomes the Main Round, President's Cup and Cologne to the table of global handball later today.
Opening the main round at the LANXESS arena in Cologne, Germany, is the standout clash between 2017 world champions France and 2018 European champions Spain, followed by the co-host nation Germany taking on Iceland. At the Jyske Bank Boxen in Herning, Denmark, Tunisia face Sweden, while the other co-hosts, Denmark, play Hungary.
The President's Cup, for 13-24 place, also gets underway, with Russia vs FYR Macedonia and Chile vs Qatar in Cologne and at the Royal Arena in Copenhagen, Denmark, four games will feature: Unified Korea vs Japan, Saudi Arabia vs Angola, Serbia vs Bahrain and Austria vs Argentina.
Main Round
Match of the Day: France vs Spain (18:00hrs)
51 weeks ago, exactly, Jordi Ribera's Spain defeated Didier Dinart's France 27:23 in the semi-final of the 2018 Men's EHF EURO in Croatia as the Spanish team easily dispatched the world champions, leading by six at the break (15:9) in the Zagreb Arena, on their way to continental gold.
While the main round at Germany/Denmark 2019 represents a small opportunity for France to get some revenge, they will be looking for the win to get those valuable two points which will help their dreams of reaching the semi-finals, one step further to retaining their World Championship title, won on home court back in 2017 – just like Spain did in 2013.
Spain's preparation has been affected by an injury to goalkeeper Rodrigo Corrales Rodal in their warm-up yesterday, resulting in 39-year-old goalkeeper Arpad Sterbik being brought in. The Veszprem player will join the squad later today, having flown into Cologne this morning.
France, who welcomed back Nikola Karabatic to their squad on Thursday, won four and drew one of their preliminary group matches, scoring 138 goals and conceding 113, while Spain won four and lost one, scoring 142 times with 114 let in.
"At the beginning of the tournament, we knew that as it is so long, we can only think about the next game and we will keep thinking this," said Spanish pivot Julen Aguinagalde. "We can win or lose against anybody as anyone can beat anybody here. I am proud of my team and we have been in this situation in the past when we have not taken maximum points into the main round, but  we have confidence in our teammates and the coach."
Germany vs Iceland (20:30hrs) 
Iceland face an uphill task to get through to the semi-finals, needing a lot of luck – and wins – starting with a tough task against co-hosts Germany in their opening Main Round clash as the team continues the opening stages of what coach Gudmundur Gudmundsson called a "three-year plan".
"We have a young and new team which we are building up," said Gudmundsson ahead of the match about his young squad. "Some of the players have never been in a big tournament like the World Championship or European Championship."
Taking zero points into the main round, Iceland, coached by the former Rhein-Neckar Löwen coach Gudmundsson, are familiar with German handball, none more so than their captain Aron Palmarsson, who played for THW Kiel, where he won two Champions League titles. Kiel, along with numerous other clubs have featured members of the current Iceland squad in Germany.
The Icelandic player of the match in their winner-takes-all clash with FYR Macedonia on Thursday was Arnor Thor Gunnarsson, who currently lies in joint-second place in the goalscoring charts on 31 goals, tied with Germany's Uwe Gensheimer.
The Germans will be buoyed by a sure-to-be passionate home crowd at the traditional venue of the VELUX EHF FINAL4, and knowing that back in 2007 they met, and beat, Iceland (33:28) in Dortmund on their way to a home World Championship success.
The teams have met 79 times in all competitions, with Germany winning 48 times and losing on 26 occasions.
Tunisia vs Sweden (18:00hrs)
By qualifying for the Main Round, Tunisia are guaranteed a top 12 spot in the World Championship, already their best result since 2013, and if they were to finish 10th or higher, it would be their best result since 2005 (fourth). Leading them there has been the dual striking threat of Oussama Boughanmi (24 goals) and Mosbah Sanai (23).
But history is not on the side of the North African's, with the European team beating them 10 times in their 13 clashes, most recently at the London 2012 Olympic Games, and with goalkeeper Andreas Palicka in inspired form in Germany/Denmark 2019, averaging a 45% save rate, Tunisia will have trouble breaching the Scandinavian defence.
Ahead of the clash, Sweden coach Kristjan Andresson replaced Jim Gottfridsson with Montpellier pivot Fredric Pettersson after Gottfridsson picked up a calf muscle injury.
Denmark vs Hungary (20:30hrs)
Another packed Jyske Bank Boxen will be expecting another two points for the co-hosts Denmark, led by the inspirational Mikkel Hansen who tops the Germany/Denmark 2019 scoring charts with 35 goals from 47 shots, strikes which have helped put his side on 167 goals overall, second in the championship scoring charts.
Like Sweden, Denmark can rely on an influential goalkeeper, with Niklas Landin sitting second in the charts, thanks to 54 saves (the most overall) and a 45% save rate.
Having won all five games in the preliminary round, Denmark take the maximum four points into the main round as Hungary, with just one, need a win to get their knockout dreams back on track. Ahead of the game, Hungary coach Istvan Csoknyai replaced centre back Gabor Csaszar with left back Zoltan Szita.
In 2017, these two teams met at the World Championship in France with Hungary beating them 27:25 in the eighth-finals, but more recently, Denmark defeated them clearly, 32:25 at the Men's EHF EURO 2018 in Croatia.
President's Cup: Four continents involved in first placement rounds
Cologne and Copenhagen are the venues for those twelve teams, which fight for the ranking positions 13 to 24 at GER/DEN 2019. Those four teams who ranked fourth after the Preliminary Round duel in Germany for the trophy of the Presidents' Cup, while the fifth and sixth-ranked sides clash in two groups in Denmark.
Cologne: The President's Cup final will definitely be composed of teams from two different continents: one European nation – either Russia or FYR Macedonia – will clash with the winner of the match Chile vs Qatar on Sunday. The biggest story in Cologne is the fact that Russian coach Eduard Koksharov, at the same time sports director at Macedonian side Vardar Skopje, will face two club mates and former coach Raul Gonzalez, who had steered Vardar to the Champions League trophy in 2017 and currently coaches Paris Saint Germain.
Chile have already reached their by far best ranking at World Championships after their two wins against Austria and Saudi Arabia in the Preliminary Round. Before, the 21st rank in 2017 was the best position. As their opponents Qatar had twice, in 2015 (silver medal) and 2017 (8th ranked), been the best non-European country, the fourth rank in the group was a disappointment for the Asian champions. Both coaches – Valero Rivera (Qatar) and Matteo Garralda – are Spaniards, and Rivera was Garralda's coach in the golden era of FC Barcelona.
Copenhagen: While Serbia are the favourites against Bahrain in the first match of the previously fifth ranked teams in Copenhagen, the duel Austria vs Argentina is expected to be closer.
Three Asian teams and Angola are part of the round for the positions 21 to 24. In the all-Asian encounter, the unified Korean team face the 2020 Olympic hosts Japan, while the African bronze medallists lock horns with Saudi Arabia, fourth-ranked at the Asian championship 2018.