17 Jan. 2019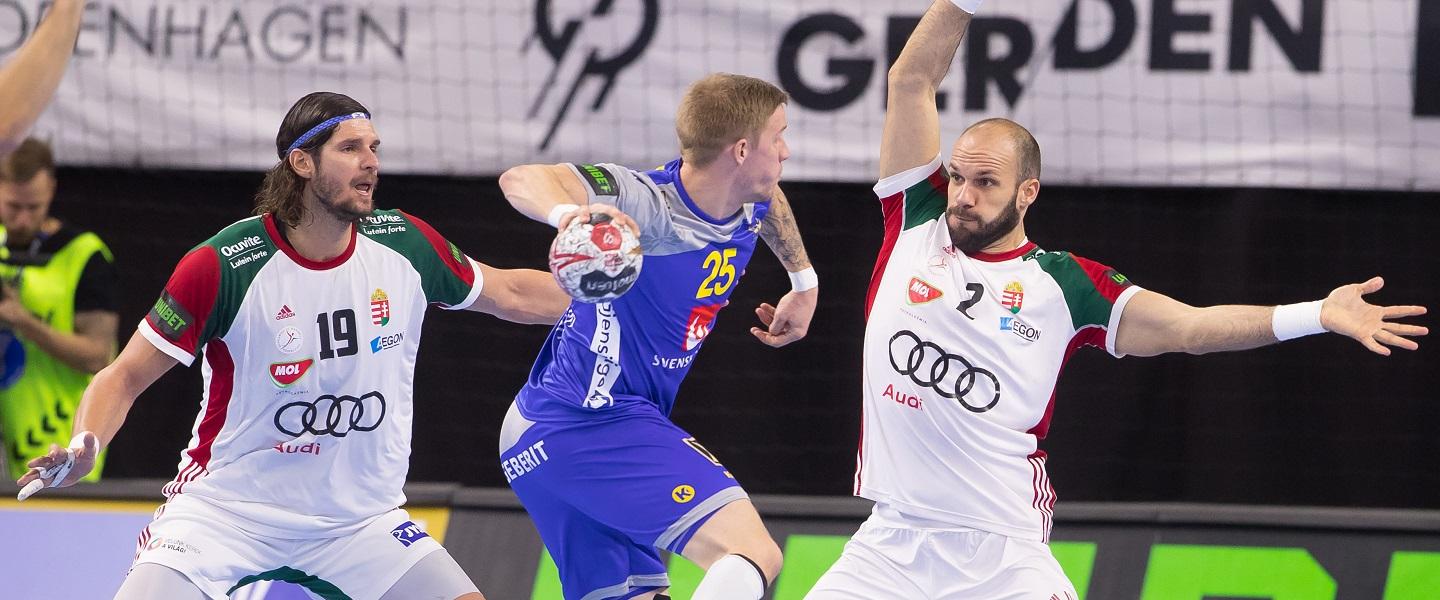 Sweden - Hungary 33:30 (17:15)


The last game in group D was a group final between the favourites from Sweden and Hungary. Both teams had already advanced to the upcoming Main Round – the only question left to answer was: how many points will they carry over?
Royal Arena was, as usual, dressed in the yellow and blue colors. The Hungarian fans were nicely represented as well. Everyone was seeking the opportunity to watch the group final. 
Just before the World Championship started, Kim Ekdahl du Rietz returned to the Swedish national team and completed his comeback. The Paris Saint-Germain player put Sweden in the lead 2:1 in the first minute of the match. However, Hungary equalised from the 7m-line just seconds later. Dominik Mathe scored the 2:2. Three minutes were played.
Appelgren was back in the goal today, and he continued the excellent way the Swedish goalkeepers have played in this group stage. Hungary was trying to slow down the extremely high pace of the opening minutes.
Mate Lekai gave Hungary a 5:3 lead, after a nice breakthrough, and the Hungary team just increased their lead. In the 13th minute Dominik Mathe could score yet another penalty goal.
The Swedish Coach Kristjan Andreasson needed a team talk, and he took the first time-out.
Hungary was strong in defence, with their tall players, playing in an aggressive way. Maybe Bence Banhidi was a bit too aggressive – he was suspended for a though tackle.
That brought hope into Swedish team. In the 16th minute Albin Lagergren reduced for Sweden (7:9), and in minute 19, Niclas Eckberg could score his second, and made it 9:10.
Within a few minutes Adrian Sipos was suspended two times and Sweden took advantage of that: Lukas Nilsson levelled at 11:11 in minute 22.
Mate Lekai was one of the most impressive players in the first half, he brought Hungary back with his amazing skills: 12:13 in minute 26.
Two minutes to go and Sweden took the lead back. Niclas Eckberg scored a penalty and put Sweden in the lead, 14:13.
Jim Gottfriddsson could finish the first half with a goal, which was at the same time the last strike in the first 30 minutes. Sweden took a 16:15 lead into the break.
The teams were ready for an intense second half just as well as the fans, from both Hungary and Sweden, who once again did an astounding job and created an amazing atmosphere. When the Swedes changed Andreas Palicka for Mikael Appelgren (saving rate at 34%) the Swedish fans gave him a big round of applause. 
Andreas Palicka saved the ball and at the other end Mattias Zachrisson scored a goal, which made Sweden lead by 27:25. In response, Hungary took their second time-out.
Marton Szekely kept Hungary in the game with some very good saves. After 51 minutes played, the Swedish Official Team got a warning and Marton Szekely saved a penalty as the scoreboard showed a 29:28 lead for Sweden.
Laszlo Nagy got the Hungarian fans cheering when he equalised (29:29).
With two minutes left Sweden closed the match with a goal from Lukas Nilsson, who scored seven goals for Sweden.
Mate Lekai scored eight goals in the match and was the Hungarian top scorer.
After a fantastic match with numerous great saves and goals from both sides, Sweden won the encounter by 33:33. The Scandinavians take four points to the Main Round in Herning. Because of the earlier win to Egypt this evening Hungary carries over one point to the Main Round.
hummel Player of the Match: Lukas Nilsson (SWE)
Statements after the match
Swedish coach, Kristjan Andresson: Very intense game, with a lot of quality. I'm proud of my team, our goal was to reach the main round with 4 points, which we did. We know that Denmark and Norway will be tough opponents. We will do our best to reach the semis in Hamburg.
Hungary coach, Vladan Matic: We played a spectacular match. It was our first defeat. I think we were unlucky today. Let's hope that we can play a little better in the following matches.
Lukas Nilsson, Sweden: It was tough match. We knew that they are a strong team, but we managed to fight 60 minutes. My own performance was good today; it worked very fine, with the line player, (red. Andreas Nilsson) and I. It had been some rough days with many games. But we knew that. It feels very good, to bring 4 points with us to Herning, but at the same time, it's a shame to say goodbye to this arena, which gave us an amazing support.
Marton Szekely, Hungary: We feel sorry today, that we couldn't manage to get any points. We did our best. We are happy that we are equal with Egypt and have the same score as them. I want to congratulate my team with our place in the main round.