17 Jan. 2019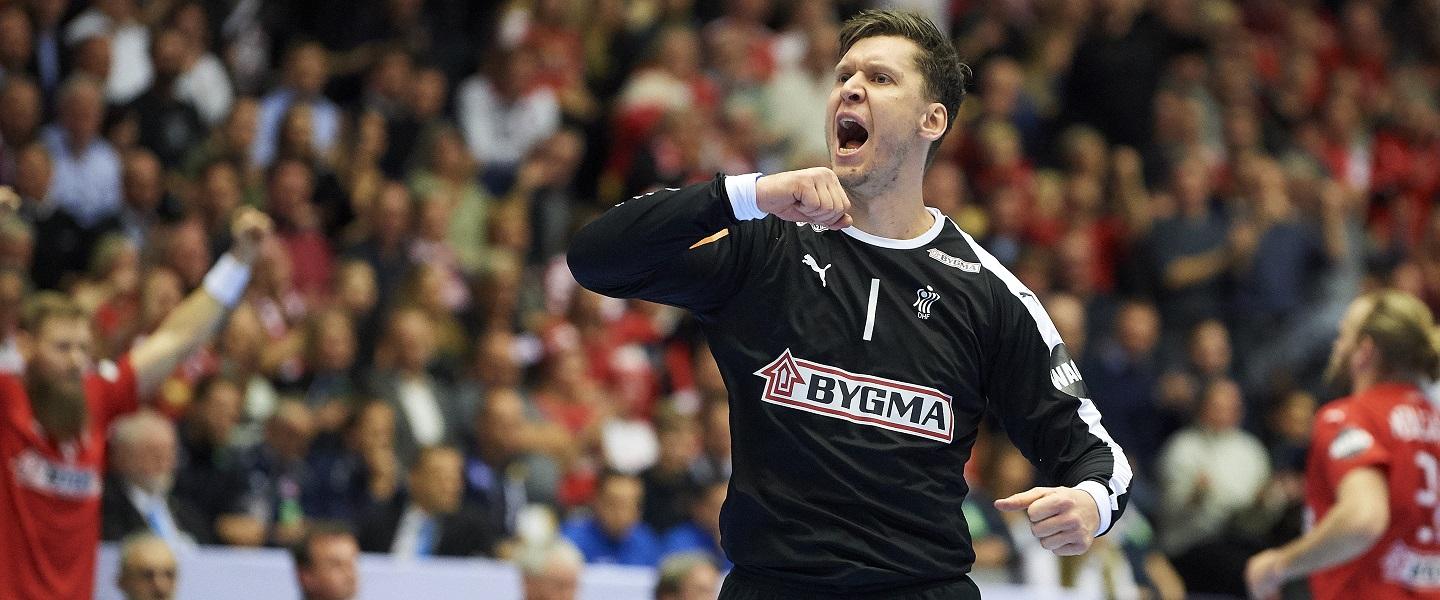 Denmark proved just what exceptional form they are in at their home World Championship, as they took a commanding victory over 2017 silver medallists Norway. It was expected to be a fast-paced, level match – as it turned out, Denmark had little trouble controlling the game and shutting down Norway's trademark quick play thanks to their superb defence.
Denmark vs Norway 30:26 (17:14)
It was the Mikkel Hansen and Niklas Landin show, as the duo led Denmark to their fifth win in five games at GER/DEN 2019 with their exceptional individual performances. Hansen tallied a total of 14 goals and was awarded the hummel player of the match, while Landin's cooperation with the 6-0 defence was all but perfect.   
The momentum began to swing Denmark's way after Landin saved a penalty versus Norwegian superstar Sander Saogsen in the fifth minute, 2:1. At that point, Norway had already had such trouble finding the goal off their shooting opportunities that their accuracy stood as low as 17% to Denmark's 67%.
Not only did Landin make a high number of saves, but Norway hit the post more than once and also made uncharacteristic errors with easily intercepted passes. It may have been an off day for Norway, particularly playing in the full Jyske Bank Boxen, but Denmark's defence was the main reason for their opponents' troubles.
With Hansen on fire at the other end of the court, Denmark slowly tightened their hold on the game. After 15 minutes, the co-hosts led 8:6. The distance stayed at two, though Norway came within one, 11:10, off a fast-break goal – incredibly, the first of the match – from Goran Johannessen in the 21st minute. Landin's saves paved the way for Denmark to pull further ahead to a three-goal advantage at the break.
Hansen opened the second half with his eighth goal, at which point Norway had picked up their efficiency, though they still could not score their trademark counter attack goals and their attack certainly suffered as a result. Denmark streaked ahead to a distance as big as nine goals, 25:16, with Hansen's 13th goal in the 44th – but then the 2016 Olympic champions lost their footing a little and Norway steadily closed the gap.
Norway coach Christian Berge called his final time-out when his side had decreased the score line to three, 24:27, with just under four minutes remaining. Norway managed to come as close as two goals in the final minutes, but Denmark kept them at bay and celebrated a four-goal win at the whistle.
The victory puts Denmark on top of Group C while Norway finish second ahead of Tunisia.
Statements after the match:
Nikolaj Jacobsen, coach Denmark: It was a tough match. We knew that from the beginning. We are today playing one of best teams in the world. If you have to beat them, you have to have a good day; your key players have to play well. That was the case in my team today. I think we fought very well in defence. Norway are very good at one against one and it's not easy to defend against them.
Especially in the first half, Niklas Landin was great. In the second half we had a good start and went in front by I think eight or nine goals, but then we missed too many chances. Espen Christensen came on the floor and managed to get Norway back in the game. I think we were a little bit nervous at that point because we were not so many goals away.
But good defence in the end and good saves from Niklas, and we managed to ride the storm out. At the end I've very satisfied that we could win against such a great team.
Christian Berge, coach Norway: I thought they played better than us today. We had some really big problems in the first half with our attack and defence. We tried to make some changes in the second half. But we didn't manage to stop Denmark. Overall, I think Denmark was the best team today, clearly better than us, so it was two points for Denmark.