17 Jan. 2019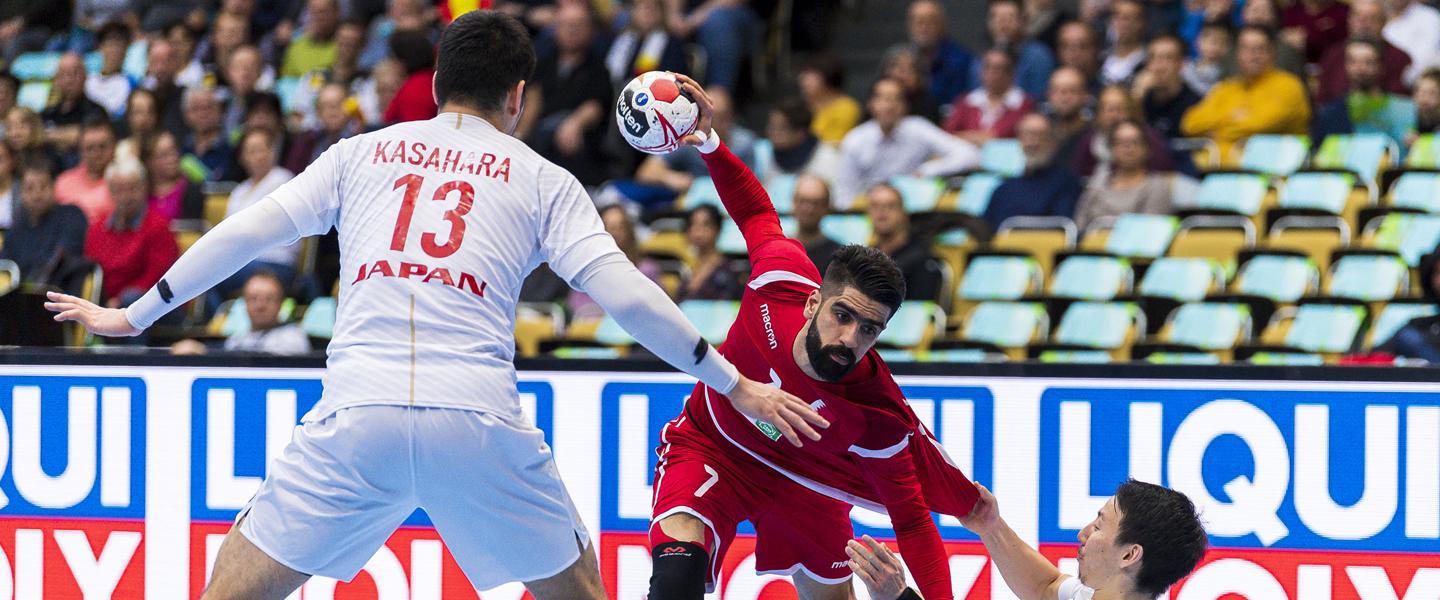 The final day of Group B matches in Munich saw a continental clash between Asian nations Japan and Bahrain, both coached by Icelanders, and with the winners going into the 17-20 placement round and the losers going into battle for 21st-24th position, it was a tight battle, eventually won by Bahrain.
Bahrain vs Japan 23:22 (10:9)
One year ago, at the AHF Men's Asian Championship in Korea, Bahrain easily beat Japan 29:21 in the main round – which was effectively a semi-final play-off place.
And after an impressive preliminary round at the Olympiahalle in Munich, where they led, and kept close to the four European teams, the stage was set for the 2020 Olympic Games' hosts to finally get some points on the board against their regional rivals, but it was not to be as they lost a two-goal lead (22:20) with less than four minutes remaining, going down 23:22 thanks to a last-second strike from Bahrain's Ali Merza.
Merza had started and ended the scoring, opening the game with nearly four minutes on the clock, but the teams could not be separated throughout the opening 30 minutes as the lead changed seven times with Bahrain going in one up (10:9).
A disastrous opening third quarter for Bahrain saw Japan go on a 10:4 scoring run, including five unanswered goals (19:14), but Bahrain brought it back to within one again (22:21), with just over a minute left. 
After a foul from Kenya Kasahara, Mohamed Habib made it all even again from the seven-metre spot and then when Hiroki Shida hit the Bahrain post with 13 seconds left, they sensed blood as Kristjansson immediately took a time out, getting his team ready for the set-play which did the business as Merza smashed home from distance.
"We are very disappointed as it was a very dramatic in the end," said Dagur Sigurdsson about his Japan team. "I cannot understand how we lost the last 15 minutes - it was really, really strange in many ways; we made lots of mistakes and this was a difficult period for us.
"In this game Bahrain were better, but overall we deserved [more] in the group as I think were stronger overall."
Ahead of the game, both teams knew they could not progress any further at Germany/Denmark 2019, but the result means that Bahrain will now travel to Copenhagen to play for position 17-20 and Japan will play for 21-24, starting with a match against the unified team of Korea.
The result for Bahrain means that will finish in minimum 20th place, which will be their highest-ever finish at a world championship.
"We are satisfied with this victory and 20th place [or higher] is a step forward for Bahrain," said Kristjansson. "Both teams were looking for a win and despite five games in seven days, we held our discipline. We managed to get into the game again and in the end, we had the luck."
hummel Best Player of the Match: Hiroki MOTOKI (JPN)