17 Jan. 2019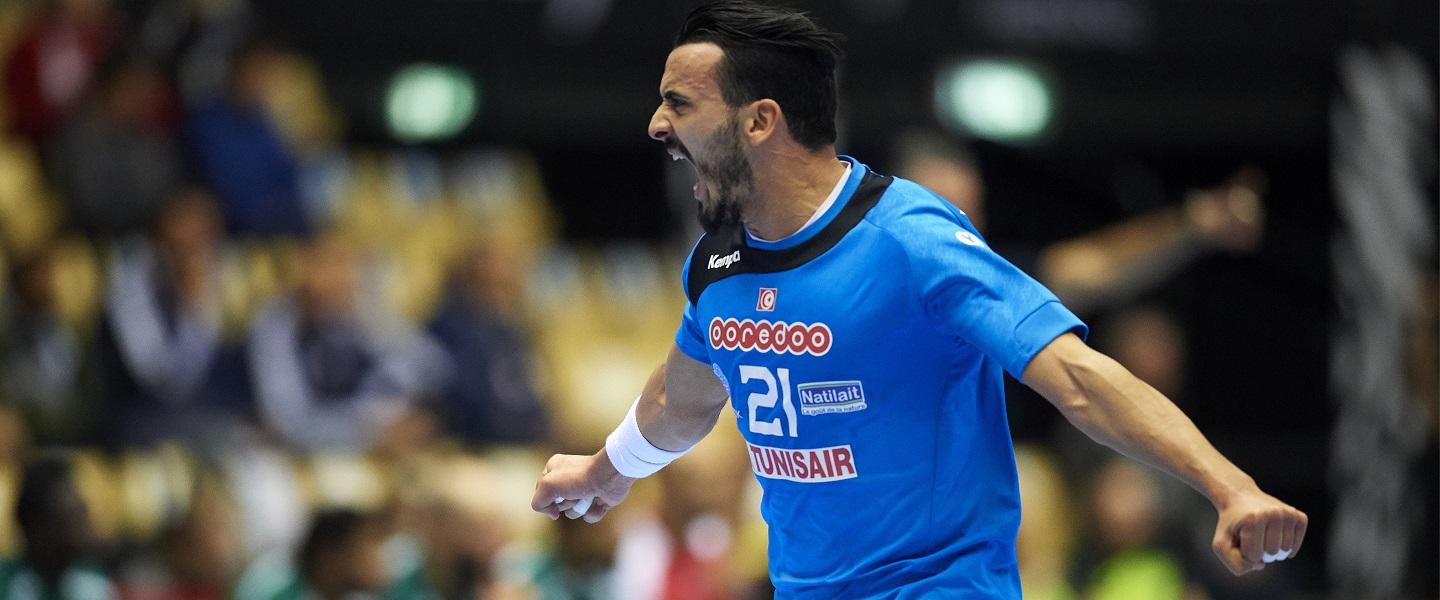 Eight of twelve participants for the Main Round groups in Cologne (teams of Groups A and B) and Herning (C/D) are confirmed – in three of four groups (B, C and D) direct duels of the top ranked sides will decide the group winners on the ultimate match day of the preliminary round on Thursday.
In terms of the final third-ranked sides, many options are possible – like in the Match of the Day, when African champions Tunisia face Austria. Those two sides plus Chile still have chances to proceed, and only Tunisia have the fate in their own hands. In all constellations, a draw is already enough for the African champions (four points) to proceed to Herning. If Chile (two points) beat Saudi Arabia before, Tunisia could even lose by a difference of ten goals against Austria (two points) and still go on. If Chile do not win, then Austria 'only' need to beat Tunisia to clinch the Main Round berth. The reason for this constellation are the previous results in the matches Chile vs Austria (32:24) and Tunisia vs Chile (36:30). Besides, Tunisia had beaten Saudi Arabia.
"We do not look on Chile before, but only one us. Though winning by eleven goals looks like an extremely high hurdle, it is possible to do so," said Icelandic-born Austria coach Patrekur Johannesson. Austrian goalkeeper Thomas Bauer joined the team after being at the birth of his child on Tuesday – the coaches will decide, whether Bauer will play or not.
Group A in Berlin:
The final day in the yet again sold-out Mercedes-Benz Arena in Berlin will offer either an early decision or a thrill until the end. If Brazil beat Korea in their first match on Thursday, the Pan American runners-up – like France (currently on seven points) and Germany (six points before the last match day) – are through to the main round. In case of a Brazilian draw, they proceed if Russia (four points) do not beat France.
If Brazil lose and remain on four points, the gate is open for Serbia. If they beat Germany, Korea beat Brazil, and France lose to Russia, the Serbians (three points currently) are in the Main Round. If first Brazil lose and later Serbia do not win against Germany, Russia have their fate in their hands against France. If they win, they are among the twelve best teams of this competition.
Group B in Munich:
The match schedule in Munich could not have been created in a better way: Bahrain and Japan (both on zero points) clash for the positions five and six in this group in match one of the final round, and a draw is already enough for the Japanese side of Dagur Sigurdsson, clearly having the better goals difference. Match two will answer the question whether FYR Macedonia or Iceland (both on four points) will join Croatia and Spain in the Main Round in Cologne. In this case, Iceland have the better goal difference. Definitely, either the Macedonians or Iceland will carry zero points over to the next stage, as both sides had lost against Spain and Croatia.
The final GER/DEN 2019 match in Munich then is the big highlight of this group: Croatia and defending European champions Spain will face in the clash of the giants, both counting eight points from four matches so far. The goal difference of Spain (+33) and Croatia (+32) is nearly similar, but means that Croatia will have to win to finish on top and to start the main round with the optimum of 4:0 points.
Group C in Herning:
As mentioned before, the final decision about the third-ranked team to proceed to the Main Round, is made in the first two matches. In the final match in Herning, hosts Denmark have their duel against their Scandinavian neighbours Norway ahead. Both sides have eight points on their accounts, both sides have a goal difference of currently + 60 goals. But as Norway have scored more goals than Denmark (148:137) a draw would already be enough for them to finish on top. The Danes need to beat the silver medallists of the 2017 World Champions to on one hand finish on top and to carry the optimum of 4:0 points to the next stage.
Group D in Copenhagen:              
Sweden have four wins on their account, while Hungary are still unbeaten, but with two points less after the draws against Argentina and Egypt. Before their final top duel in Copenhagen, both have already booked their Main Round ticket. A draw is enough for Sweden to finish on top of this group, but would mean that the Tre Kronors would not carry the optimum of four points to Herning.
The remaining four teams are still in the race for the third Main Round spot in this Group: Argentina and Egypt have three points each on their account, if they would remain equal, Egypt would be ahead, thanks to winning the direct encounter. Angola and Qatar both have only won one match each, including the Angolan victory in the direct duel. First, Egypt will play Angola in the all-African duel – if they win, the deal is sealed as in this case, Argentina cannot pass the Africans anymore.
Photo: Jan Christensen