16 Jan. 2019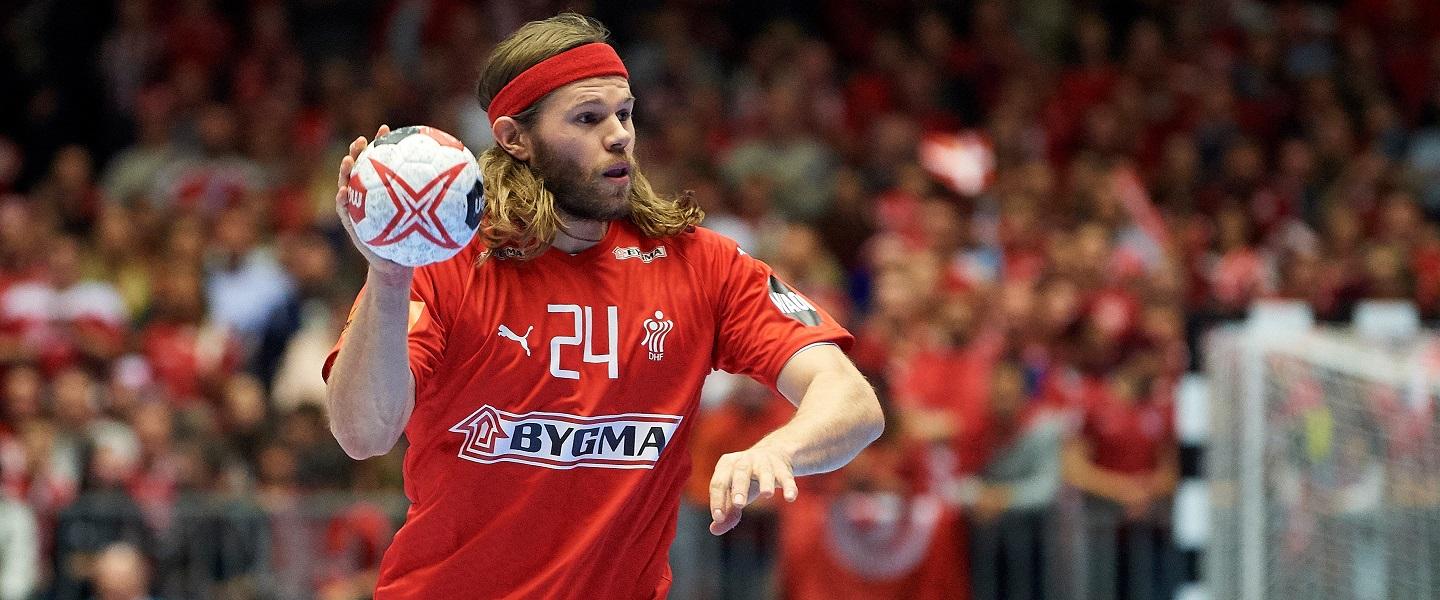 Denmark have had a flawless start to their home World Championship, collecting four wins in as many matches. Aside from a slight stumble in the first 20 minutes of their round four match against Austria, the 2016 Olympic champions have shown impeccable form and are looking like a serious contender for the title early on.
Denmark opened their campaign with a decisive win over Chile in Copenhagen, in a packed Royal Arena with a spectacular atmosphere.
"It was a very good opening for us. We stood well in defence and made lots of goals from fast breaks," said centre back Mads Mensah. "All in all, it was a good fight for us and it was very nice to play for such an audience. It's always nice to win and nice to win big and comfortable."
The final score line of 39:16 was not the only impressive aspect of Denmark's performance. During the 60 minutes, the hosts were relentless, showing their speed on counter attacks and their superb defence supported by an in-form Niklas Landin. Their wings wasted no time showing how lethal they are, with Casper Mortensen leading the way on eight goals from eight shots. It was a hint of the style of play to come.
Following the round one clash, Denmark travelled to the home of Group C, Herning, where they have enjoyed an incredible ambience in what is their favoured playing hall. In Jyske Bank Boxen, Denmark have entertained the crowd with victories over Tunisia, Saudi Arabia and Austria – and each one was an opportunity to see just how strong they are.
The match against Austria was something of an exception, as the World Championship co-hosts had a shaky start, but they recovered to claim an 11-goal victory in the end. Denmark now sit on top of the table alongside Norway, with both on eight points thanks to their perfect records. Importantly, Denmark have not suffered any major injuries, though Mortensen was forced to sit out of the Saudi Arabia and Austria clashes after a minor knee injury in the Tunisia match.
"I think we started really good with a lot of speed. Niklas took every ball and Lauge was driving our fast breaks, so I don't think it was that fun for Tunisia in the beginning," said Mensah following the match versus the African champions. That speed is clearly a key weapon for Denmark, and they will certainly be ready to use it and capitalise on Landin's saves – which have earned him first place on the top goalkeeper ranking so far at GER/DEN 2019 – in their upcoming crunch match.
In round five, Denmark will meet the 2017 World Championship silver medallists Norway in the battle for first place in the group and another two points to carry to the next stage. Placement on the table is critical under the revised playing system, as the main round is expected to be highly competitive and only the top two teams will proceed from there to the semi-finals. Every goal can become crucial in the race for the penultimate round.
The Scandinavian classic is expected to be an extremely fast-paced match, considering the strength of both side's counter attacks, as well as the exceptional keepers. Norway's Espen Christensen is currently ranked second overall behind Landin, while Torbjorn Bergerud ranks sixth on the list of most saves at the World Championship. Their saves will pave the way for counter attacks and fast breaks.
It seems both teams have been preparing for this match through the entire preliminary round. Norway in particular have clearly been working on forcing the pace of the game to be as fast as possible, likely in preparation for Denmark. Coach Christian Berge has mentioned this tactic in every press conference:
"We had a plan to train on our counter attack in this game. We would like to get the game to go fast and I thought we did that pretty well," said Berge after Norway defeated Saudi Arabia in round two.
The most decisive factor ahead of the clash appears to be the performance of the keepers and which side can outrun the other. Denmark and Norway know each other well, not only due to their fairly regular matches in the Golden League, but also individually through Europe's top club competitions where most of the players ply their trade.
Can Denmark continue their perfect winning run all the way to the main round, or will the formidable Norway team hand their hosts their first defeat?