16 Jan. 2019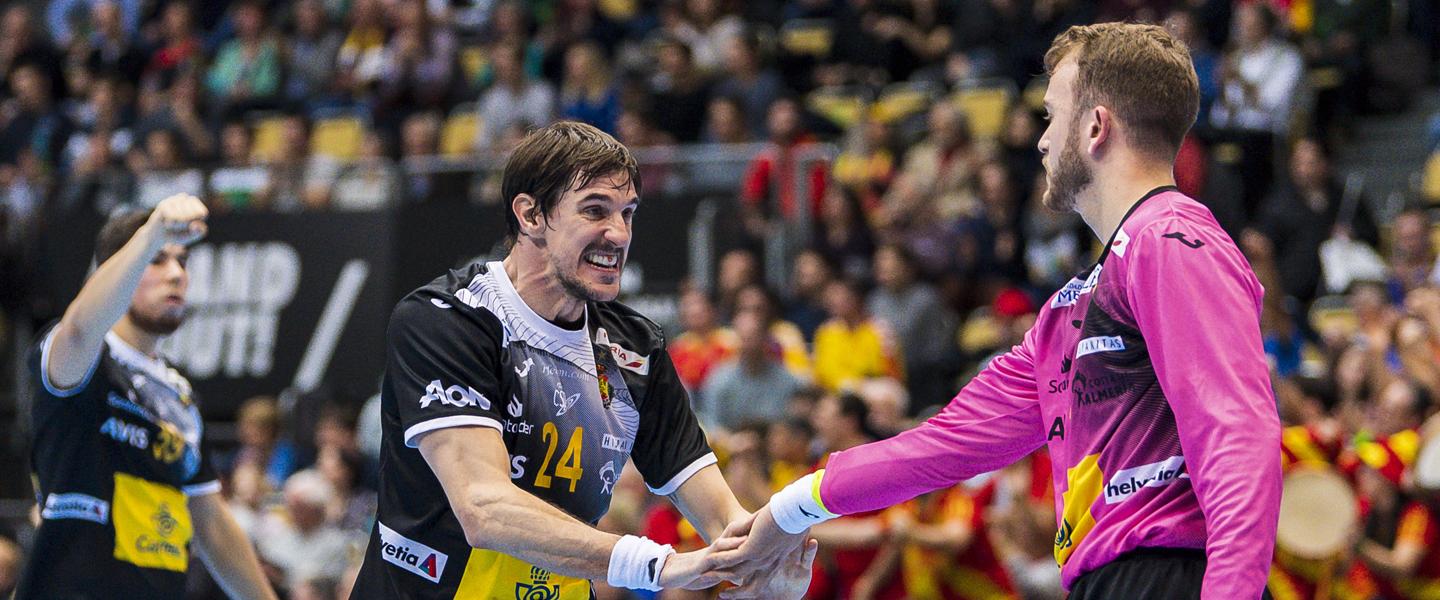 A tightly-fought first-half saw Spain and FYR Macedonia exchange blows - and the lead - for 30 minutes, but a blistering start to the second half by the Spanish team sets up a group title clash against Croatia tomorrow, while the Macedonians will take on Iceland for third place and the final ticket through to the main round.

FYR Macedonia vs Spain 21:32 (12:13)
Whatever was in the water in the Spanish changing room at half-time it did the trick for Jordi Ribera's side as they emerged from the break to go on a 5:0 run, forcing a time out from Macedonia's coach Raul Gonzalez with less than three minutes of the second period played (18:12).
Just before the time out, Spain's goalkeeper Gonzalo Perez de Vargas had scored full-length after another Macedonian attack had failed – his second goal in the match at that point.
The one-sided nature of second half was a surprise as the first half had been a real battle between the European champions and a Macedonian side who knew a victory would go a long way to helping them through to the main round.
In the first 30 minutes the lead changed hands four times with Ribera's side not going in front until the 21st minute (8:7), thanks to the first goal from goalkeeper Perez de Vargas.
But the Lazarov brothers confirmed their importance to the Macedonian team – who started with Nikola Mitrevski in goal – once again, both scoring two each to make it 11:10 with just a few minutes left. Their team had drawn level (10:10) moments earlier with just four attackers on court, thanks to a pair of two-minute suspensions, but with Goce Georgievski missing two chances to score on the fast-break, Spain came back again to go ahead just before the buzzer.
And thanks to their blistering start to the second half, combined with just nine goals from the Macedonians, Spain were able to rotate and tread carefully through the remainder of the match, knowing the importance of the Croatia clash tomorrow as both teams, already qualified through to the main round, hope to keep their perfect record.

"It was a really difficult game against a really difficult team to get these two points," said Spain coach Jordi Ribera after the match. "In the first half their 7vs6 attack and the form of Mitrevski in goal was causing us a lot of problems, but in the second half we took control, going on a 7:1 run which was key for us to taking the game and we were able to introduce a lot of players too. 

"I also have to say Gonzalez was great for us in goal and made us comfortable and relaxed," added Ribera. "We will now take a rest and look towards the game against Croatia tomorrow, which will be difficult for us."

While his player Martin Popovski admitted the game against Iceland is "like a final," FYR Macedonia coach Gonzalez could only compliment his opponents, knowing the Iceland game is imminent.

"For me, Spain has the best defence in the world, and we had to do something special, so we tried the 7vs6 attack and we did good with that in the first half," he said. "Our defence was perfect but in the second half we lost three balls in 30 seconds, went down by four goals and that is difficult against Spain and now we don't have much time to prepare for the game tomorrow."

hummel Best Player of the Match: Gonzalo PEREZ DE VARGAS (ESP)