16 Jan. 2019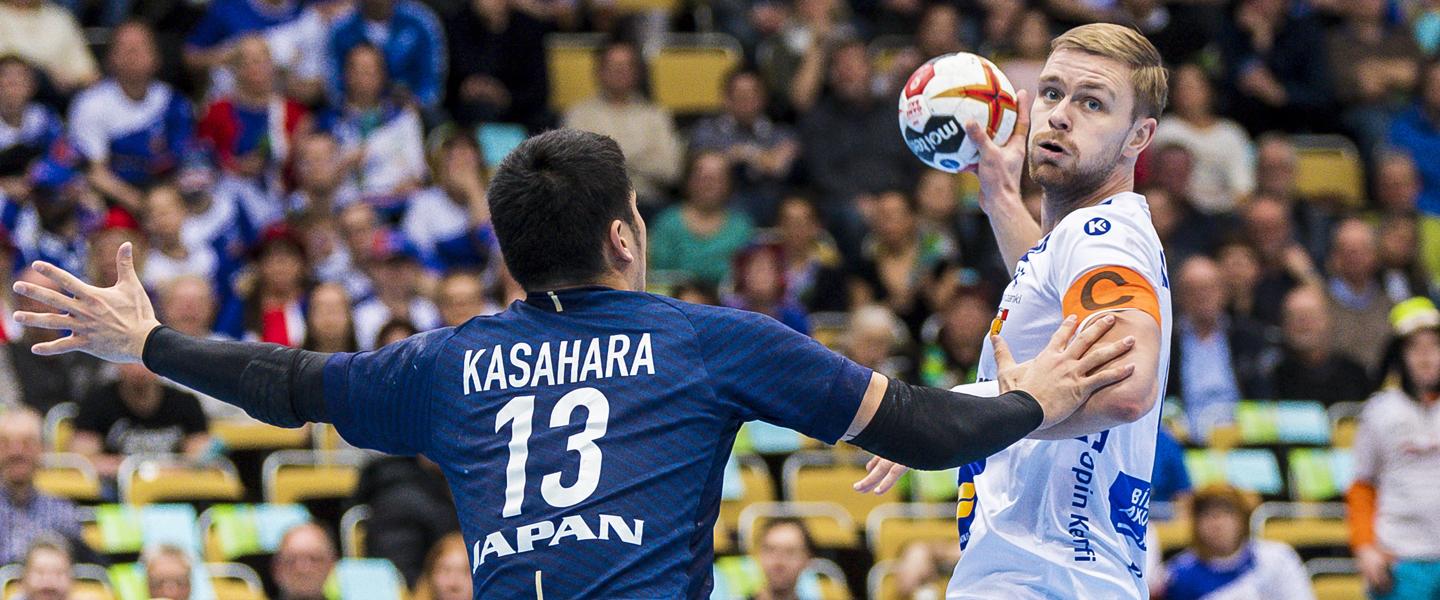 The two Icelandic former German Bundesliga coaches fought it out in Munich this afternoon as Dagur Sigurdsson's Japan took on Gudmundur Gudmundsson's Iceland, with the European side eventually winning comfortably (25:21) – but they were made to work for it.
Japan vs Iceland 21:25 (12:13)

With the win, Iceland moved up to four points to put the pressure on FYR Macedonia, also on four points, who they face tomorrow and who take on Spain later tonight and with the loss – their fourth in a row – Japan are out of contention and will move into the President's Cup.
If Spain were to win their match against the Macedonians this evening (20:30hrs) and Iceland won their encounter tomorrow, it would seal third place in the group and a main round spot for Gudmundsson's team, while the Macedonians would join Japan in the President's Cup.
For Japan today though it was not to be. Following one of their best-ever performances in a world championship last time out against the European champions Spain, they had high hopes going into the match, but Iceland were already ahead by three in the seventh minute (5:2).
Goalkeeper Yuki Kubo played the entire first-half for the Asian side, replacing Akihito Kai, who had put in a best player of the match performance against Spain, but he could do little to stop the Icelandic side who knew the game was a must-win.
Sigurdsson's side did mount a comeback, leading to an Icelandic time out in the 11th minute and moments later they were just one down (6:5) and as they looked to get closer Bjorgvin Pall Gustavsson pulled off crucial saves.
But his heroics in goal were not enough as Japan drew level (7:7,) in the 17th minute – and they could have even gone ahead – but the active Icelandic defence showed their worth, blocking the Japanese attack. 
Iceland again went ahead impressively as a near-horizontal Elvar Om Jonsson slotted home (8:7) as their opponents found it hard to get anywhere near the goal, but eventually they did as Yuto Agarie smashed home from just inside nine metres (8:8 – 20th minute).
The game was warming up nicely a third of the way in and for Gudmundsson it was too much as he took a time-out in the 21st minute to settle nerves. His side emerged from it motivated, going two up again, but a 4:1 run from Japan, culminating in Tatsuki Yoshino having the presence of mind to carefully caress the ball over the onrushing Gustavsson, set up another potential shock as the wildcard entry led 12:11 with less than two minutes left of the half.
But Iceland came back again to take a narrow 13:12 half-time lead with their opponents hitting the crossbar with their last shot of the half.
Just 11 minutes into the second period Hiroki Shida was shown a direct red card, but it did not affect his side, who stayed in touch until six minutes from the end, just one goal behind (21:20). 
Again, Gudmundsson had seen enough and he took a time out to remind his players of their business and following the pause, three unanswered goals were scored and that was enough to see them over the line to set up a potential play-off tomorrow and Japan into the President's Cup.
Maybe with their physical and mental exertions of the previous two matchdays catching up on them, Japan could only score nine second half goals in the end and despite Kai starting the second period in goal for the Asian side, Gustavsson showed his worth again.

"We started very well, and I was very happy with the performance in defence at the beginning," he said. "But then we came into some period in the first half when we started shooting very early and were not scoring - missing in fact – and making technical mistakes. In attack this was not our best day, but in the end,  we finished to win the game, although it was a very, very difficult match."
"Step-by-step we have to learn to close the game into our favour and win games," said Sigurdsson after the match. "We have very big game tomorrow against Bahrain and have to prepare as well as we can."
His player, Remi Anri Doi, was also left disappointed with the result. "We have lost four games and it's not easy in the head," he said. "But I think we are growing through this tournament and we just have to keep our heads up and continue our best."
hummel Best Player of the Match: Arnor Thor GUNNARSSON (ISL)

Photo: Marco Wolf