15 Jan. 2019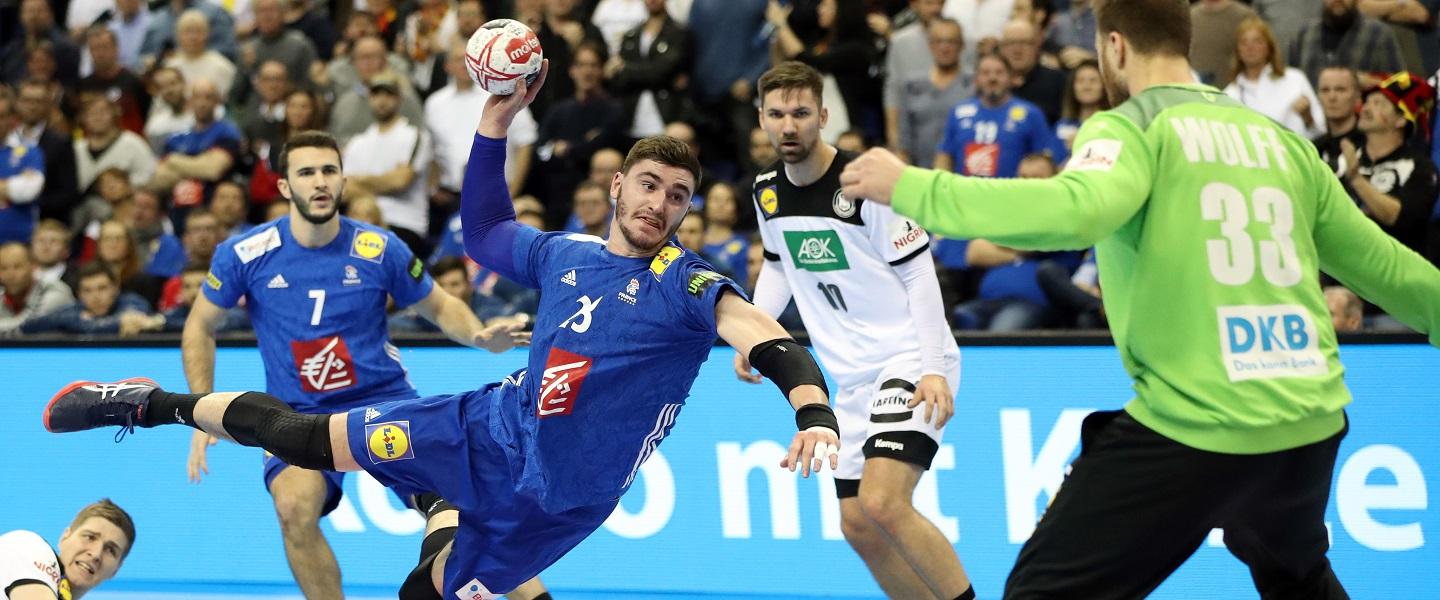 Another thriller in Berlin, another draw in the sold-out arena: in the so far best match of Group A defending champions France and co-hosts Germany offered a perfect show to 13,500 fans. A buzzer-beating goal by Timothy N'Guessan saved the French series of now 22 unbeaten World Championship matches in a row since 2013. Thanks to the second straight draw, Germany follow France to the Main Round, now on six points, one below the world champions.
Germany vs France 25:25 (12:10)
Since 2013, Germany had not taken a single point against France, since 2013 France did not lose any match at a World Championship – and only the first series came to an end. The two medal contenders were on a fully equal level for 60 minutes, with constantly changing leads but slight advantages for the co-hosts. The whole match was an intense fight with initial defence-orientated tactics. Only ten goals were scored in the first 20 minutes, then Germany accelerated and found the gaps in the French defence.
While on the French side Kentin Mahe was outstanding with nine goals, Germany could count on their back-court stars Fabian Wiede and Martin Strobel and PSG left wing Uwe Gensheimer, all on four goals in the end.
The 17:16 in minute 40 was the last French lead, but the biggest German advantage were two goals. When Wiede netted in for the 25:23, three minutes before the end, the arena went crazy, but then Mahe reduced the gap. In the thrilling final minute, first France caused a turnover – after a German time-out, the co-hosts followed the example, and 20 seconds before the end, France took their final time-out. Three seconds before the end, France receive a free-throw, and on the buzzer, Timothy N'Guessan scored the equaliser, leaving the German team disappointed, while the Frenchmen danced on the court.
hummel Player of the Match: Fabian Wiede (Germany)
Statements after the Match:
Didier Dinart, coach France: Today it was a difficult game. Congratulation to my team; we hold the mindset the whole game.
Ludovic Fabregas, player France: We are very happy about this game, our defence was very good today. It was a very difficult game in a great atmosphere; I'm proud of the image of the team of France we gave today to the audience.
Christian Prokop, coach Germany: Thanks to France, thanks to my team and thanks to the audience in the Mercedes-Benz Arena. The whole game was a thrilling atmosphere. We had a very good team spirit today. We're happy to snatch one point from the world champions.
Fabian Böhm, player Germany: The fans saw a great match today; we had a good atmosphere, so it was very great to play here today. Before the match we would have been happy to get one point so don't be sad about the draw.