15 Jan. 2019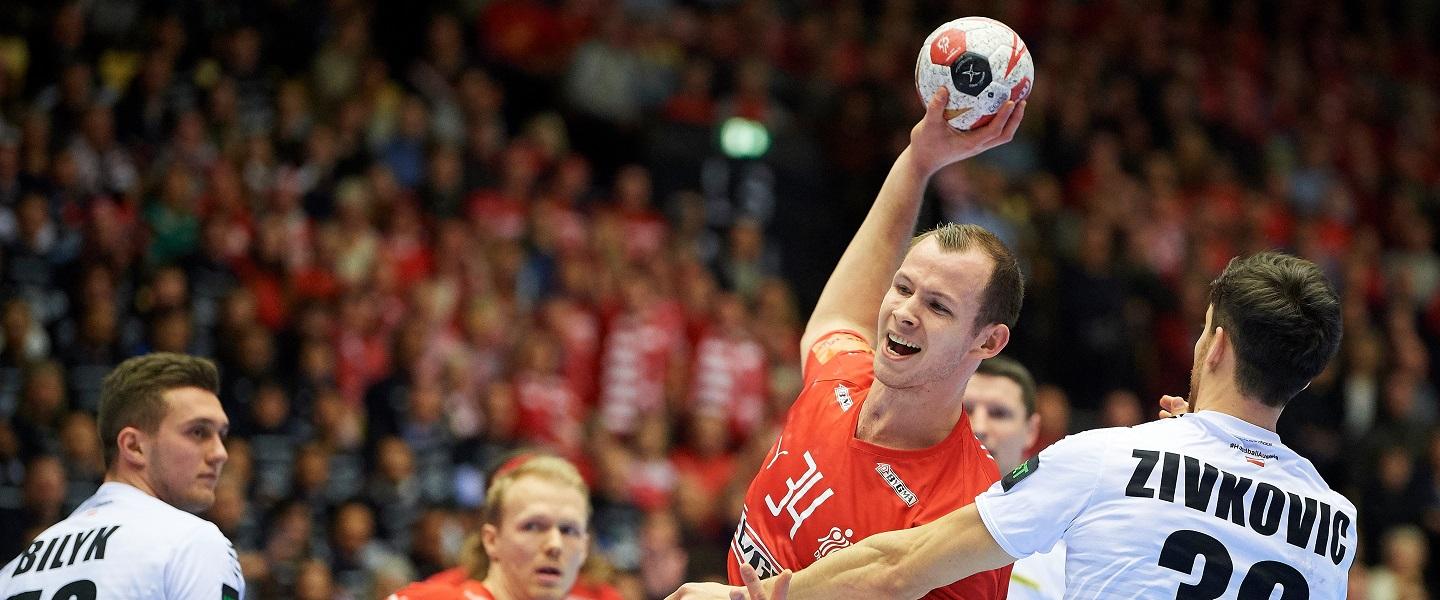 After a nervous opening to their round four match in Jyske Bank Boxen, Herning on Tuesday night, Denmark claimed their fourth win, defeating Austria by 11 goals. The victory saw Denmark join Norway on eight points and set up a top-of-the-table clash between the two sides for the last round of preliminary matches.
Austria remain on two points and will meet Tunisia in round five in a battle for the third Group C ticket to the main round.
Austria vs Denmark 17:28 (8:11)
Denmark may have claimed the points at the final whistle but early in the match it looked as though they Olympic title holders could be headed for their first loss at their home World Championship. Whether they were unsettled to begin or became that way after Austria started stronger, it took some time for Denmark to find their form.
Austria right wing Robert Weber scored the first two goals of the game before Denmark made their way onto the score board, and the momentum stayed with Austria until the last five minutes of the half when a tactical change turned the tide. Austria's key back-court duo of Nikola Bilyk and Janko Bozovic had to work hard to find shooting opportunities against Denmark's 6-0 defence, but they were still more effective in attack than their opponents.
For Denmark, the offensive game soon became something of a nightmare. Most of the Danes could not find their usual level of scoring accuracy, with saves from Austria keeper Kristian Pilipovic and the goal post both haunting them – even on penalties.
After Rasmus Lauge added Denmark's second goal in the seventh, the co-hosts entered a scoring drought that lasted 10 minutes. Austria had created a 5:2 lead before Magnus Landin finally hit the net – Denmark could thank their defence for keeping the distance under control.
Two factors were key in swinging the match Denmark's way: a time-out from coach Jacobsen in the 16th minute, and a change to seven-on-six, taking out keeper Niklas Landin in favour of having two line player son court. When Austria still held the lead, 7:3, Denmark changed to seven-on-six, and quickly decreased the score line after that as the tactic worked perfectly.
Not only did Denmark start to find the goal, Niklas Landin also started to make more saves. After a stop from the captain, Henrik Mollgaard equalised at 8:8 before Nikolaj Oris pulled them in front in the 26th, 9:8. Landin scored his first goal at the World Championships off a long-range effort, earning his side an advantage of three before the break.
From that point, the match belonged to Denmark. The co-hosts slowly built their lead, pulling ahead 15:10 by the 35th minute then 19:12 in the 44th. For the last quarter, Austria coach Patrekur Johannesson clearly decided it was time to rest his key players for what will now be a crucial match versus Tunisia in round five. Bilyk, Bozovic, Weber, starting left wing Raul Santos and line player Tobias Wagner all left the court for the final quarter. With five minutes remaining Denmark had created a 10-goal advantage and were assured of the two vital points.
Lauge received the hummel player of the match award.
Statements after the match:
Nikolaj Jacobsen, coach Denmark: In the first half we played okay. In the second half, it was clear that Austria ran out of power. I am very pleased with most of the game and once again a good crowd.
Patrekur Johannesson, coach Austria: I am proud and happy about the first half, where we had a good defence and goalkeeper. In the second half Denmark showed how strong they are.
Rasmus Lauge, player Denmark: Great atmosphere. It was a bit uphill in the beginning, but we managed to play good in defence the whole match. Seven-against-six was working very good for us today.
Daniel Dicker, player Austria: We started very well and we followed our game plan. Denmark had a good goalkeeper today and in the second half they ran from us with a lot of fast breaks.