15 Jan. 2019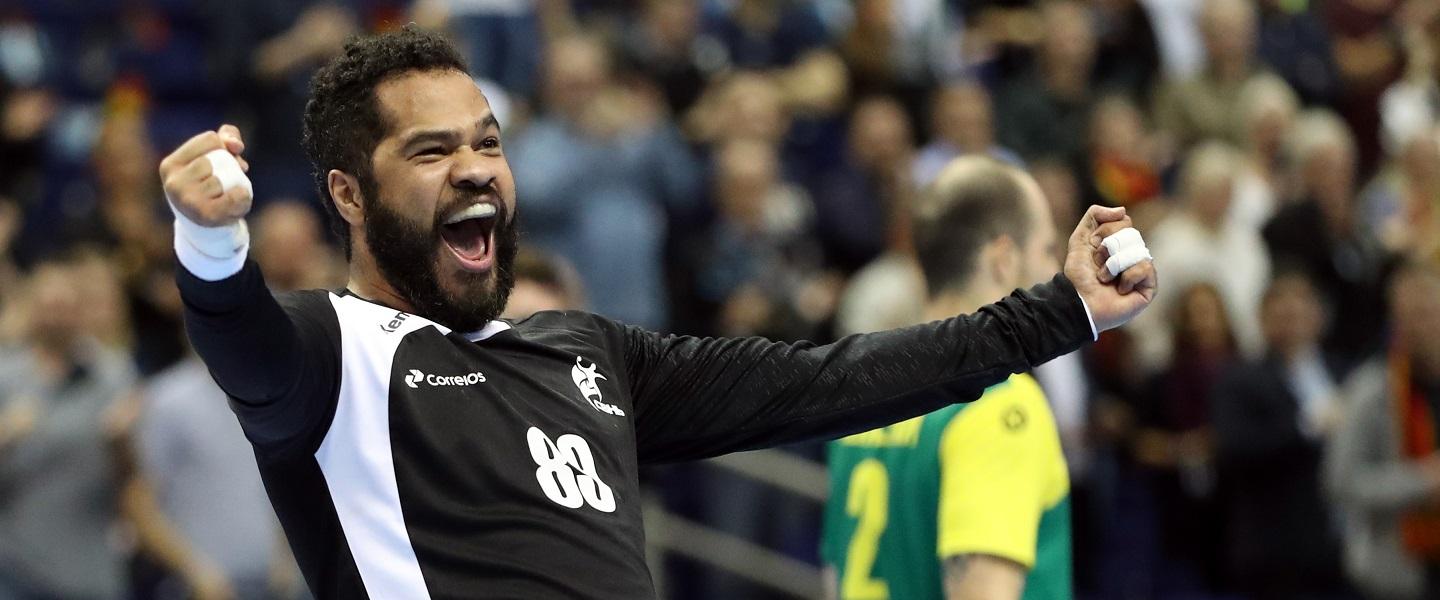 After beating Serbia on Monday, Brazil defeated the next strong European opponent – and now have a good chance of reaching the Main Round after the 25:23 victory against Russia.
Russia vs Brazil 23:25 (10:15)
They danced on the court, overjoyed, having in mind that the gate to the Main Round is now widely open: Brazil had lost the two first matches against France and Germany and Berlin, but now the Pan American runners-up are back on track and close to leave two European powerhouses behind: 24 hours after the 24:22 against Serbia, Brazil again had the upper hand and beat the disappointed Russians, who drew with Germany the day before and entered the match on a high.
Key factors for the Brazilian revenge for the defeat in the 2013 World Championship eighth-final were goalkeeper Cesar Almeida (eleven saves), seven goals of Felipe Borges, who was awarded Player of the Match, and a great fighting spirit against physically strong Russians, who had never been in the lead in this match.
Brazil started in attack mode and easily extended the gap to 7:3 and 12:7, being ahead by five goals at the break. But right at the start of the second half, Russia had their strongest period, reducing the difference goal by goal, as Dmitrii Zhitnikov and Timur Dibirov were unstoppable in attack. In minute 46, they levelled the result at 19:19 and were close to turn the match around. But in that phase, Almeida stood like a wall.
The crucial moment in the match was the red card against Dibirov after a foul against Almeida in minute 54. Brazil again took the upper hand, and latest when Vincius Teixeira scored the 25:22 in the dying minutes, the samba on court was about to start.
Like Brazil, Russia have four points on their account, but while the South Americans have the seemingly easier task against Korea ahead, Russia will face defending champions France in their final encounter in Berlin.
hummel Player of the Match: Felipe Borges (BRA)
Statements after the match:
Washington Nunes da Silva, coach Brazil: It was an intensive game; we had a hard job in defence, but the defence enabled us to stop the Russian attack. Our offence was very effective, which led us to the win.
Felipe Borges, player Brazil: Brazil grew up in the last years in international handball, in the previous championship we were close to the next round, now we have the chance to go on.
Eduard Koksharov, coach Russia: it was a very intensive game; some structures of our game did not work as we had planned them.
Dmitrii Zhitnikov, player Russia: It is difficult to say what happened in the game, I want to say thanks to Brazil and wish them success and luck for the next games.