14 Jan. 2019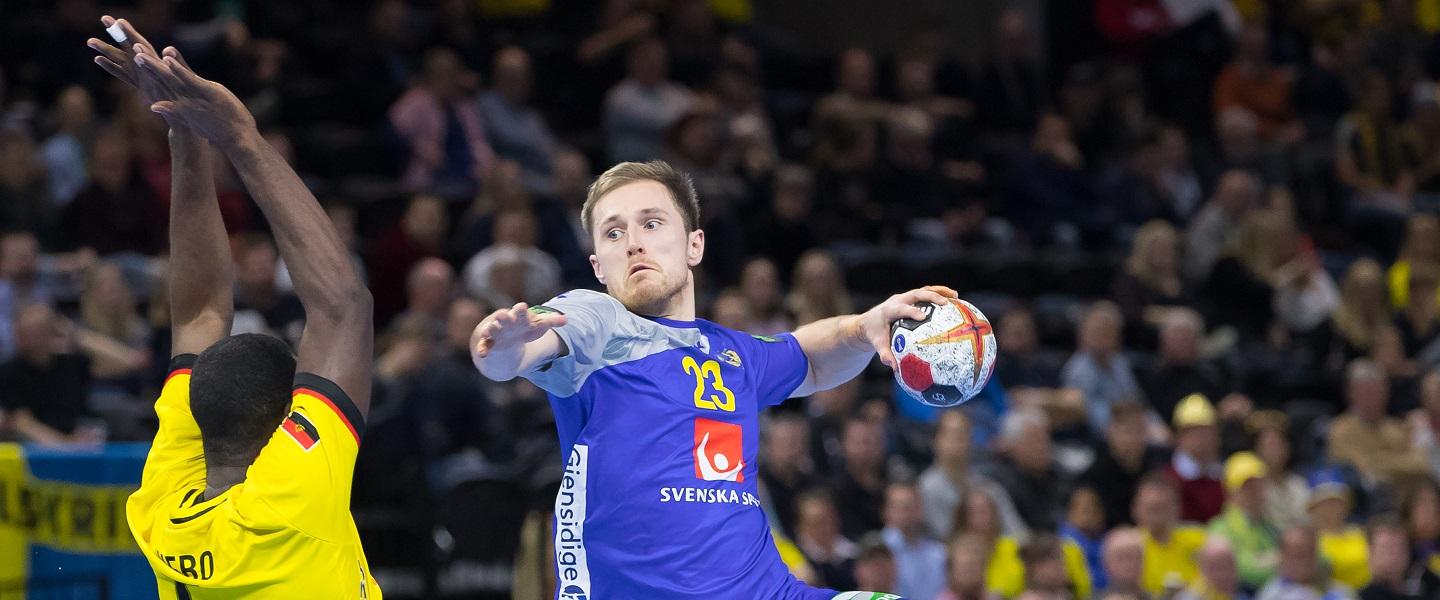 Sweden - Angola 37:19 (19:14)
The last match in Royal Arena this evening was played between Sweden and Angola. Sweden already won their two first matches while Angola had two points before the match thanks to their win against Qatar. Therefore, both teams had a lot to play for.
The match got off at a fast pace. Sweden opened the match with a goal by Lukas Nilsson but Gabriel Teca from Angola quickly equalised. The two teams played at the same level until Sweden got a two-goal lead – afterwards the match lost some of its pace.  
Angola had many opportunities to reduce the gap, but without any luck. In general, Mikael Appelgren was the best player for Sweden in the first half with a 35% save rate. Angola's best player was Rome Hebo with five goals.
Both teams played well in the defence, which resulted in two two-minute suspensions at both ends in the first 30 minutes. Sweden led the first half by 19:14.
Mikael Appelgren started the second half with some sublime safes and the Swedish supporters got used to hear "Aaaaappelgren" shouted by the speaker in Royal Arenal. Yesterday fellow goalkeeper Palicka was named as the Player of the Match.
Angola faced a very tough half and when Gabriel Teca from Angola was presented his third two-minute suspension and thus a red card, Sweden took complete control of the match.
Royal Arena had to wait twelve minutes to see the second goal for Angola in the second half. However, they were still trying to fight back.
Thanks to Mikael Appelgren and Andreas Nilsson, who was awarded Player of the Match, Angola just scored five times in the second half.
The final result was 37:19 to Sweden.
hummel Player of the Match: Andreas Nilsson (SWE)
Statements after the match
Kristján Andrésson, Sweden coach: The first 30 minutes was tough and filled with many goals. But we improved in the second half. The many saves gave us a lead.
Morten Soubak, Angola coach: We did not play our best today. Our focus is in the next to matches against Argentina and Egypt.
Simon Jeppsson, Swedish player: Thanks for the match. We were not playing well in the first half, as our coach said. But to the second half we had improved our defence and Appelgren had some good saves. Now we have one day rest before our next match against Qatar."
Adelino Pestana, Angolan player: We made a lot of mistakes. In the second half we tried to improve, but now we just have to look forward. We would like to win a match to this Championship."