14 Jan. 2019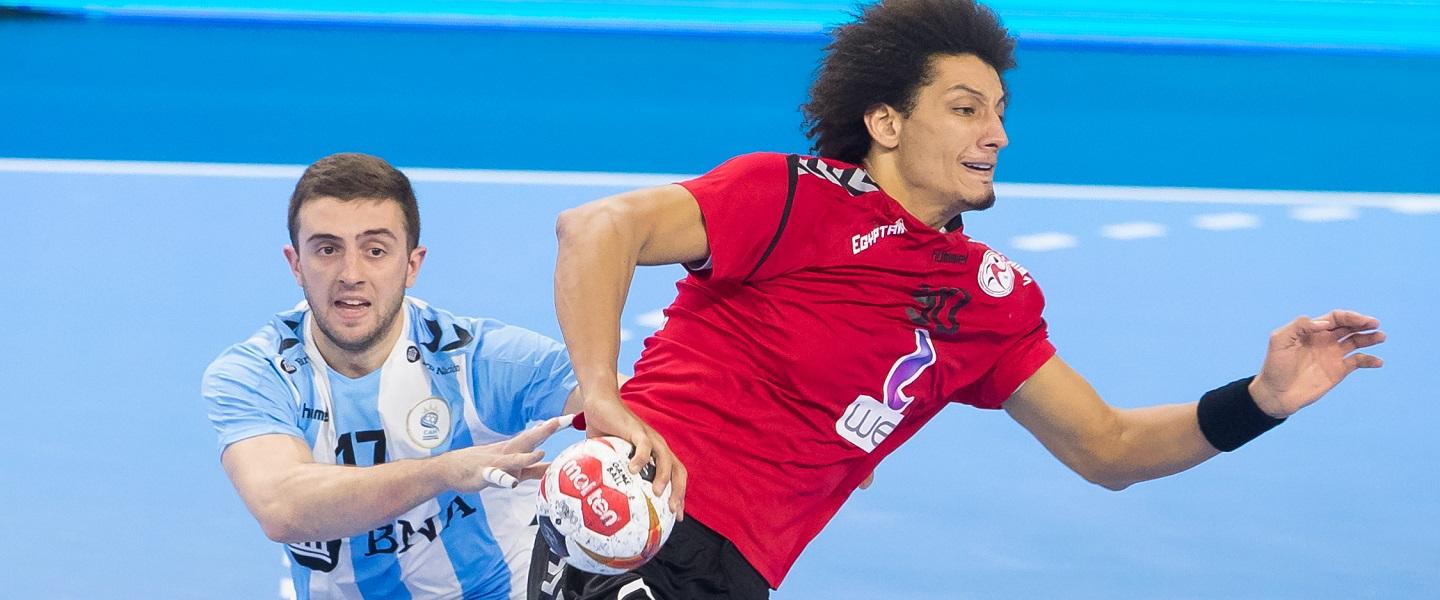 With two strong defences, the lead changed between Argentina and Egypt throughout the first half. Egypt opened the match with a goal, but Argentina equalized soon after. Goalkeeper Karim Hendawy got injured and was replaced with Mohammed Eltayar.
Argentina had the chance to take the lead serval times, but they dropped the ball two times in a row. At the other end of the court, the South American goalkeeper Matias Carlos Schulz saved a lot of Egypt's attempts.
At the end of the first half, the two top scoring players were the Egyptian Mohammed Sanad with 3 goals and Argentina's Federico Gastron Fernandez with 4 goals.
Egypt found something special in the opening of the second half. They scored three goals in a row and suddenly the score-line was totally different: 12:9 for Egypt.
In the minutes afterwards, a lot of two-minute suspensions were given to Argentina. Finally, eight minutes into the second half, Federico Fernandez scored a penalty. In the subsequent minutes Argentina equalised, with clever fast breaks.
In minute 48, Federico Vieyra scored for Argentina and put them in the lead for the first time in the second half: 16:15 for Argentina. The following minutes, everything was level.
Seven minutes before the final whistle that changed – Argentina top scorer Federico Fernandez was sent off with a red card for his third two-minute suspension for a dramatic tackle on Yehia Elderaa.
Just minutes after Ibrahim Elmasry from Egypt was given the red card the same way as he received his third two-minute suspension.
In the end, especially the player of the match, Ali Zeinelabedin from Egypt and his team mate Mohammed Sanad decided the game. In the last two minutes they put Egypt the lead. Argentina could not find any way back.
Egypt won a very dramatic match, claiming their first points for Egypt in this World Championship.
hummel Player of the Match: Ali Zeinelabedin (EGY)
Statements after the match:
The coach of Egypt David Davis: Yesterday we lost the match against Qatar. Today we just wanted to play a good match. And we did. Therefor I would like to commend my players after today's win.
Coach of Argentina: What can I say? Both teams played well and at the same level, but today Egypt was better than us. I'm not satisfied with all our two-minute suspension.
Egyptian player Ali Zeinelabedin: "Yesterday was a though match and today we had to wake up and be ready for a new match. We did our best for the victory. Thank you for a good match against a strong Argentine team.
Argentine player Federico Gastron Fernandez: Both teams played at the same level, but the judges was not fair. I cannot understand why we did not get a penalised.