14 Jan. 2019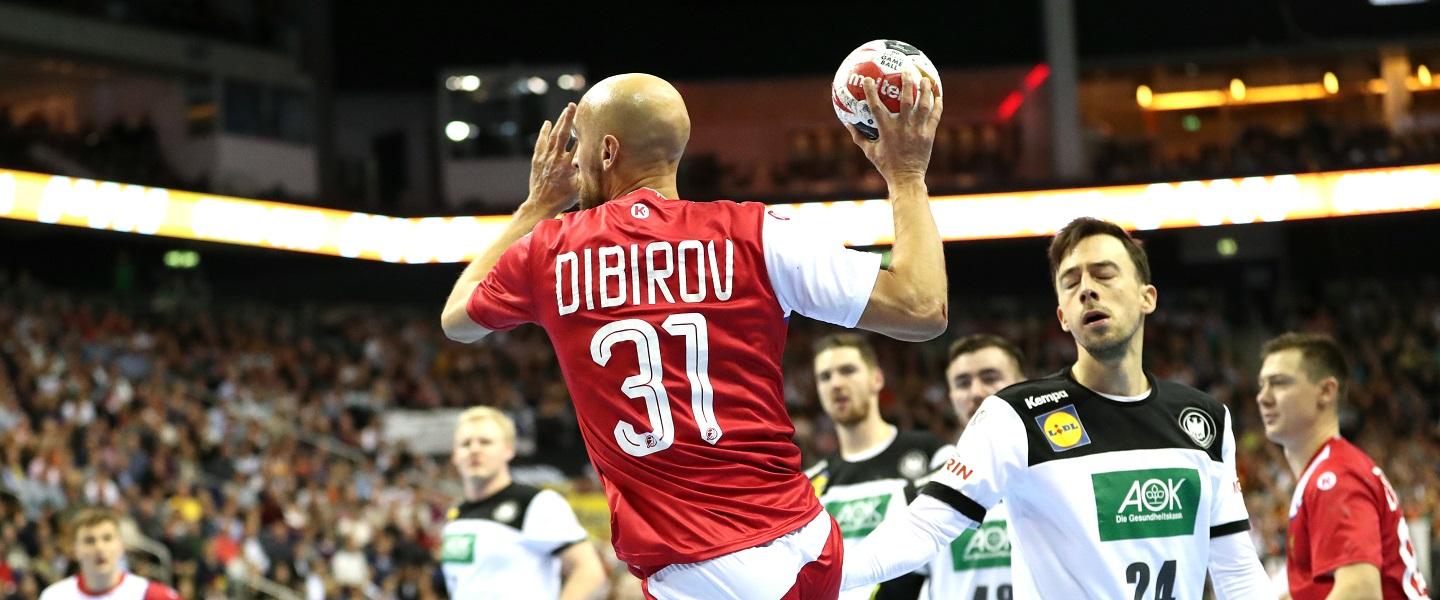 Russia vs Germany 22:22 (10:12)
Thanks to a brilliant performance of Timur Dibirov (eight goals and awarded player of the match) and a great comeback in the last five minutes, Russia took a surprising draw against hosts Germany in Berlin. Even the support of 13,500 fans, eight goals by team captain Uwe Gensheimer and a 20:17 advantage in minute 55 were not enough for the Germans to book their Main Round ticket already after match day 3.
The match was on the edge for 60 minutes, Russia were ahead only once at 7:6, but Germany could not shake off their opponents as they had done before against Korea and Brazil. Russian goalkeeper Victor Kireev (eleven saves) and the extremely fast and agile defence stopped the German attacks. Russia profited from Dibirov's counter attack goals and the strong shots from the back-court area. Despite a two-goal-advantage at the break, Germany did not have the stability and confidence they had in the previous games to decide the game earlier, while the Russian fighting spirit was superb.
After the 17:20, Dibirov, Dmitri Shitnikov and finally Sergej Mark Kosorotov netted in to level the game. Germany missed the final chance, a direct free-throw after the final buzzer, which was blocked by the Russian defence. The team of Eduard Koksharov remains unbeaten after their second draw after the opening 30:30 against Serbia and the 34:27 against Korea and is ranked only one point below the German team. Both sides have the berth to the Main Round still in their hands, both sides still have to face defending champions France.
hummel Player of the Match: Timur Dibirov (RUS)
Statements after the match:
Eduard Koksharov, coach Russia: We made a good game, it was very nice to play in front of 13,500 people. We played very well and achieved many things, both teams showed nice handball and maybe both teams will duel again in the rest of the tournament.
Timur Dibirov, player Russia: It was an intense game, we are happy to get a point against such a strong team like Germany. In terms of organisation this World Championship is one of the best I have ever seen, so thanks to Germans for organizing this great tournament.
Christian Prokop, coach Germany: We are a little bit disappointed, because of the rundown of the match. I am not satisfied with our attack; the Russian defence was very movable, but our defence was also very good.
Patrick Groetzki, player Germany: I am a little disappointed, we led throughout the whole match and became problems only in the last 15 minutes. Russia played a strong 5:1 defence with Timur Dibirov as a sweeper. 22 goals in attack were not enough.