14 Jan. 2019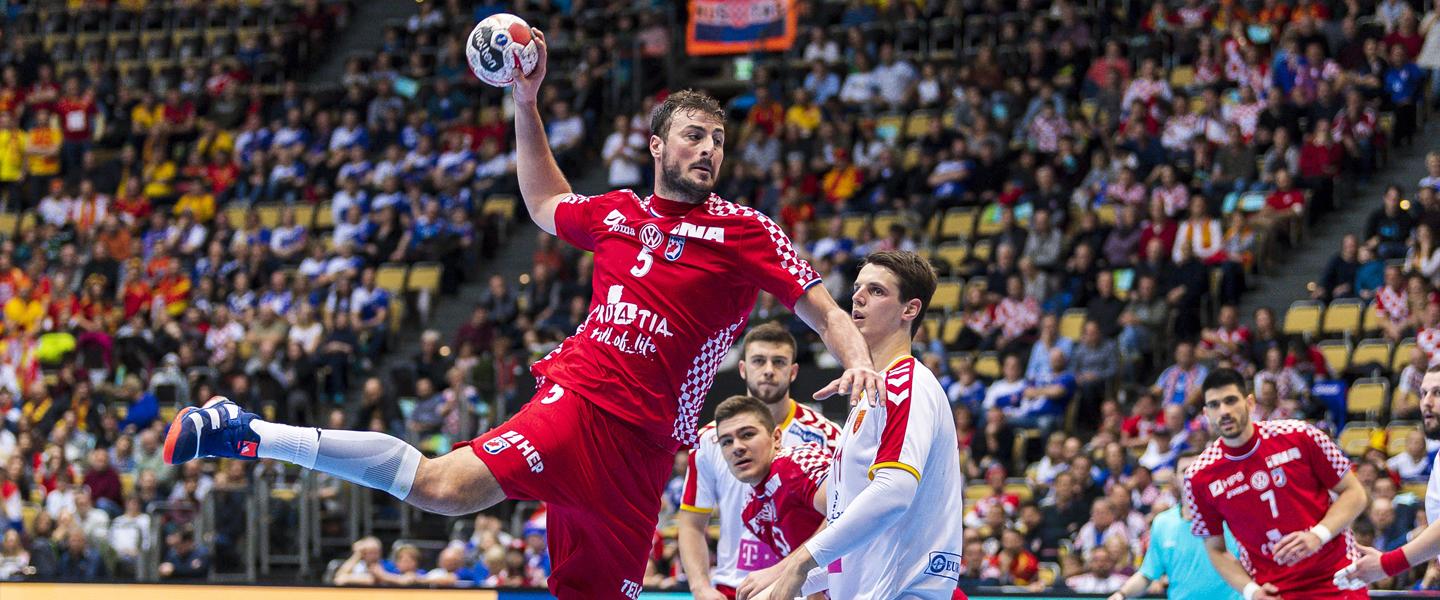 The second battle of the day in Munich of coaches facing their old teams, saw Lino Cervar's Croatia ease past his former side FYR Macedonia, now coached by Paris Saint-Germain's Raul Gonzalez.
Croatia vs FYR Macedonia 31:22 (16:11)
Both Balkan sides went into this match undefeated, with two wins each at Germany/Denmark 2019 and knowing that a win would go a long way to not only deciding the winners of the group, but to securing a main round position already.
In the end, it was Croatia who took the spoils, 31:22, after the Macedonians faced a European side at the championship for the first time, and lost. 
Their captain, Kiril Lazarov, had said before the game that his team were starting their championship with this match after beating two Asian teams – Bahrain and Japan – and in front of a passionate crowd of 10,000, predominantly Croatian fans, and a few thousand local schoolchildren, they more than showed their class, drawing level by the 10th minute (4:4) in this physical duel.
But a combination of another great goalkeeping class from Marin Sego (44% save rate in the first half) and a best player of the match performance from Domagoj Duvnjak were one of the big differences between the two nations.
Sego's highlight video is growing at this tournament, and yet another great save, in the 14th minute, saw him set up a full-length pass to Duvnjak who smashed home, and it was again the German-based THW Kiel player who was influential, playing chess by gently and slowly teasing the Macedonian defence into coming off of their line with fake hand-offs and a lot more. However, an overshot saw Filip Taleski grab the ball and score full-length to cause a great reaction from the non-Croatians inside, but still, the Cervar's side had a handsome lead, going into the break five goals ahead (16:11).
The second half was a near exact replica of the first half scoring as Cervar admitted that the game was not only a win, but a useful experiment as the championship continues. 
"We played two defensive systems today, 6-0 and 5-1, and both were very strong," he said. "My players had a very good lateral speed and movement and we now have two points for the second round - but this is only the beginning as this championship is long and we have very many games [to play]."
Dejan Manaskov saw the defensive strength of Croatia from the other end of the court, admitting his side just could not get to the level of their opponents.
"We started the game with 7v6 because we know before that with 6v6 against Croatia we don't have a chance," said the player who scored six times. "We created some good chances, but Sego was amazing today. We tried to do better in the second half but in the end, it was not enough."
hummel Player of the Match: Domagoj DUVNJAK (CRO)