14 Jan. 2019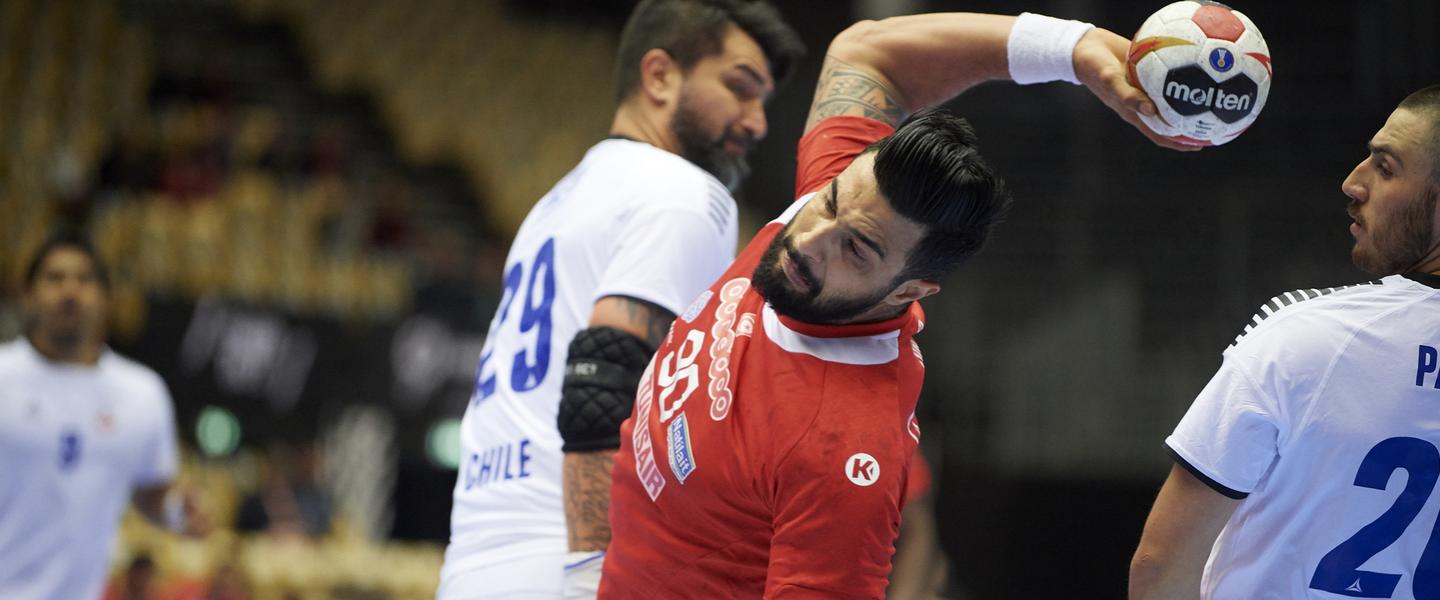 After two difficult matches against strong Scandinavian opponents in the opening rounds, Tunisia finally enjoyed the taste of victory as they defeated Chile in the opening game of round three in Jyske Bank Boxen, Herning. Tunisia led from start to finish, though Chile never gave up and came within two goals in the closing minutes, before the African champions secured the win.
Tunisia vs Chile 36:30 (18:15)
Tunisia entered the court looking for their first win, while Chile were motivated to back up their victory in round two. The African champions had played two tough games, facing 2017 World Championship silver medallists Norway in their opener before taking on co-hosts Denmark in the previous match. Losses against such teams are more an indication of the strength of the Scandinavian sides than any weakness on Tunisia's part, and they were able to enjoy some reward for their efforts when they opened round three on Monday afternoon.
The African team immediately took the advantage, claiming a 4:1 lead just past the fifth minute with Mohamed Soussi's second goal. Tunisia's back court had a great game, with right back Soussi going on to tally seven goals and receive the hummel player of the match award, while left back Mosbah Sanai scored six. The wings were mainly used on fast breaks, as the back court led the positional play with their own powerful shots and passes into the line players Marouan Chouiref and Jihed Jaballah. They rarely needed to look further in order to find the goal.
One area Tunisia could not match their opponents was on penalties. Chile keeper Felipe Barrientos and Felipe Garcia both made saves on those shots during the match, keeping the African side to just 33% efficiency from the seven-metre line. Indeed, Tunisia's conversion rate on attacks was lower than Chile's – the key was their ability to create more shooting opportunities.
After a start that seemed ominous for Chile, coach Mateo Garralda called the first time-out in the eighth minute, 6:2. After that his team maintained a steady distance of three to four goals through most of the game, but the closest they could come was a two-goal gap in the final minutes.
After a 18:15 advantage at half-time, Tunisia increased their lead to 27:21 in the 45th minute before Chile came back again. Within just a few minutes, Erwin Feuchtmann closed the gap to four, 24:28 and Garcia saved a critical penalty. With five minutes remaining the game was still open, with the score board showing 32:29 for Tunisia. Chile added another for 32:30 with less than four minutes on the clock, and certainly had a chance to take the two points, but Tunisia allowed the Pan American team no more goals after that and celebrated their first win at the final whistle.
Statements after the match:
Toni Gerona, coach Tunisia: The players from Chile gave us a fight today, by never giving up. They played with confidence and it wasn't an easy game for us today after two tough games previously. We had a hard time with the defence, which needs to be better. 
Mateo Garralda, coach Chile: We had a lot of opportunities to get closer, but we couldn't catch up to Tunisia today. They played a smart game and had good fast breaks. Our attack just wasn't effective enough today. I am proud of my players. They played a good match and played with their hearts.