13 Jan. 2019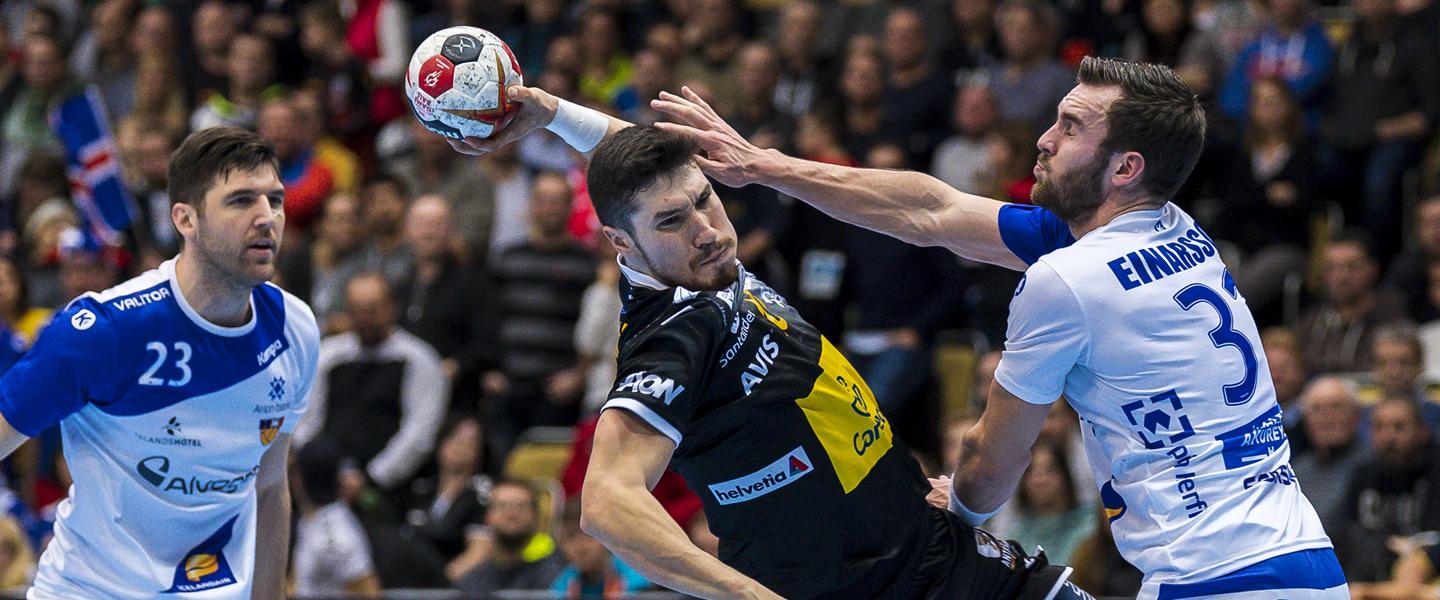 Spain vs Iceland 32:25 (19:14)
Ahead of the game, Spain coach Jordi Ribera admitted that he would continue to rotate his squad as previously done against Bahrain in their opening win, and in an electric atmosphere in the final of three games today at the Olympiahalle in Munich, he did just that, seeing his squad end with a seven-goal win, 32:25.
The first 16 minutes were tight but with the introduction of Raul Entrerrios and eventual player of the match Joan Canellas to the court with his side 8:7 up, Ribera turned the screw and three minutes later the EHF EURO champions were four up (12:8), extending it to five (16:11) in the 24th minute – a lead they kept at the break (19:14).
Two-minute suspensions had also been to blame for the Icelandic team with Aitor Arino playing as the forward defender when his Spanish side were in the numerical superiority, blocking the influential Aron Palmarsson from crossing over in the Icelandic attacking build-up – much to the annoyance of the more than 500 Iceland fans inside the arena.
While handball fans – and Icelandic coach Gudmundur Gudmundsson in particular – will remember the 2008 Olympic Games semi-final clash between these two teams, there was to be no repeat victory from the northern Europeans as, despite all their best efforts, and an even more vociferous support in the last quarter, Iceland could not claw the deficit back.
"Before the game we knew that it would be difficult against a young team who play fast," said Spanish coach Jordi Ribera following the match. "After their game against Croatia we knew we had to play really well, and we used a few options in defence to win the ball and run the ball in a fast-break - for us this is the most comfortable way. 
"We knew that after half-time the game was not over as we knew Iceland are a team who can make a few goals in a minute, but we took control in the second part of the game and were taking time in defence."
"They deserved this win and it was difficult for us," said Gudmundsson about Spain. "But we made it too easy for them and gave them the ball too easily - this happened in both halves. 
"We have a very young team and are working hard on building it up - in the second half we played with a left-back, right-back and centre-back with an average age of 19.5 years old and this is the new team we are building up, over our three-year plan."
hummel Player of the match: Joan CANELLAS (ESP)
All six Group B teams in Munich will be in action again tomorrow (Monday 14 January) with Iceland vs Bahrain (15:30hrs), Croatia vs FYR Macedonia (18:00hrs) and Spain vs Japan (20:30hrs)

Photo: Marco Wolf