13 Jan. 2019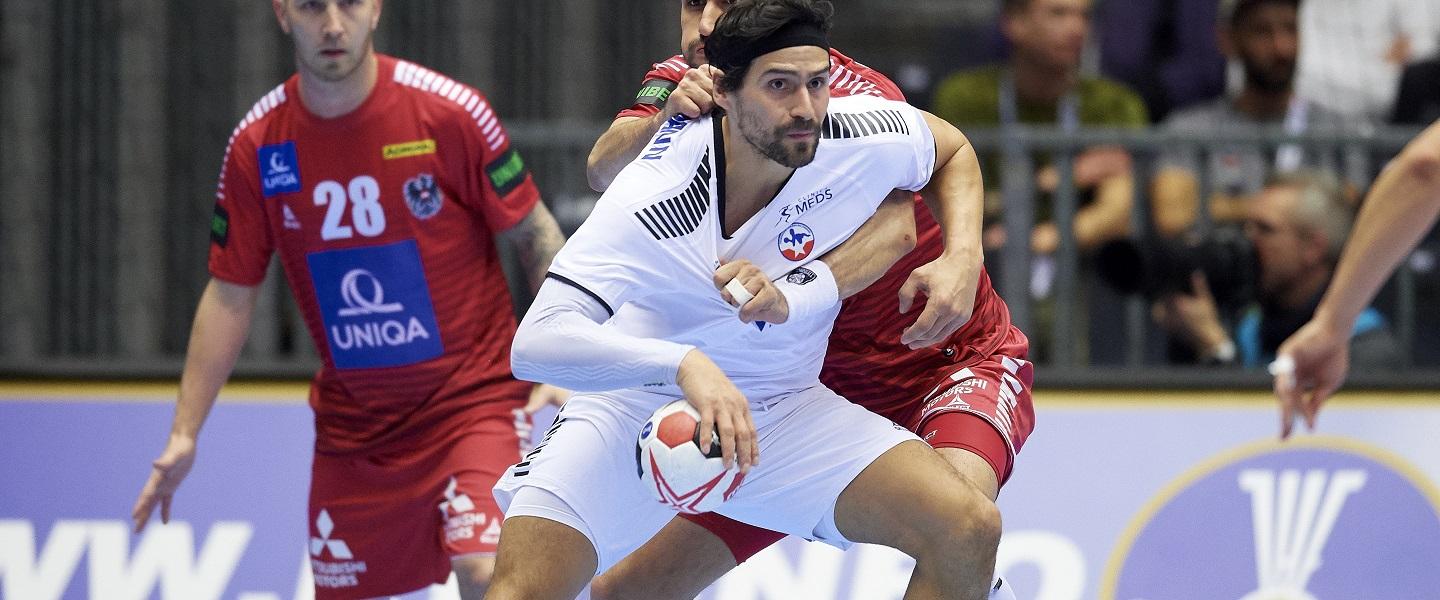 For some teams, a victory in the preliminary round might not be considered such a momentous event. For others, who are working hard in the development stage and facing difficult circumstances, it can mean everything.
That was the case for Chile on Saturday afternoon in Jyske Bank Boxen, Herning, when they claimed an historic win over Austria to open round two for Group C. It was not only a win, but a clear one, at 32:24, after a game where Chile were in control for all but a few minutes at the end of the first half and opening of the second. The Pan American side sealed Austria's fate long before the final whistle.  
"For us it is a really big day, because to win against any European national team is difficult, is hard. If we win at the World Championship, it's amazing," said coach Mateo Garralda after the match. "Of course I am really happy, but it's just the second game. We have to be cool, we have to be calm. But in this minute, we have to enjoy this result – you can't imagine."
The victory was Chile's second ever in the preliminary round at an IHF Men's World Championship, following their opening win versus Belarus at France 2017. Chile recorded a 32:28 victory over Belarus to open their campaign two years ago, but could not claim another win and went on to the President's Cup and a final ranking of 21st. Although it was disappointing not to add to their winning record in 2017, the 21st place was nevertheless their highest place ever.
Can Chile beat that record in 2019? It is far from certain, but it is clear that on their best day Chile are capable of more than some of their opponents might have assumed.
The 26th IHF Men's World Championship did not open with an easy match for the 2018 Pan American Championship bronze medallists. They faced co-hosts and current Olympic champions Denmark, and it was an especially tough first half, which saw a 4:22 score against them. Chile fought back in the second half, finishing with a final result of 16:39 – a second-half partial of 12:17.
"For us it was two games – a first and a second. In the first half we played really bad. I don't know the reason. The first half was not Chile handball," said left back Victor Donoso, adding that his team were much happier with their own game in the second 30 minutes.  
The win in round two was therefore something of a surprise to many, but confirmed that Donoso hit the mark with his words regarding Chile's first-half performance on the opening night in Copenhagen. The team were therefore very happy to show their true colours versus Austria and can count the two wins at two consecutive World Championships as a positive sign that they are on the right track.
"For us, it's something that you can only imagine. Our reality is really hard. Our goals are really difficult to reach. So for us it's an amazing, spectacular result," said line player Marco Oneto.
"Our reality in Chile is totally amateur. We have to fight not only against our reality but also against our economy, insurance of health, transport problems, places for training – anything that you can imagine. So to have a win in a World Championship is just amazing."
It is not the first time Chile have celebrated noteworthy results in the last year. At the Women's Junior and Youth World Championships over the summer of 2018, the Pan American nation took a win in each preliminary round. After debuting at both those championships in 2016, the team improved their ranking from 22nd to 20th at the Junior World Championship, and 22nd to 18th at the Youth event.
It is clear that the only way Chile is going is up. Next at the 26th IHF Men's World Championship, Chile will meet African champions Tunisia, followed by Norway and Saudi Arabia. Can they collect another win – or more – and make this their most successful preliminary round ever?