13 Jan. 2019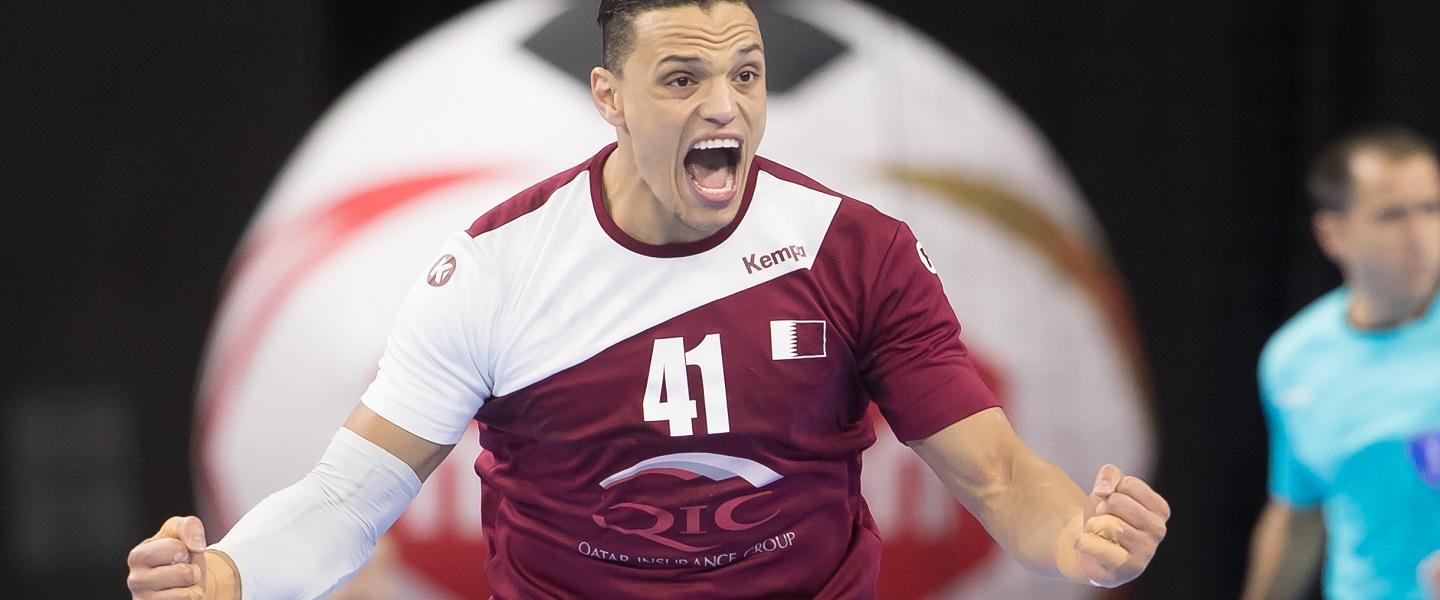 Qatar as well as Egypt were seeking their first points in the championship. Unfortunately for Egypt, their good effort in the first half was followed by a Qatari dominance in the second half.
Qatar - Egypt 28:23 (15:12)
The first game in Group D this Sunday was the match between Qatar and Egypt. Both teams had zero points after their opening game and were therefore eager to get the win. Qatar hit the ground running and within three minutes of the first half they had scored a goal (Frankis Marzo), conceded a yellow card (Ameen Zakkar) and a two minutes suspension (Rafael Capote).

Halfway through the first half Qatar managed to take the lead when Rafael Capote scored his second goal of the game – Capote had a good game scoring a total of five goals. The first half was a fairly even affair as the lead rapidly changed between the two teams, resulting in the fact that neither of the teams had more than a three-goal lead at any time. Towards the end of the half Egypt's goalkeeper Karim Hendawy made a couple of great saves which kept Qatar from taking the lead.

Egypt's Karim Hendawy began the second half with a tremendous save that led to Egypt scoring their second goal of the half, getting them within one goal of Qatar. At the seven-minute mark Mohamed Shebib scored from close distance to level the game. Afterwards, Qatar's coach Valero Rivera called for a timeout. This led the Qataris to score two consecutive goals, bringing the team in front by 19:17. The Egyptians struggled to get the ball past Danijel Saric in the Qatari goal, as the 41-year-old keeper had a terrific second half. With only a 15 minutes left Qatar had taken a six-goal lead (23:17). The game ended with a victory for Qatar.   


hummel Player of the Match: Youssef Ali (QAT)
Statements after the match
Valero Rivera, coach of Qatar: "It was an important match for us as we didn't play the way we intended in the first game. It was important for us to show that we are able to play this way. We had an excellent concentration throughout the game."
David Davis, coach of Egypt: "Congratulation to Valero. I have a great respect for what you (Valero) have achieved in the sport of handball. I take the result on my shoulders. I didn't prepare the team good enough."
Youssef Ali, player of Qatar: "Today was a very good match for us. We tried to change our level after the first game. I want to thank my team mates for playing so well. We showed that we deserve more in this competition."
Karim Hendawy, player of Egypt: "We must continue fighting. We couldn't keep the concentration in this match. I know and trust my team mates and my coaches as I know that we will surprise the supporters in the coming matches."