13 Jan. 2019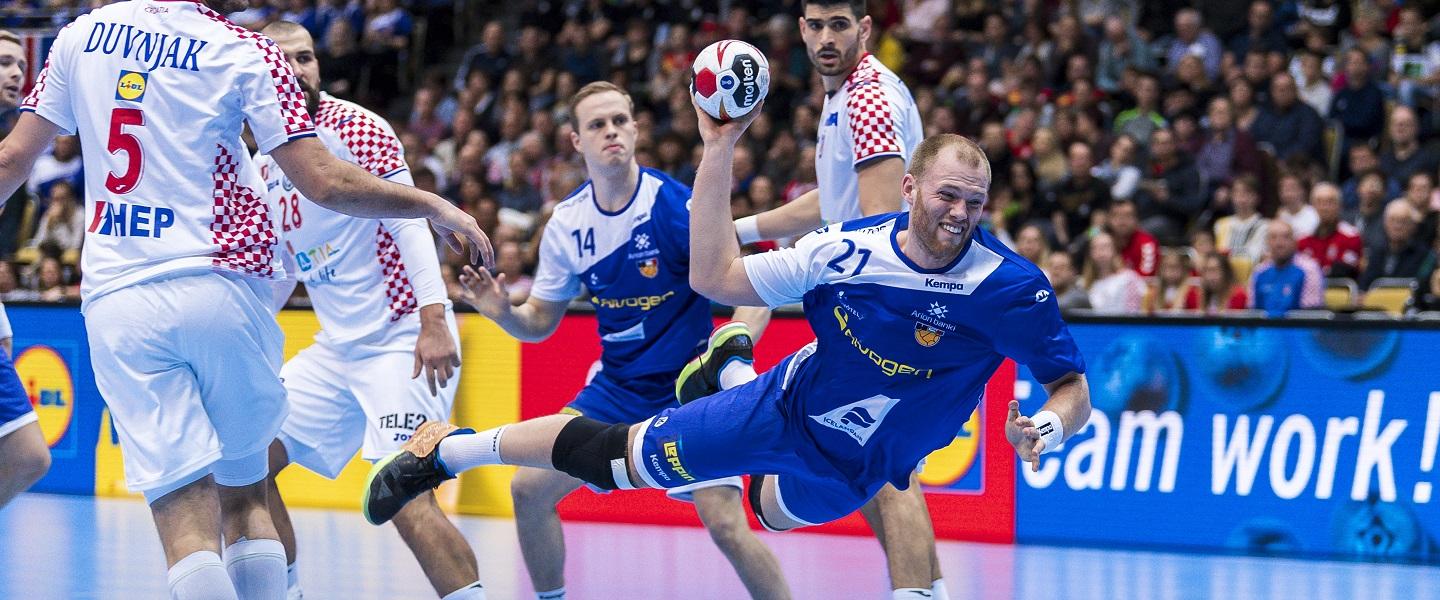 The second match day in Munich on Sunday will bring the second straight all-European duel for Iceland in Group B: the Vikings had shown a great fight against Croatia in an outstanding match on Friday but were finally defeated 27:31 despite an impressive performance of playmaker Aron Palmarsson. Due to the last-second injury of left wing Gudjon Valur Sigurdsson, Iceland miss a crucial weapon in their attacking system. "We are building up a new team, and I was proud on how our young players fought against the Croats," said coach Gudmundur Gudmundsson.
As Bahrain and Japan seem to be weaker than the four European sides in Munich, the direct duels will be decisive when the three teams will be determined which make it to the Main Round in Cologne. "We had a huge rotation in our opener against Bahrain. We know that the championship is long and that we have to use all 16 players. This tactic will continue against Iceland," said Spain coach Jordi Ribera after the easy-going 33:23 win over Bahrain on Friday.
Maybe it will be a good omen against Iceland that Spanish football legend Xavi Martinez (player of Bayern Munich) announced to return to Olympiahalle for Sunday's clash after awarding the Player of the Match already on Friday.
The most famous match Spain vs Iceland was on 22 August 2008 in Beijing when the Vikings (then and now coached by Gudmundsson) beat the Spaniards 36:30 in the Olympic semi-final to later on win the first ever Icelandic medal at Summer Games (silver).
In terms of fans in Munich, Iceland will rather have a home match with more than 500 fans, who will support their stars with their loud "Uh" cries in Olympiahalle.
Group B in Munich:
Can the Asian sides cause surprises against the European powerhouses? In the matches Japan vs Croatia and Bahrain against FYR Macedonia two winners of the first match day face two losers. Japan had some strong periods against the Macedonians in their opener, while Bahrain did not stand a chance against Spain. "Of course, we want to gain some points in the preliminary round, but it is more about development and learning," said Japan's Icelandic-born coach Dagur Sigurdsson.
Group D in Copenhagen:
The Royal Arena was the place for surprises and sensations in the first round. 2015 World Championship silver medallists Qatar were defeated by Angola, Hungary took a lucky draw against Argentina, while main contender Sweden had to struggle hard against Egypt to win 27:24 despite thousands of supporters in an almost yellow arena.
Having those results in mind, Sunday's results are hard to predict: "The defeat against Angola was the worst match in the last five years, now we are under pressure," says Qatar coach Valero Rivera before the match against Egypt. Both coaches are Spaniards – Ribera and David Davis, both sides have zero points on their account prior to Sunday's opener in Copenhagen. From the psychological point of view, Egypt seem to be the favourite.
Hungary will definitely not make the mistake of underestimating Angola after the great start of the African bronze medallists. The European side were close to fail against Argentina in the race for the Main Round ticket. "We have to beat Angola, we have to focus for 100 percent," said top scorer Zsolt Balogh.
Even without their top star Diego Simonet, the Argentine 'Gladiators' snatched a point from Hungary, but are the underdogs against Sweden. "We were happy with the point, but we are out for a Main Round spot, so maybe we can surprise again," said Argentina player Matias Vieyra. The past shows that Argentina do have a chance: at the 2011 World Championship on home ground, Sweden lost against Sunday's opponent.
Photo: Marco Wolf