11 Jan. 2019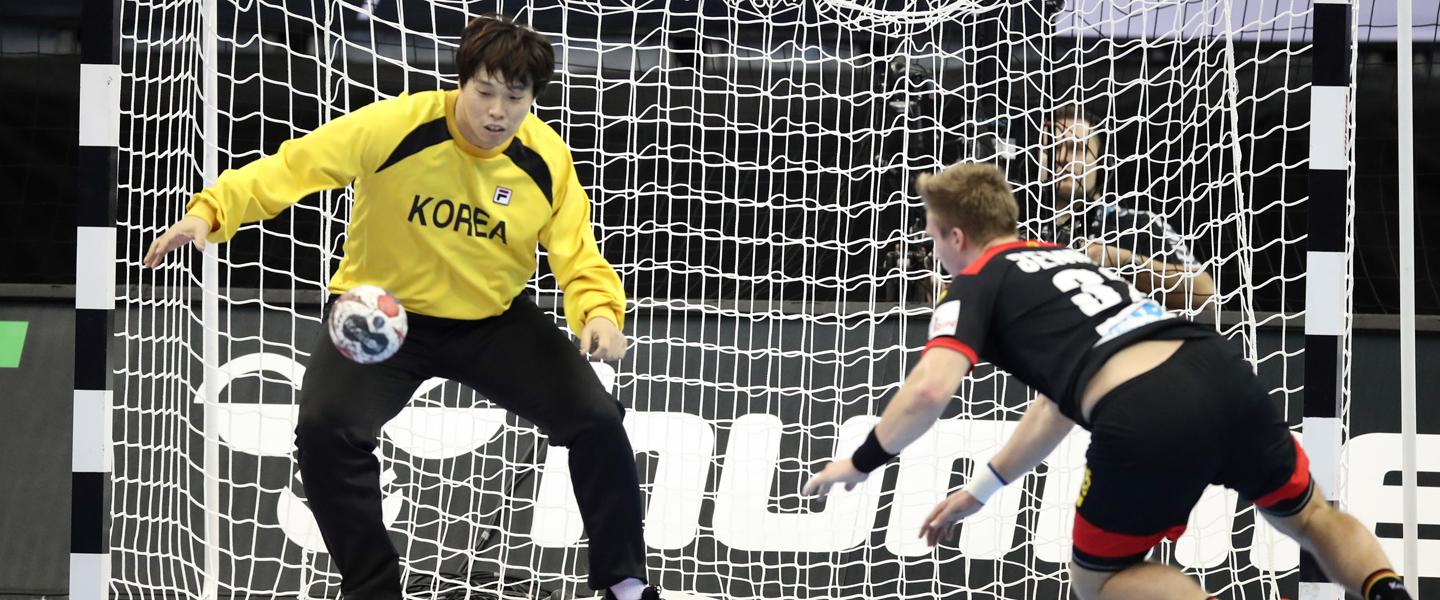 Reflections from the court of an historic sporting event 
The opening match of the 26th IHF Men's World Championship saw co-host nation Germany beat the unified team of Korea 30:19 with the Asian side present following more than six months of work from various parties. IHF.info speaks to those involved in the historic event on the playing side, starting with Korea's first-choice goalkeeper Jaeyong Park.
Park was particularly impressive in the game, picking up nine saves in each half to end with 18 shots stopped out of 46 German attempts (39%) and he gave an insight into what the build-up to the game and the event itself was like for him to IHF.info.
"Since 22 December we have been having joint training sessions with North Korea and now as the unified team, we did our best," said the 1,91m player. "With our goalkeeping coach we analysed the German players deeply and that was why my performance was quite good, but we knew and understood before that they would have that big home advantage [of the crowd], so we just accepted that situation.
"We tried really hard not to give up in the match even though it was very hard and tough against a German team which is physically very strong, but we did our best and this is what we will do for the rest of the tournament. Also we will try not to get any injuries as our goal is to reach the end of the tournament without any.
"I feel very honoured to take part in such a big, global competition and to play in such an historic moment - we have written some new handball history in Berlin."
His coach Young Shin Cho was keen to stress that his team had to train and compete for both the event itself and the world championship match and was impressed with what he saw on court.
"I would like to congratulate the German team for winning," said Cho after the match. "It was the first time Korea participated as unified team and I am happy that the players did not give up and gave their all until the end. It was also quite hard for us to prepare for – and play in – the opening game as a unified team, and against one of the world's best teams in Germany, but it was an honour to play in it."
That preparation started on 22 December when the delegation from the People's Republic of Korea arrived at Berlin airport to join the Korea Republic delegation who had arrived the day earlier, and coach Cho reflected on that period in his initial thoughts after the defeat.
"It has been only 20 days that we have practised as a unified team and we had some dissatisfaction (with our performance against Germany)," said Cho to IHF.info. "But the players have done well during the short time and they have showed their play during the game. 
"I told the players before the game in the locker room to become one team, to play as one team during the match and to show the crowd their best play and they did. In order to develop their play in the rest of the games they will have use the characteristics of the unified team which is speed and teamwork so that we can play well against European teams next time."
Captain Suyoung Jung also felt the momentous nature of the occasion and was keen to stress he was captain of one team – the unified team of Korea.
"It was an honour to play in such a great arena and we are satisfied," said the right back. "All the players from Korea had a great experience, even though we lost, but we will all do our best in the following games. 
"It was important I motivated all the players on court in my role as a captain – not as a North or South Korean player. We are just one team and it doesn't matter where the players are from, we are just one team."
From the German side:
Christian Prokop – Coach, Germany
I would like to thank Korea for the opening game, we are very happy to have played in this atmosphere and to win. For both teams there was a lot of emotion because for Korea it was an historic match and for us it was the start of a home world championship. This, and our tactics, played a great role, but I was satisfied with my players.
Matthias Musche – Player, Germany
It was a nice game, but it is every time hard to play the opening game. We were a little bit nervous because it was a dream for all of us to play a championship in Germany. We won by 11 goals and in the end we can be happy.
Read HERE to see what IOC President Dr Thomas Bach had to say about the historic sporting moment.
Thanks to John Yoon at the Korea Handball Federation for part translation