12 Jan. 2019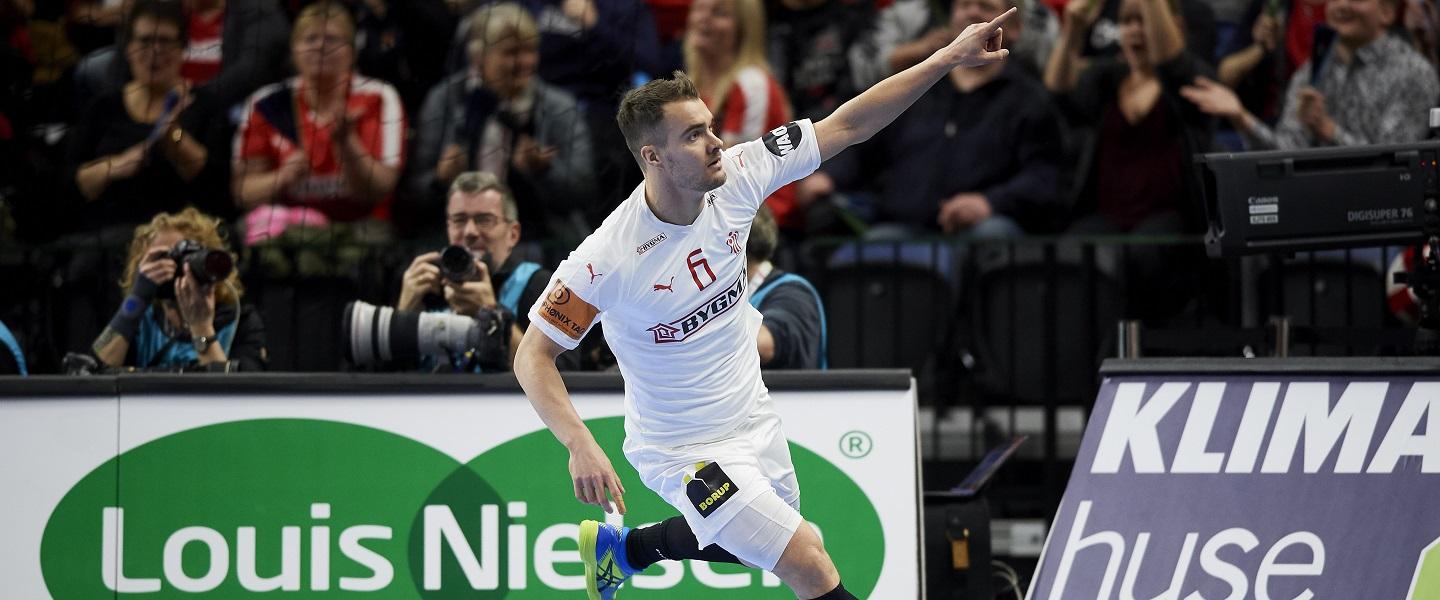 The hosts have arrived at their 'temple of handball': After opening their World Championship Campaign in the Royal Arena in Copenhagen by beating Chile 39:16, Denmark have their next intercontinental encounter in group C on Saturday – but from now on in Jyske Bank Boxen in Herning where they dream to play for gold on 27 January. On Saturday night, they clash with Tunisia. The African champions have their second duel with Scandinavian top teams ahead, after being taught a lesson by Norway (24:34).
"We definitely have to improve our defence compared to the match against Norway. And we have to realise that Denmark is not only Mikkel Hansen, but have a huge number of top players, which you need to stop," said Tunisia coach Toni Gerona, adding: "The Danes have almost no weaknesses." His side hopes for the main round, knowing that the crucial matches are against other opponents than the host and medal contender.
On the other hand, Denmark have respect for the African champions: "From the physical point of view, Tunisia is much stronger than Chile, we expect a tough match," said back court ace Rasmus Lauge. "We shall not think about other matches, but focus only on Tunisia," adds goalkeeper Niklas Landin. After the match against the African champions, the Danes face Saudi Arabia, before their all-European duels with Austria and Norway.
Group C in Herning:
In the remaining duels in Herning, the European sides are in the favourite role: After easily beating the Saudis, now Austria face Chile, while Norway lock horns with the Arabians. "I am sure that Chile are eager to show that they are stronger than in their first duel. In contrast to them, we have one day less to prepare, but we could save some powers against the Saudis," said Austria coach Patrekur Johannesson. Norwegian Eivind Tangen did not expect to have a cruise against Tunisia, and: "We hope for a similar result like this again."  
Group A in Berlin:
Can Brazil make it again? This is the question after the surprising strong performance against defending champions in their opener. After an intermediate 20:20, the Pan American runners up unluckily lost 22:24 to France, and now have the next high hurdle to climb: hosts Germany. "I hope we did not lose too much power against France, as we have less than 24 hours to recover," said Brazilian Jose Toledo, who was Player of the Match against France with eight strikes. Brazil had beaten Germany on home ground in the group match of the 2016 Olympic Games in Rio, but lost all nine previous matches against Germany.
"Not only because of the defeat at Rio, we have to be on 100 percent, the match against Brazil will be completely different to our opener against Korea," German coach Christian Prokop warns his players. His side had no huge resistance to break on Thursday, winning easily 30:19.
The unified Korean team play the opener of match day 2 in Berlin against Russia – and the roles are clearly marked. "We are here to learn and develop," said Korea coach Cho. Russia had tied with Serbia in the first match and need two points to remain in the race for the main round.
Saturday's final encounter will bring Serbia and France on court. "Many teams had problems in their opener, this is typical for competitions like this," said French coach Didier Dinart after beating Brazil closer than expected. Serbia let a win slip away from their hands against Russia – and hope that the neutral fans in Berlin support them like they did with Brazil on Friday.