11 Jan. 2019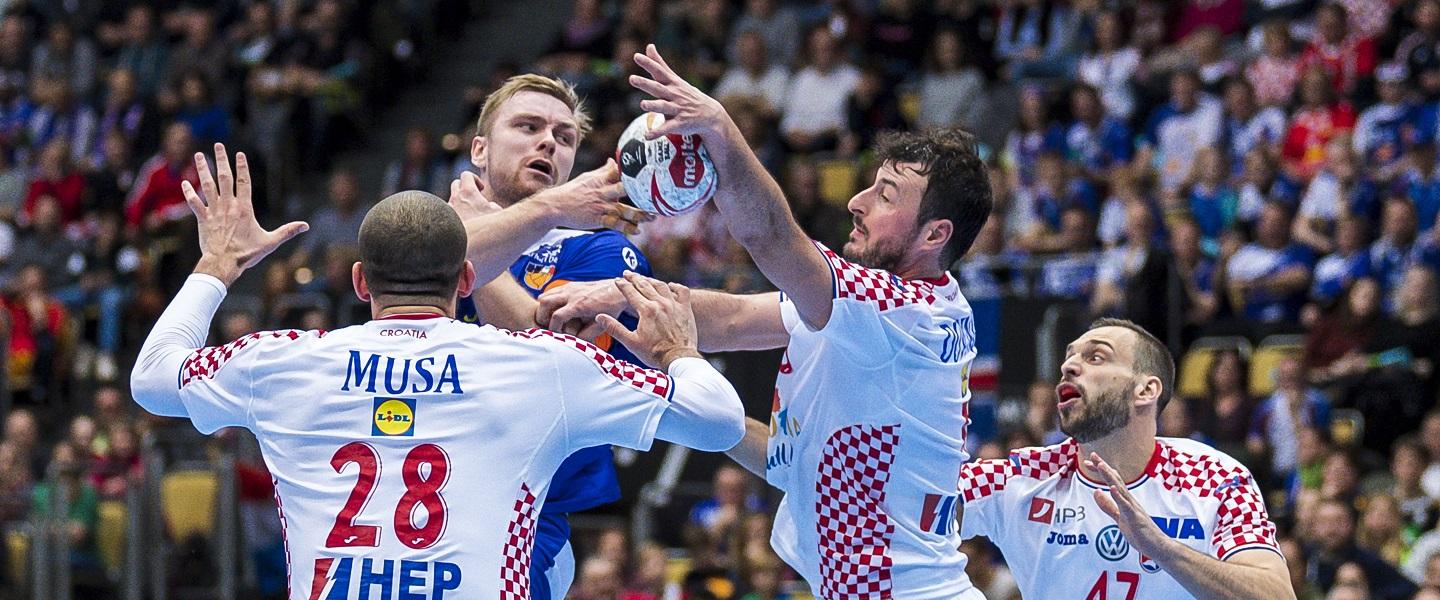 The Olympiahalle in Munich saw the return of a major handball event for the first time since the debut of the modern game at the 1972 Olympic Games with six teams opening up their Germany/Denmark 2019 Preliminary Round Group B campaign today.
Japan vs FYR Macedonia 29:38 (13:18)
With just under 70 goals scored in total, fans of defensive handball may not have been impressed with the action on court in the opening game in Munich, but the loud and proud Macedonian fans were fully satisfied in the end, despite watching their team struggle at times against a fluid Japanese side, coached by former German men's coach Dagur Sigurdsson on his return to the country he led to EHF EURO 2016 gold.
Sigurdsson's side – on a wild card entry to help them prepare for a home 2020 Olympic Games – took the lead through Jin Watanabe but a 3:0 run from the Europeans put them ahead 3:1 in the sixth minute and they never lost the lead again.
But the home crowd were rooting for the underdogs, gasping in pleasure at in-flight attempts from the Asian side as they desperately tried to breach the defence led by Stojanche Stoilov, but the frustration in doing so from playmaker Shinnosuke Tokuda was clear as the passive play signal was a constant stress on the Japanese side, added to goalkeeper Borko Ristovski ending the opening 30 minutes with 12 saves from 23 shots (52%) with the Macedonians five goals clear (18:13) as Kiril Lazarov registered seven first-half strikes.
Perhaps buoyed by the half-time pause, Japan came out fighting in the second half, outscoring their opponents up to the 51st minute, but Raul Gonzalez's side pushed on and ended with a near double-figure victory, 38:29.
"It was difficult as they played very fast," said Gonzalez after the match. "They have an amazing attack, but we had a pressing defense from the beginning and our goalkeeper was perfect in goal and when the goalkeeper saves everything you have a chance to win. We are very happy as it always difficult to start with a good game, but now we have to forget this and focus on the next one."
Sigurdsson was disappointed with the defeat but could find positives. "In my opinion we played quite a good match but are a little bit disappointed but how much we lost by in the end," he said. "We had big troubles in the first half with their bigger players and the goalkeeper who was saving everything that came towards the goal but in the second half we started well and found a solution for the problem."
hummel Player of the Match: Stojanche STOILOV (MKD)
Iceland vs Croatia 27:31 (14:16)
"I knew before the game that it will be very tough," said Croatia coach Lino Cervar after this epic duel finished. The lead changed numerous times in an exhilarating and exciting match played in an intoxicating atmosphere, heavily weighted in favour of Croatia, thanks to their loud and motivated fans.
Before the game, Iceland had played down their expectations as a team in a transition with many young players, but they stepped up to the task in hand against one of the pre-tournament favourites.
The first 10 minutes saw 12 goals scored (6:6) in an attack-dominant opening period as Iceland had led the initiative, but Luka Stepancic grabbed a goal to put his side in front (7:6 – 11th minute) as Croatia did not back down. Iceland again went ahead, opening up the first two-goal lead (11:9 – 18th minute), but a strong run at the end of the half saw Croatia score five unanswered, punctuated by a Gudmundur Gudmundsson time-out for Iceland, as the Balkan side ended 16:14 up.
"Our beginning was not so good, and our defence made several mistakes," added Cervar. "But in the second half we played in defence better, but this is just one game though and we have many tough games ahead."
By the 36th minute Croatia seemed to be in control (21:17) as Stepancic led his side clear, but Iceland blew through the normally-strong defence, going on a 7:1 run to wrestle the lead back (24:22) and with nine minutes left they were 26:25 ahead and looking for an opening day win.
But, like the end of the first half, Croatia stepped it up, scoring six unanswered to the enjoyment of the Croatian fans who witnessed Bayern Munich FC manager – and fellow Croat – Niko Kovac present the best player award to Stepancic after the game.
"I am very happy with most of our game, but maybe the last five minutes in the first half and five minutes in the second half they were the better team," admitted Gudmundsson. "In the other 50 minutes we were level and it was a fantastic handball game. I have to give my players a big credit; we have started building a new team and we have young players coming to their first tournament.
"We did not know where we would stand against one of the best teams in the world and in the end, they can be proud, but Croatia had more experience and were very clever and that is why they won."
hummel Player of the Match: Luka STEPANCIC (CRO)
Bahrain vs Spain 23:33 (11:16)
The EHF EURO title-holders easily overcame the Asian continental runners-up Bahrain in the final Group B encounter of the day as Spain looked to recapture the global title which they won on home soil back in 2013.
For Bahrain, coached by Icelander Aron Kristjannson, it continues their unwanted record of never having beaten a European team at an IHF Men's World Championship.
Behind for the whole game, they tried in vain to keep Jordi Ribera's side to no more than two or three goals ahead but could only manage 18 first half attempts on goal, hitting the net 11 times and finding themselves down by five at the break with Alex Dujshebaev scoring four in the first 30 minutes, one of an eventual 13 different scorers in his team.
"The match was very complex and the first minutes for us we wanted to play all our players," said Ribera. "We had many options in defence but made mistakes and had problems at times – particularly with the 7v6 they played, and in our next match we play Iceland, so we will have to work on this."
"They are a strong opponent who are always trying to stress their opponents with their active defence," said Aron Kristjansson. "For the first 50 minutes we played well with discipline in defence and a little soft in attack, but the last 10 minutes we lost our heads a little and if you take the whole game, to lose by 10 is a little bit too much."
hummel Player of the Match: Ferran SOLE SALA (ESP)
The global handball action returns to Munich on Sunday (13 January) with FYR Macedonia vs Bahrain (14:00hrs), Croatia vs Japan (16:30hrs) and Spain vs Iceland (19:00hrs)
Photo: Marco Wolf