10 Jan. 2019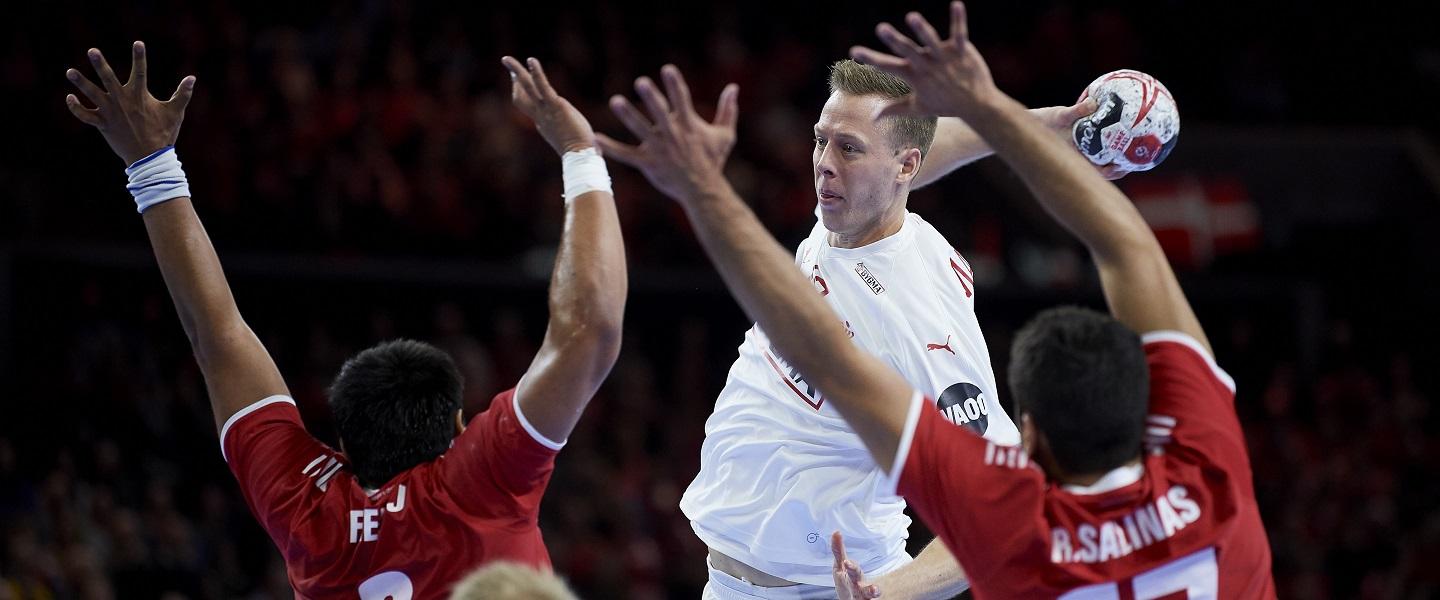 Co-hosts Denmark followed Germany's example, recording a commanding win in their opening match of the 26th IHF Men's World Championship in a packed Royal Arena in Copenhagen on Thursday night. After Germany defeated the unified team of Korea by 11 goals in the first Group A game, Denmark took an even bigger victory, with a final score of 39:16 to open Group C.
The match took place after a welcoming address from Frederik, Crown Prince of Denmark, to open Denmark's hosting of the World Championship.
Chile vs Denmark 16:39 (4:22)
After three goals in the opening three minutes (1:2), Denmark took firm control and cruised through the 60 minutes with a performance that could hardly have been a better way to start their home World Championship campaign. Denmark scored many of their goals off fast breaks, thanks to a superb game from wing duo Casper Mortensen (eight goals and top scorer) and Lasse Svan. After Mortensen's first two goals, Denmark pulled ahead to lead 6:1 after six minutes – and Chile could simply not match the European side's power from that point on.
Denmark's star left back Mikkel Hansen played as an attacking specialist through most of the first half, but as Mortensen and Svan were so effective at converting intercepts and Niklas Landin's saves into fast-break goals, Denmark hardly played positional attack and Hansen was rarely on the court. The difference in shooting accuracy after 15 minutes, 11:4, was telling – Denmark recorded 85% efficiency to Chile's 36%, though the World Championship co-hosts had only taken two more shots than their opponents.
When Denmark did play from their positions, they were led by a classy performance from centre back Rasmus Lauge. Lauge was one of just five Danish players who scored in the opening 25 minutes, when Mortensen tallied five and Lauge was close behind on four. Though his side were confidently in front, Denmark coach Nikolaj Jacobsen saw no reason to change his line-up until late in the half and allowed his starting side enough time on court to settle in to the atmosphere.
Denmark coach Jacobsen changed his line-up completely towards the end of the first half and to start the second, while Chile coach Mateo Garralda switched his goalkeeper from starter Felipe Barrientos to Felipe Garcia once in each half. Garralda also tried playing seven-on-six in the second period, but with their scorching counter attacks, Denmark were too dangerous of an opponent for such a tactic and the Pan American side were quick to stop the attempt.
With just under a quarter of the match remaining, Denmark held a 32:11 lead, and any doubt that they would claim the two points was clearly evaporated. The player of the match was Mortensen.
Statements after the match:
Mads Mensah, player Denmark: It was a very good opening for us. We stood well in defence and made lots of goals from fast breaks.
All in all, it was a good fight for us and it was very nice to play for such an audience. It's always nice to win and nice to win big and comfortable.
Victor Donoso, player Chile: For us it was two games – a first and a second. In the first half we played really bad. I don't know the reason. The first half was not Chile handball.
The second half was better. We lost it by five.