24 Jul. 2013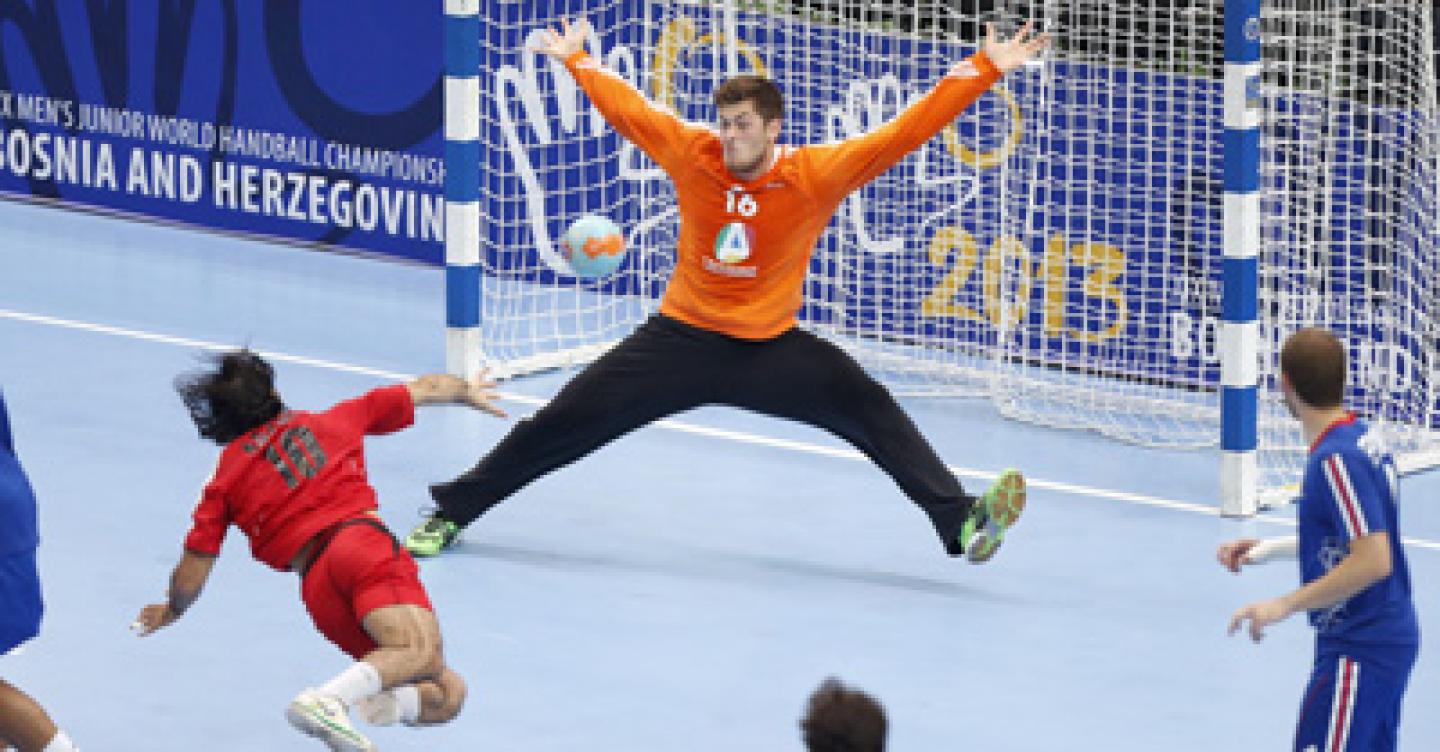 After a tough and highly intense clash with Egypt, the French players were dancing on the court, shouting and singing –they are the first team to qualify for the semi-finals of the Men's Junior World Championship in Bosnia-Herzegovina. Egypt was a heroic competitor in the quarter-final on Wednesday (24 July) in Sarajevo, but finally was beaten by 33:35 after they had been leading 16:14 at the break. France will face the winner of Netherlands vs. Sweden in the semi-final on Friday (26 July), while Egypt will play against the loser of this match in the placement round 5-8.
France had enormous problems in defence in the first half, especially on their left side – where they were hit hard by the injuries of three left wings, including top scorer Hugo Descat, who only entered the court for penalty shots. Egypt knew the weak point of France and was extremely efficient in attack in the first half, though they also had to replace one of their top players, Mohamed Bechir, due to an injury. But they coped well with this situation and initially forged ahead to 8:5. Though France improved intermediately and equalized at 9:9 and 13:13 they could not take control of the match at that stage, though their goalkeeper Remi Desbonnet backed them by his saves. At the break Egypt was away by 16:14, but right at the start of the second half was shocked by another injury, as top scorer Mostafa Khalil had to leave the court for some minutes. France stroke back – and by his eighth goal Quentin Minel (in total 10 strikes) equalized again at 16:16.
But it took until minute 45, when France was in lead for the first time of the match after Nicolas Boschi had scored for the 23:22. But nothing was decided, as Khalil led his team by an overall of 13 goals and equalized several times. Two minutes before the end the first two goal lead for France at 33:31 (scored by Jordan Bonilauri) was the pre-decision –and latest when Desbonnet saved a penalty shot at 34:32 the brave Egyptians had been beaten.