27 Jul. 2010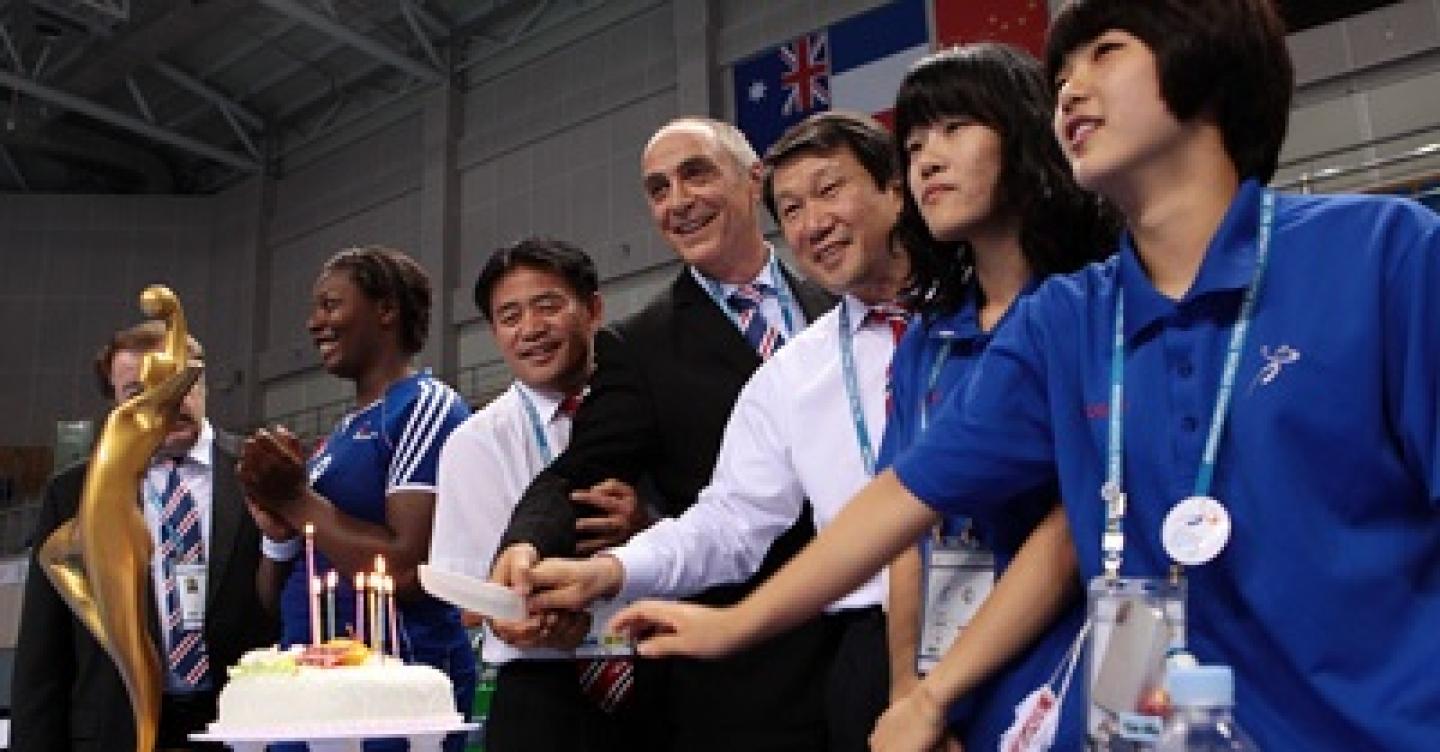 Thanks to their close victory against African Champion Angola the French team has won the President's Cup at the Women's Junior World Championship in Korea. The trophy was handed over by IHF General Secretary Joel Delplanque, who's President of the French Handball Federation, too. Argentina took the victory in the placement match 15/16 after beating Japan after extra-time.
Placement match 13/14 (President's Cup final): France – Angola 30:28 (16:15)
After France had missed the Main Round very unluckily they now took the President's Cup. "It wasn't our objective to recieve this title, as our target was the Main Round. But we missed this after our defeat against Serbia", French coach Paul Landure said after the victory against Angola. But after the award ceremony his team jumped and danced – and they together with Delplanque cut a big cake that was served to the volunteers afterwards. The game was as close as the final result.  Though they had to replace some injured players Angola started better and led 6:4 and 11:8, but France countered until the break and took back the lead thanks to some great saves of goalkeeper Leythienne. But the match kept being narrow after the break until the 21:20 for the African Champion. Right then France scored a series of 8:3 goals to the intermediate score of 28:23. But Angola tried everything to win this President's Cup final and reduced the gap to 28:29 in the very last minute. Six seconds before the end Celin Blard decided the game wit the last goal. Top scorers were Marie Prudhomme with six goals for France and three Angolan players, who each scored five times.
Placement match 15/16: Argentina – Japan 28:27 (20:20; 12:11) after extra time
It took 70 minutes until the placement match 15/16 was decided – and Argentina nearly took nearly the same place as in 2008 (12.). It was a real thriller decided three minutes before the end, when Manue Pizzo scored the final result.  Japan had the better start, led 4:1, before Argentina fought back and took the lead. This lead remained until minute 52, as Japan equalized at the score of 18:18 again – and even had the chance to win, as they scored the 20:19 two minutes before the end.  But with their ninth goal Crivelli secured the extra time for Argentina. And even in this decisive ten minute the lead changed constantly. After the 27:26 for Japan, Argentina decided the game with the last two goals. Top scorer for Japan was Inui with six goals, like Crivelli, Mendoza scored nine goals for lucky winner Argentina.