20 Jan. 2013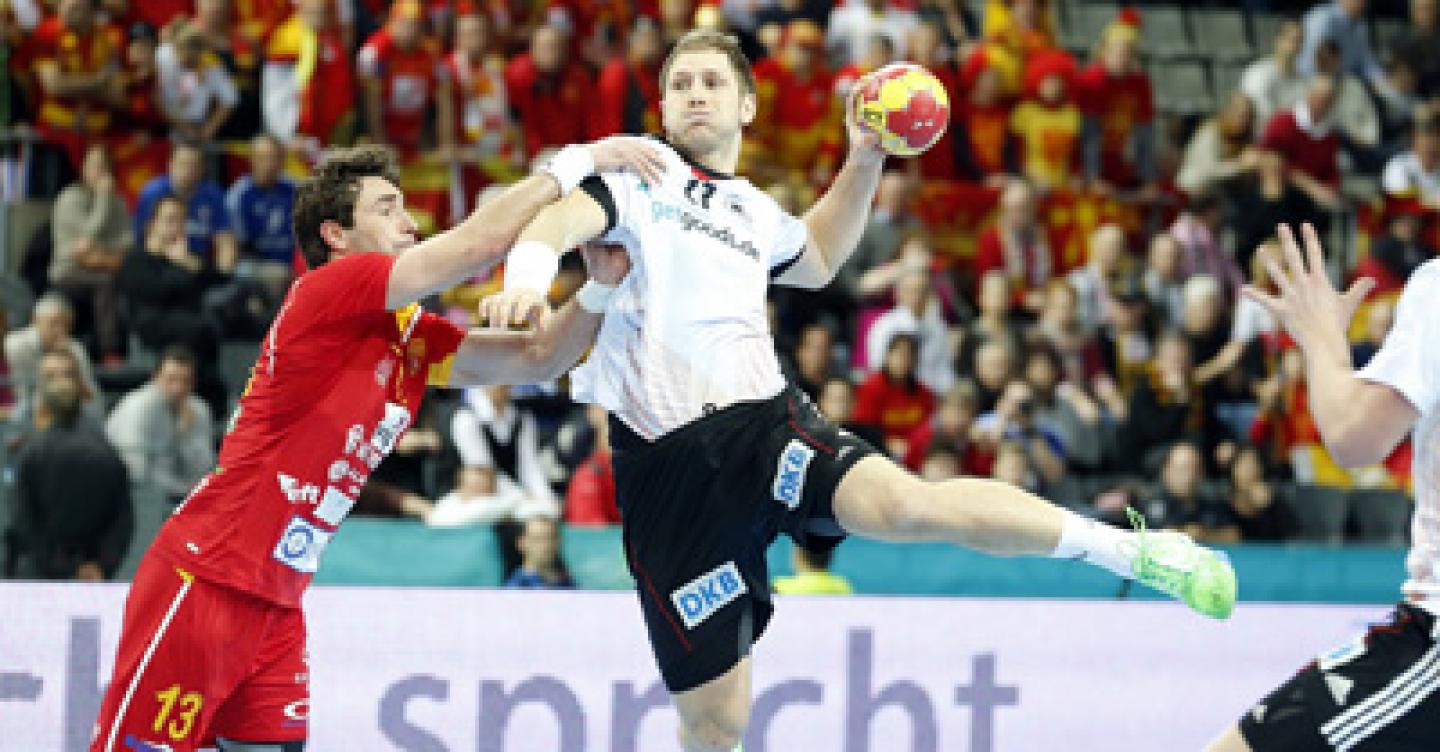 In the first match of the knockout stages of this World Championship, Germany convincingly won by 28:23 (13:9) against FYRO Macedonia and now will face either Spain or Serbia in the quarterfinal in Zaragoza. The victory was well-deserved, as the team of coach Martin Heuberger played very variable in attack and in defense and never left any doubt about their strong will to win.
During the first minutes of the match the Germans were in lead by 4:0, while the Macedonian team could only react against a well-concentrated competitor, who extended the margin to 9:4 after 18 minutes and 11:5 after 22 minutes. The Balkan team suffered from the inefficiency of their shooter number one Kiril Lazarov, who needed six attempts for one goal during the first 25 minutes. But in the last five minutes of the first half Macedonia first shortened the gap to 9:12 and seemed to come back. But Germany stroke back and was in lead by 13:9 after the first half.
After the break the German team again started very well and needed only six minutes to away by six goals (17:11 after 36 minutes). But after that they missed some clear chances and Macedonia was close to turn the match at 16:18 and the formerly one-sided match became surprisingly open again. But finally FYR Macedonia missed several chances, while Germany was clever enough to pre-decide the match at 24:18 (52.). Macedonian Kiril Lazarov was the best scorer of the match (eight goals).
Statements after the match:
Martin Heuberger (coach Germany): I am very proud of this victory because FYRO Macedonia has a very good team. But we were well prepared for this match, our defense was strong, and also our goalkeeper Silvio Heinevetter was very good.
Zvonko Shundovski (coach Macedonia): We were tired because of the long travel from Sevilla the day before. Nevertheless we were not far behind in the middle of the second half and had the chance to equalize. But we missed too many shots, and you cannot do this against a team like Germany.