20 Jan. 2013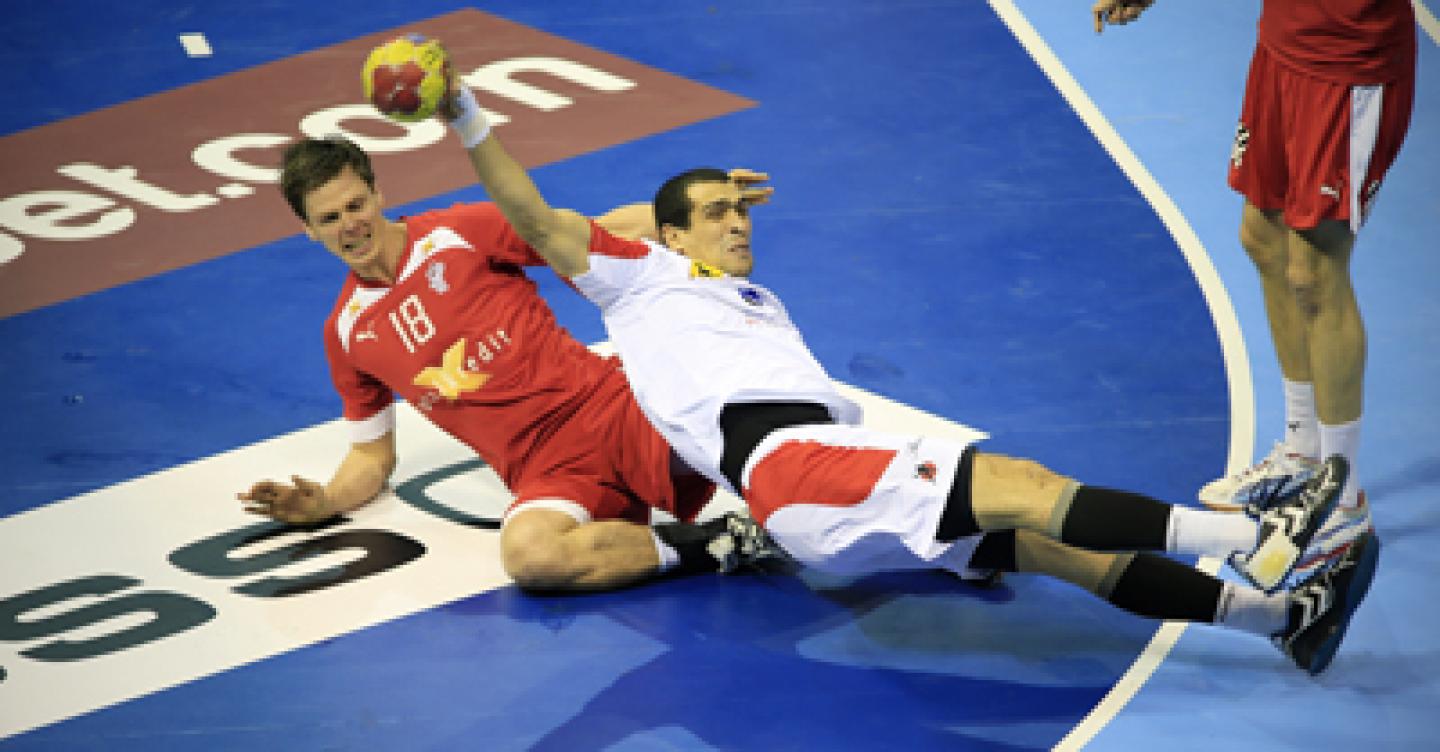 Sixth match, sixth victory: Denmark started their knock-out stage campaign after a clear sweep in the preliminary round by an unexpected clear 30:23 (16:11) victory against Tunisia. Without their injured top shooter Amine Bannour the African champion was absolutely chanceless in a one-sided eight-final encounter on Sunday (20 January) in Zaragoza. Denmark now will face the winner of the match Poland vs. Hungary in the quarter-finals on Wednesday (23 January) in Barcelona.
In the duel of the continental champions the Africans took the opening lead thanks to the goals of "bull-fighting" Issem Tej and the saves of goalkeeper Marouane Magaiez and even went away to 6:3. But then, first Tej received a suspension and secondly was out for some minutes after an injury. Denmark took the profit to equalize by 6:6 mostly by the back court goals of Mikkel Hansen and then turned the match completely, when goalkeeper Niklas Landin closed his window.
The European champion could forge ahead easily, but the match was a combative battle in both defence sides until the break. Due to a lot of suspensions, Tunisia could not stand the pressure anymore and the Danes were away by 16:11 at the break – and even took an early decision after only five more minutes, when they were ahead by 20:12 – and the result was double-figured for the first time at 22:12.
As the winner was confirmed, Denmark did not do more than was necessary and started a big rotation, while the Tunisian resistance was broken completely. Danish coach Ulrik Wilbek was able to save the powers of his key players for the next task, which definitely will be tougher.
Statements after the match:
Ulrik Wilbek, coach Denmark: It was the rundown which we had expected. Our counter-attacks and the great defence were the important keys for success. I specially have to mention Kasper Nielsen, who today made his first match here in Spain and stabilized our defence. Tunisia was tired and could not cope with the loss of their injured key player Amine Bannour. But I hope for the future that this young Tunisian will improve, as it is important not only to have top teams from Europe.
Lasse Svan Hansen, player Denmark: In the first six to eight minutes we had not been that focused than we took the command thanks to our defence. This defence performance helped our goalkeeper and was the starting point for our counter-attacks. I am happy as we played well – and I have no preference which team to face in the quarter-final.
Alain Portes, coach Tunisia: We had shown great performances against France or Germany, but today we were tired. We started well, but then became nervous. Denmark  - like France - is my favourite for the gold medal.
Jaleleddinne Touati, player Tunisia: We were mentally and physically tired. A lot of our player had their first ever World Championship here in Spain, which was an important experience for our team. Denmark showed great counter-attacks, and we could not manage to play better after the break.  But I am sure that our young team will grow up.