21 Jan. 2013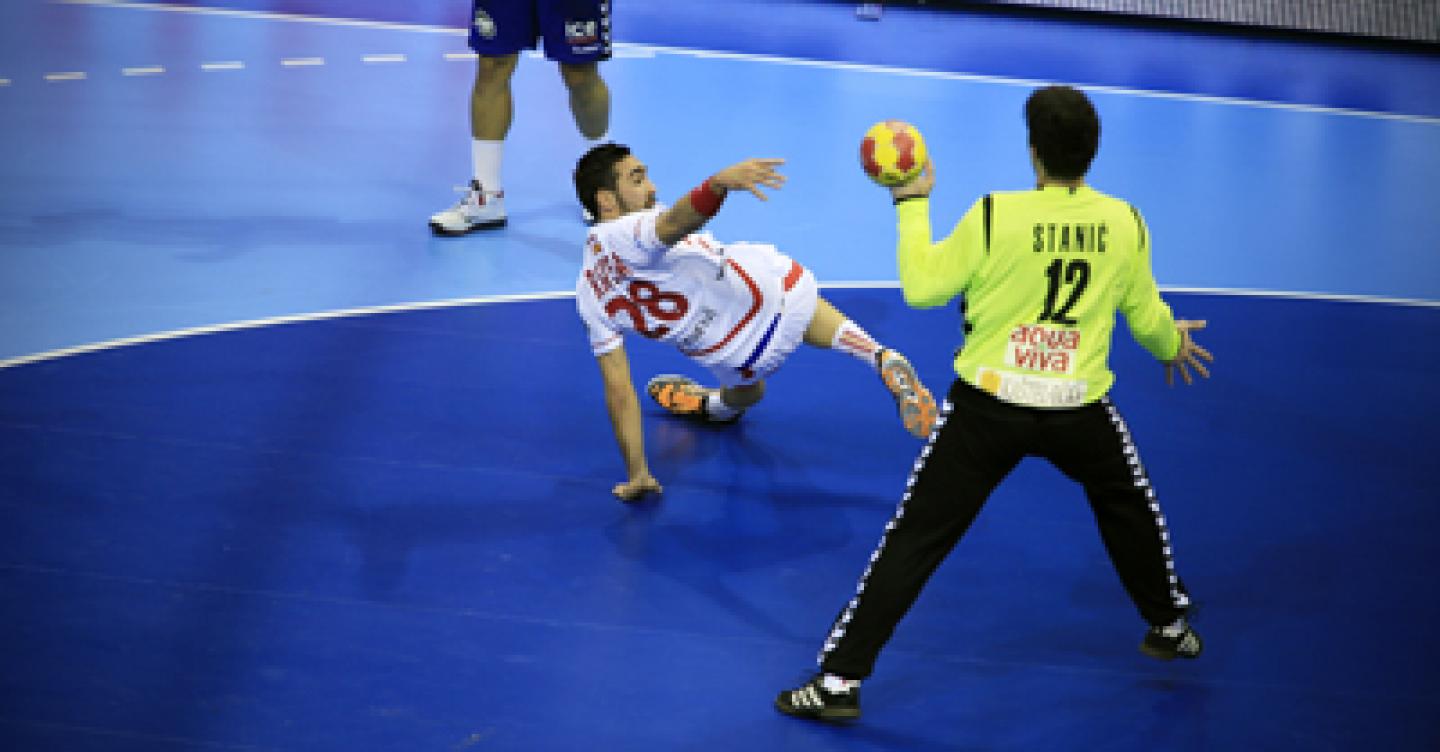 After a strong performance in the first half and an unexpected clear win, World Championship host Spain has made it to the quarter-finals. In their first match of the knock-out stage, they left Serbia chanceless by 31:20 (20:12) on Monday (21 January) in Zaragoza. After this great performance in a mostly one-sided encounter, Spain faces Germany in the quarterfinal on Wednesday (23 January). And the Germans already got a clue what to expect then, as the whole team was attending the match Spain vs. Serbia in Pabellon Principe Felipe.
After an equal start, Spain took over the control despite some great saves of Serbian goalkeeper Darko Stanic. Thanks to four straight goals the host forged ahead to 7:3 – and then had not even been shocked, when their defence specialist Viran Morros received a direct red card after a foul against Nemanja Zelenovic. On the contrary: Though they were shorthanded, they scored two goals, while Serbia was struggling hard to break through the Spanish defence.  Backed by brilliant support in the sold-out arena in Zaragoza, the Spanish team was unstoppable, was away by six goals at 14:8 and even eight pre-decisive goals at the halftime score of 20:12 – scoring from all positions in a match full of adrenaline and emotions on and off the court.
Serbian coach Veselin Vukovic found the right words in the dressing room, as his team played much more concentrated and passionate in the opening stage of the second half, reducing the gap to 16:22. Spain was out of rhythm in attack and could be glad to have goalkeeper Arpad Sterbik, who avoided an even closer result. The Serbian defence acted much more aggressive and movable compared to the first half, and in attack they shot with a clearly higher efficiency in this period.
And the audience knew that their team urgently needed their support – and frenetically stood as one behind the Spaniards. And the players gave them goals and a clearer lead. Latest when the score was 26:17, the Serbian fate was sealed. Nine minutes before the end, Nenad Vuckovic received another direct red card after a foul against Spaniard Angel Montoro. Only two minutes later, Gereon Guardiola scored for the first double-figured result at 28:18 – to make the team and the spectators celebrate together. Thanks to this performance Spain set a clear sign towards all contenders.
Statements after the match:
Valero Rivera, coach Spain:  I am very satisfied, it was a great game and an excellent performance. In the second half we thought more about the quarter-final already and I took the opportunity to give playing time to all players. I am especially satisfied with our defence and counter-attacks. It was a very good result.
Albert Rocas, player Spain: Our team performance was nearly complete.  Arpad Sterbik was very strong and backed the defence so we could score many easy counter-attack goals. We always feel very comfortable, when Sterbik is strong. Though we caused some mistakes after the break, we even managed to increase the distance. We showed that we are a team of 16 players.
Veselin Vukovic, coach Serbia: It was a deserved victory, maybe the distance was too big in the end, as we improved in the second half. 18 to 20 turnovers were the key to our defeat, as they were the reason for the big number of Spanish counter attack goals. It was impossible to win. I wish Spain all the best to go all the way to the final.
Darko Stanic, goalkeeper Serbia: We have to take on our own problems now, we did not play as we expected. So now we have to look upon our problems and find solutions for them.