21 Jan. 2013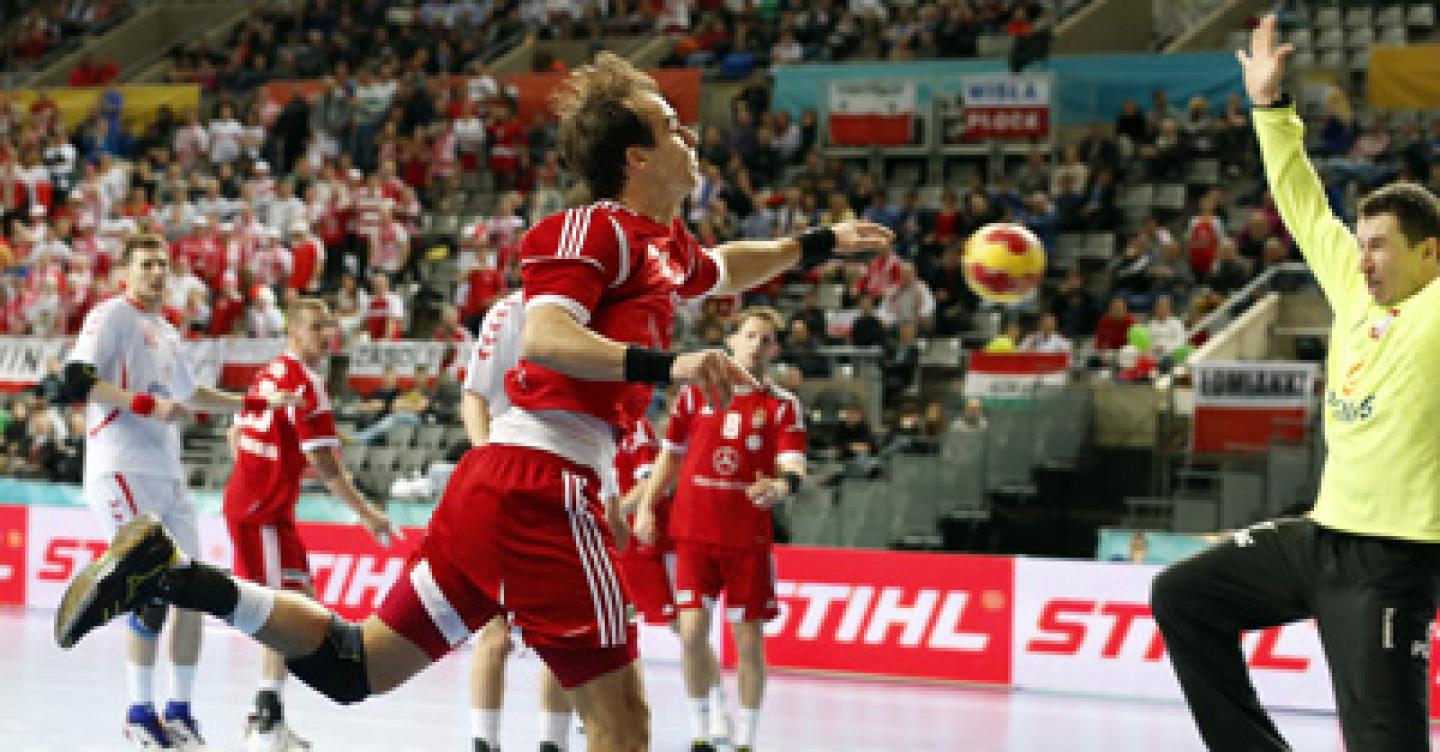 Poland faced Hungary in the last eight-final in Barcelona. After 60 minutes and a fantastic second half the Hungarians won by 27:19 (10:9) and they are now heading forward for their quarter-final against Denmark. The match started with a slightly more concentrated Hungarian team who took the lead with a 3:1 after eight minutes. But then Poland acted more determined and turned a 3:4 into a 6:4 lead after 15 minutes – but this lead did not last long, as Hungary again turned the match around. Even a time-out of coach Michael Biegler could not stop the Polish downswing, and only the good performance of keeper Slawomir Szmal prevented them from a clearer backlog than the 9:10 at the break. In the second half, Hungary forged ahead to 12:9 after 33 minutes and then to 16:11 after 41 minutes. Again coach Biegler reacted and took his team time-out – without success. In the next minutes Hungary was constantly ahead by five or six goals, and Poland was without chances to come close again. After 55 minutes Hungary scored for the 25:18 – the match was decided and the Hungarian fans started to celebrate the qualification for the quarter-finals. Best scorer of the match was the Hungarian player Gergö Ivancsik with six goals.
Statements after the match
Lajos Mocsai (coach Hungary): We are very happy to be one of the best eight teams of the world. Before the match we were afraid of the strong Polish team. But my team played it very well. The base of our victory was the defence.
Tamas Mocsai (player Hungary): Everybody could see that we wanted the victory that much. We did not yield for a second and were the well-earned winner.
Michael Biegler (coach Poland): The Hungarian defence was not a real surprise for us, but without moving you can´t do anything against them. We played well in defence with a good keeper, but I don´t know what happened in attack. I have never seen my team playing like this before.
Slawomir Szmal (goalkeeper Poland): The second half was really bad. We still fought well in defence, but our attack was really poor. We missed too many chances, and that is not enough to win an eight-final.