Narcisse and do Nascimento awarded GRUNDFOS World Handball Players of the Year 2012 in Barcelona
27 Jan. 2013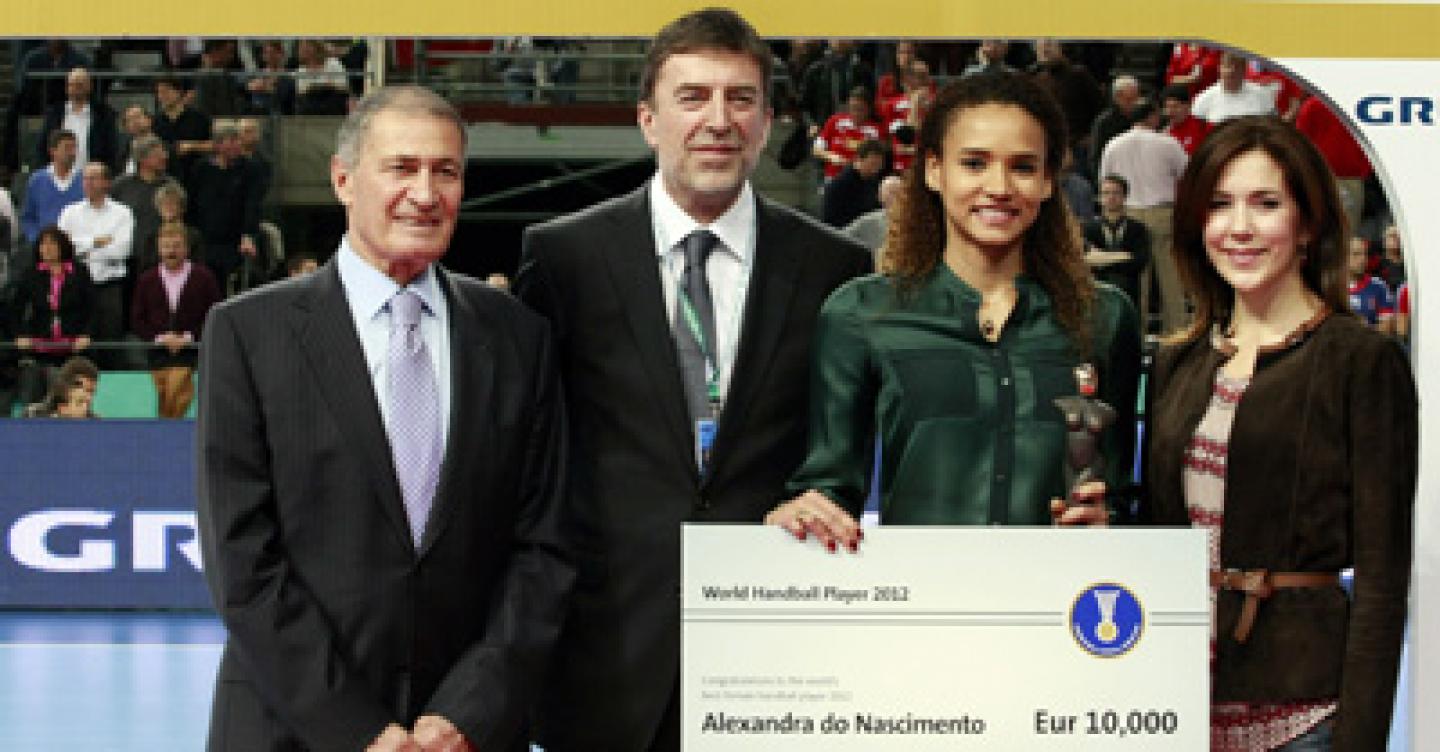 Cheered by more than 15.000 spectators, the GRUNDFOS World Handball Players of the Year 2012 were awarded in Barcelona. IHF President Dr Hassan Moustafa and Kim Klastrup, representative of IHF partner and awarding sponsor GRUNDFOS handed over the trophies to Alexandra do Nascimento (Brazil) and Daniel Narcisse (France) in the halftime break of the World Championship final Spain vs. Denmark in Barcelona. The new GRUNDFOS World Handball Players of the Year did not only receive a memorable trophy, but also a cheque amounting 10.000 Euro, presented by GRUNDFOS.
Right wing Alexandra do Nascimento (playing for Hypo Niederösterreich/Austria on club level) is the first ever Brazilian World Handball Player of the Year and Daniel Narcisse (THW Kiel/Germany) is the sixth Frenchmen to be awarded with this trophy since the start of the voting in 1988.
Fans, media representatives and an expert group of the International Handball Federation had decided this voting – and both male and female decisions were quite close. Alexandra do Nascimento had received 28% of votes to be ahead of Löke and Montenegrin Bojana Popovic (Buducnost Podgorica, 24 % each). Andrea Penezic (Croatia, Krim Mercator Ljubljana/Slovenia) and Katarina Bulatovic (Montenegro, Oltchim Valcea/Romania) each earned 12% of votes to both rank fourth.
Daniel Narcisse had gained 25% of votes to his forerunner outclass Mikkel Hansen (Denmark, Paris Handball, 21%). Filip Jicha (Czech Republic, THW Kiel/Germany), Kim Andersson (Sweden, KIF Kolding/Denmark) and Julen Aguinagalde (Spain, Atletico Madrid/Spain) shared the third rank with 18% each.
Hansen and Aguinagalde faced in the final in Barcelona for their first ever World Championship gold medals in their life. And both were awarded members of the World Championship 2013 All-Star Team. Narcisse had dreamt to be in the final to continue the series of success with the French team in Spain, but they were eliminated by bronze medallist Croatia in the quarter-final.
But on Sunday 27 January, Narcisse - and do Nascimento - were in the spotlight, enjoying the feeling to be best of the world.
All GRUNDFOS World Handball Players of the Year:

Women:
1988 Svetlana Kitic YUG 
1989 Hyun-Mee Kim KOR 
1990 Jasna Merdan-Kolar AUT 
1994 Mia Hermansson-Hogdahl SWE 
1995 Erszsebet Kocsis HUN 
1996 O-Kyeong Lim KOR 
1997 Anja Andersen DEN 
1998 Trine Haltvik NOR 
1999 Ausra Fridrikas AUT 
2000 Bojana Radulovics HUN 
2001 Cecilie Leganger NOR 
2002 Chao Zhai CHN 
2003 Bojana Radulovics HUN 
2004 Anita Kulcsar HUN 
2005 Anita Görbicz HUN 
2006 Nadine Krause GER 
2007 Gro Hammerseng NOR 
2008 Linn-Kristin Riegelhuth NOR 
2009 Alison Pineau FRA
2010 Cristina Neagu ROM 
2011 Heidi Løke NOR
2012 Alexandra do Nascimento FRA
Men:
1988 Veselin Vujovic YUG 
1989 Jae-Won Kang KOR 
1990 Magnus Wislander SWE 
1994 Talant Dushebajew RUS 
1995 Jackson Richardson FRA 
1996 Talant Dushebajew ESP 
1997 Stephane Stoecklin FRA 
1998 Daniel Stephan GER 
1999 Rafael Guijosa ESP 
2000 Dragan Skrbic YUG 
2001 Kyung-Shin Yoon KOR 
2002 Bertrand Gille FRA 
2003 Ivano Balic CRO 
2004 Henning Fritz GER 
2005 Arpad Sterbik SCG 
2006 Ivano Balic CRO 
2007 Nikola Karabatic FRA 
2008 Thierry Omeyer FRA 
2009 Slawomir Szmal POL 
2010 Filip Jicha CZE 
2011 Mikkel Hansen DEN
2012 Daniel Narcisse FRA