Tunisia retain African Beach Games titles
28 Jun. 2023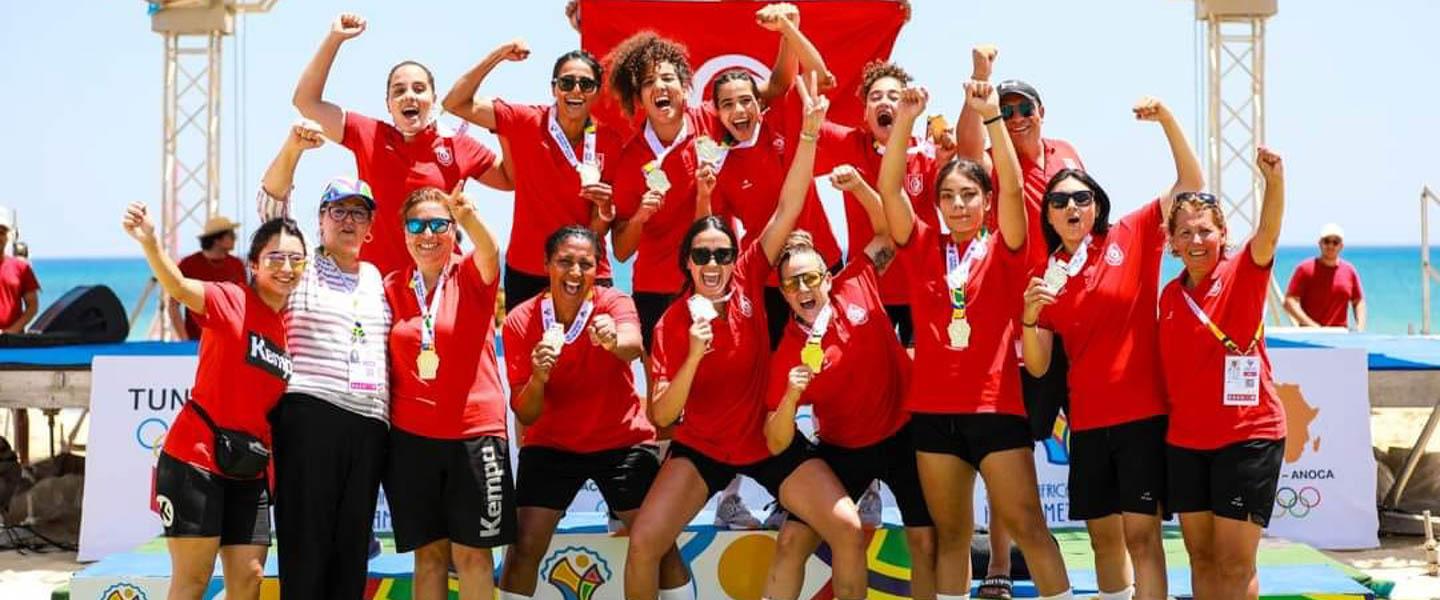 Tunisia's men's and women's beach handball teams have defended their African Beach Games titles, with double gold won on home sand at the second edition of the continental multi-sport event held in Hammamet.
After winning both competitions at the debut event in 2019, they delivered again on the sand which saw a three-day (24 to 26 June) beach handball event as part of the Games, which kicked-off on 23 June and will go through until 30 June.
Beach handball was played at the same venue as stage 2 of the 2023 IHF Beach Handball Global Tour which saw Tunisia win both the men's and women's competitions too.
With their titles, both teams complete the line-ups for the 2023 ANOC World Beach Games, which will take place in Bali, Indonesia, in August.
Women's Competition
One round-robin group featuring five teams – Tunisia (TUN), Kenya (KEN), Mali (MLI), Uganda (UGA) and Algeria (ALG) – went head-to-head for the title and in the end, it came down to the very last two matches to decide the medals.
In the final match of 10 played, Kenya and Tunisia faced off for gold and after the sets were split, it went to a shoot-out. After both teams let the nerves get the better of them, they missed their opening shots before Viona Wandera and Hanen Romdhan got Kenya and Tunisia off the mark respectively with their second shots for Tunisia. 
But it would prove to be a disappointing end for the Kenyans as they missed their final two and Amira Bacha and Saida Sassis sunk home to ensure a second, consecutive gold.
"This title is the result of the efforts made by the players, the coaches and all the members of the technical staff," said Tunisia's Olfa Morjane to the TAP news agency. "It was a difficult match against a great Kenyan side, but we were determined to win gold, especially as the competition is in Tunisia."
For Kenya, a podium spot represents a big step up from fourth place in 2019, but with a feeling it could be gold next time.
"This means so much for us because most of the players in the team are newcomers and this is their first time at such a competition," said Kenya's Michelle Adhiambo to Kenyan media.
"For them to go back home with a medal means so much and it gives us motivation to push more. This has given us a picture of where we are as a team and it shows us that it is possible to do better. We came very close this time and we will take our lessons and do better in the next championship."
Men's Competition
With Togo and Nigeria unable to compete, the remaining seven teams were split between two preliminary groups of four and three teams respectively, before the top two in each went through to the semi-finals and then medal rounds.
In total, 14 games were played, with Tunisia and Morocco finishing top of their preliminary groups and Algeria and Libya finishing second. These four teams played off in the semi-finals, with Tunisia easing to a 2-0 victory over the Libyans (22:14, 18:16), while the North African clash between Morocco and Algeria went down to the wire, with the Moroccans taking a 7:4 shoot-out victory after coming back in the second set (17:16) following a first set loss (10:12).
Both medal matches went to shoot-outs, with Libya defeating Algeria 2-1 (14:18, 22:17, SO 8:6) and the host nation putting their fans through a range of emotions after coming back from one set down and then eventually winning an extended shoot-out (15:21, 21:16, SO 14:12).
About the African Beach Games
The ANOCA (Association of National Olympic Councils of Africa) African Beach Games are a multi-sport sand-based event open to the 54 National Olympic Committees of Africa.
The first edition of the ANOCA African Beach Games were held in Sal, Cape Verde in 2019 and featured 42 countries with Tunisia winning both the men's and women's beach handball competitions.
The 2023 edition of the ANOCA African Beach Games is taking place from 23 to 30 June 2023 in Hammamet, Tunisia.
53 countries are competing in 30 events – which include men's and women's beach handball – across 16 disciplines, including two demonstration events.  
More info: www.africaolympic.com/en/home/
Final Ranking
Women
1. Tunisia*
2. Kenya
3. Mali
4. Uganda
5. Algeria
Men
1. Tunisia*
2. Morocco
3. Libya 
4. Algeria
5. Kenya
6. Mali
7. Zambia
*Qualified for the 2023 ANOC World Beach Games