Venezuela men and Mexico women win on the Colombian sand
05 Dec. 2022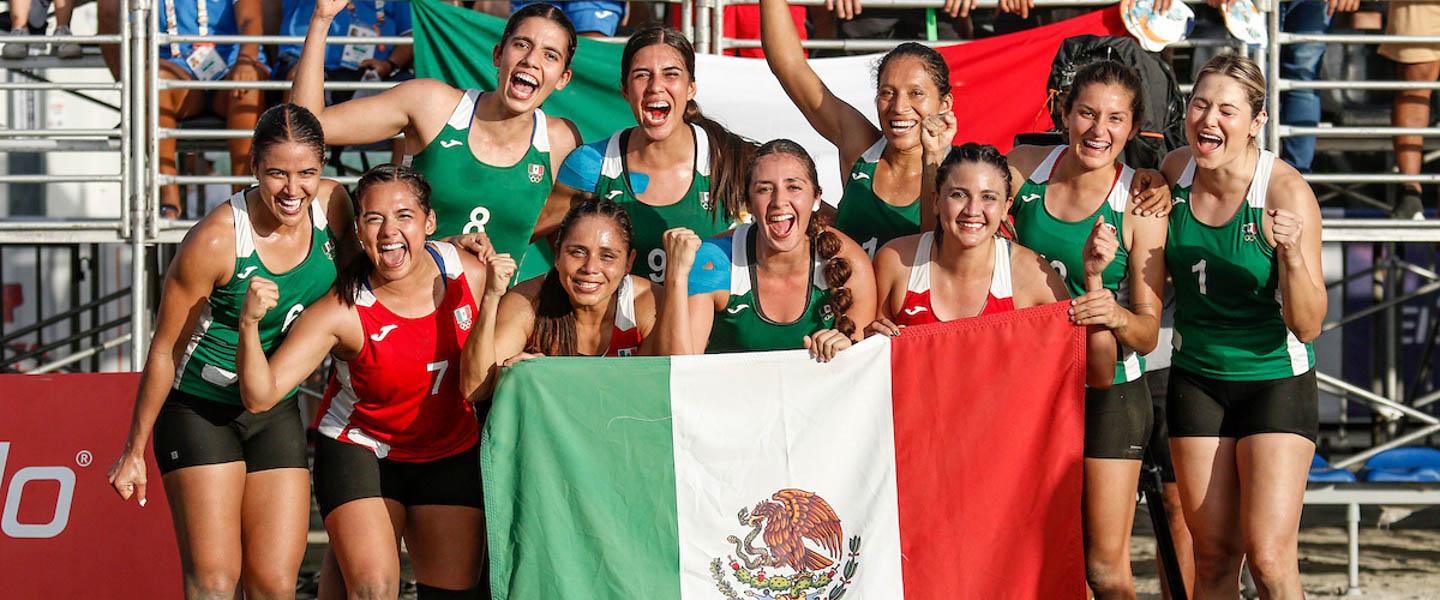 The inaugural edition of the Central American and Caribbean Sea and Beach Games concluded late last month in Santa Marta, Colombia, with Venezuela and Mexico winning the men's and women's beach handball competitions, respectively.
Beach handball, held at El Rodadero Multisports Park, was one of 10 sporting disciplines to feature at the Games alongside beach soccer, volleyball, surfing, beach wrestling, rugby beach, beach tennis, open water swimming, skateboarding and sailing. More than 650 athletes from 26 countries took part.
Venezuela take men's gold
In the men's competition, six teams participated, including Mexico (MEX), Venezuela (VEN), Colombia (COL), Dominican Republic (DOM), Trinidad and Tobago (TTO) and Puerto Rico (PUR).
Despite losing their opening match against Mexico (1-2), Venezuela stormed back to beat host Colombia 8:6 in a 2-1 shoot-out win and followed it up with 2-0 wins over Trinidad and Tobago, Dominican Republic and Puerto Rico.
This set up a rematch against Trinidad and Tobago in the semi-finals, which was won 2-0 again. Facing host nation Colombia in the final, the Venezuelans showed their strength to take a 2-0 (15:14, 18:12) victory. Trinidad and Tobago beat Mexico 2-0 (17:16, 15:14) to take bronze.
Experienced Mexican women deliver in Colombia
In the women's competition, Mexico, who have appeared at the two previous editions of the IHF Women's Beach Handball World Championships, highlighted their clear strength. They defeated Venezuela, Dominican Republic, Martinique and Colombia all in straight sets (2-0) in the preliminary stage before losing their final group match 1-2 against Puerto Rico thanks to a 2:3 shoot-out loss.
A 2-1 (18:21, 22:13, SO 5:4) semi-final win against Dominican Republic was followed up by a 2-0 (24:14, 22:16) gold medal victory against Venezuela, while the hosts beat Dominican Republic 2-0 (15:12, 22:10) to claim bronze.
Host nation building for the future
IHF Beach Handball expert and former Brazilian women's head coach Marcio Magliano was brought in by the Colombian Handball Federation ahead of the championships to help the continued growth of the sport in the country.
Magliano, who won numerous continental and global titles with Brazil in various roles, oversaw a silver in the men's competition and a bronze in the women's event, with the future looking positive for the sandy sport in the country.
"Managing two international teams at the same time is quite challenging, especially since there are quite different collective and individual demands and needs," said Magliano ahead of the championships about the task at hand.
"Hanging out and caring for 10 athletes is a lot of work," he added. "Imagine 10 men and 10 women at once? Fortunately, we have two very committed and thirsty groups here who are giving their all-in training. We are working an average of 5-6 hours in the sand every day, plus one hour of video.
"Everything, absolutely everything, that is in my power is being done to ensure that we have a good result. We can't promise results, but we can promise maximum commitment and dedication. I am very grateful for the confidence of the athletes and especially to my coaching team."
Speaking after their first match to the official championship website, Colombian men's player Juan Pablo López highlighted the importance of this event that the Mayor of Santa Marta and the Governor of Magdalena are developing.
"We have been working actively and we have prepared ourselves for the podium," he said. "Day by day we have prepared ourselves for this."
All games were streamed live on the 'Centro Caribe Sports Channel', for more information about the event, visit the official website.
Final Ranking
Men's Competition
1. Venezuela
2. Colombia
3. Trinidad and Tobago
Women's Competition
1. Mexico
2. Venezuela 
3. Colombia
Photo: SantaMarta2022