Unbeaten powerhouses eye final
08 Aug. 2022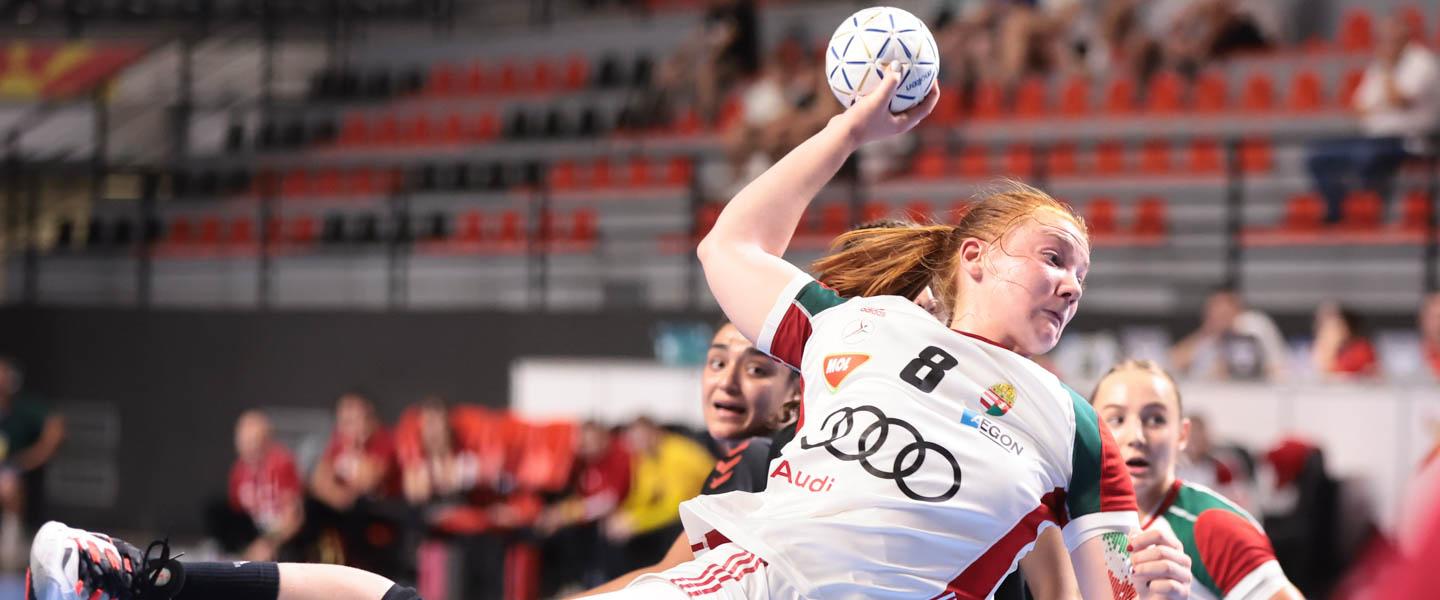 Three of the four sides that qualified for the 2022 IHF Women's Youth (U18)  World Championship semi-finals got here with a six-game winning streak, while only one of the four sides – the Netherlands – have lost a game so far.
Denmark will be favoured against a Netherlands side who will be missing one of their top players, while the Republic of Korea eye to avenge the semi-final loss against Hungary from four years ago, at Poland 2018.
Montenegro and Spain meet in the final of the President's Cup, with the places from 9 to 32 being awarded today at North Macedonia 2022.
Semi-finals
Netherlands vs Denmark (18:15 CEST, Boris Trajkovski Sports Centre, Skopje)
Republic of Korea vs Hungary (20:30 CEST, Boris Trajkovski Sports Centre, Skopje)
A strong defence combined with a creative attack, which is firing up from all positions, made Denmark one of the teams to beat at North Macedonia 2022. The Scandinavian side displayed some of the greatest handball in the competition and, most importantly, acted like a very experienced team in crunch moments, when the opponents tried to mount a comeback.
Until this point of the competition, Denmark have won all of the six games they played in, by an average margin of roughly eight goals per game, including a clear 32:26 win against France in yesterday's quarter-final.
No team have managed to score 30 goals against France yet at North Macedonia 2022, therefore Denmark must have something special. And indeed they have, with left back Julie Mathiesen Scaglione, an experienced player, who has already played two seasons at the senior level for Ikast Håndbold.
Stealing the show every time she is on the court, Scaglione has already scored 44 goals, the fifth-largest amount in the competition, while also dishing 16 assists to her teammates. 
Netherlands will also need to keep an eye on right back Anne With Johansen and left wing Matilde Vestergaard, who have been the go-to players whenever Denmark needed something more in attack.
"I think that we played great from all positions on the court against France. The dream is the gold medal but first, we must win the semis and then reach the finals," said Denmark's coach, Flemming Jensen, after the match against France.
The Scandinavian team will be favoured against the Netherlands, who took a last-gasp win against Iceland, in their quarter-finals, but lost influential centre back Jalisha Loy to an injury.
Loy will surely miss the tie against Denmark and the last match – a huge blow for the Netherlands side, who qualified for the semi-final for the second time in their history.
"Our goal was to fight for a medal and we are here now. The win has a bitter taste due to Jalisha's injury, but we will also fight for her," added Netherlands coach Ricardo Clarijs.
In the other semi-final, two teams that have long been two of the best in the competition are clashing head on, with one of them interrupting their six-game winning streak at North Macedonia 2022.
Four years ago, at the previous edition of the IHF Women's Youth World Championship, Hungary took a 34:29 win against the Republic of Korea in the semi-final, on their way to the silver medal.
The Asian side have been one of the biggest surprises in the competition, dazzling with their speed, skill and execution of their traditional style of handball.
But with six wins out of six games, Korea are no longer a dark horse, rather than a team that will likely earn a medal at North Macedonia 2022. Whether it is gold, silver or bronze – the next three days will decide.
Back pair Minseo Kim and Seojin Kim have been nothing but stellar throughout the tournament, as they combined for 87 goals in the competition, ranking sixth and seventh in the top scorer standings with 44 and 43 goals respectively.
Centre back Minseo Kim is also the top assist provider in the competition, with 29 assists, as Hungary's defence will surely prepare for her.
It will be a difficult task, as Hungary have conceded the second lowest amount of goals in the competition, 126, an average of 21 per game, despite facing a gruelling schedule, as they faced powerhouses like France, Norway, Spain and Egypt on their way to the semi-finals.
"We played some very hard matches until now and the whole team is feeling this. We must go on and play and win against Korea to fulfil our dream," said Hungary's coach Beata Bohus.
While not shining, Hungary have beaten every team thanks to their depth, but will face probably the biggest challenge on Monday evening, as their physical preparation will be put to test by a team that definitely rely on a high tempo.
5-8 Placement round
Iceland vs France (18:15 CEST, Jane Sandanski Sports Centre, Skopje)
Sweden vs Egypt (20:30 CEST, Jane Sandanski Sports Centre, Skopje)
Iceland and Egypt have already sealed their best results in history at the IHF Women's Youth World Championship, therefore fighting for a better position might be redundant, yet the motivation displayed in their quarter-finals definitely looked impressive.
In the first match of this placement round, two of the four teams that conceded the lowest amount of goals in the competition, Iceland (117 conceded goals) and France (135) collide, in what could prove to be one of the lowest-scoring games of the competition, as the two sides also rank in the bottom 10 teams by the number of the goals scored.
Meanwhile, Egypt will be looking to break a two-game losing streak, after the matches against Denmark and Hungary, with a win against Sweden. The Scandinavian side has already lost two matches and drew another one, therefore Egypt might just have the upper edge here, with a bigger motivation to end the tournament on a high.
9/10 Placement match 
Norway vs Germany (14:00 CEST, Boris Trajkovski Sports Centre, Skopje)
Norway have had an up and down tournament, with the two losses in the main round against Hungary and France blocking their path to the quarter-finals of the competition. They enjoyed a mind-boggling 40:39 win against Croatia in the previous match, after penalties, with 13 shots from each side and will try to move that momentum in their favour against Germany.
The silver medallists from the W17 EHF EURO 2021, Germany, will rue the missed chances they had in the previous matches and will try to seal the ninth place, which is a step back in itself, after finishing fifth at Poland 2018. Their shooting had let themselves down, with the European powerhouse boasting only a 56.4% shooting efficiency, as backs Viola Leuchter and Nieke Kühne have only picked up the pace in the last two matches, as they sit 18th and 23rd in the top scorer standings.
11/12 Placement match 
Croatia vs North Macedonia (16:00 CEST, Boris Trajkovski Sports Centre, Skopje)
The hosts will surely seal their best-ever finish at the IHF Women's Youth World Championship and qualifying to the main round was a good omen for the future in itself, but North Macedonia have lost the last two games and their morale has surely taken a knock.
Facing Croatia will be a tough ask in the 11/12 placement match, as the hosts need to weather the storm, as entering in the opponent's high-octane pace could spell trouble. Croatia became the first team to score at least 200 goals in the competition and have the second best attack, averaging 34.3 goals per game at North Macedonia 2022.
They will look to avenge the penalty loss against Norway, while also trying to improve a bit from the 12th place finish from the previous tournament, Poland 2018. Right back Andjela Zagar will also eye finishing on the podium in the top scorer standings, as she currently sits third with 47 goals.
13/14 Placement match 
Romania vs Portugal (20:00 CEST, Jane Sandanski Sports Centre Hall B, Skopje)
Eight years ago, Romania were celebrating the gold medal at the 2014 IHF Women's Youth World Championship in North Macedonia, but the fate has been different this time, as two consecutive losses in the main round relegated them to the 13-16 placement round. A 38:30 win against the Islamic Republic of Iran, which was far from convincing, followed, but they need more against a more motivated and stronger Portugal.
Portugal have been hit and miss in this tournament, but enter the game on a two-match unbeaten streak and the 13th place could be a good final result after an eight-year hiatus in participating in the competition. But they need to turn an eye on Romania's attack, who has been producing at a good pace, scoring 199 goals, the third-largest amount in the competition.
15/16 Placement match 
Islamic Republic of Iran vs Brazil (14:00 CEST, Jane Sandanski Sports Centre, Skopje)
The Islamic Republic of Iran will finish in the top half at this edition of the IHF Women's Youth World Championship, but will also try to end on a high, after four losses in a row against European sides. Yet they proved they can be competitive at least once, in the eight-goal loss against Romania, as the Asian side led throughout the first 32 minutes and tied the score with 15 minutes to go to hand the European side a scare.
Facing Brazil, they will surely try to up the tempo of the match, with their defence being the weak spot, conceding 32.5 goals per game throughout the competition. On the other hand, Brazil are also entering the match with a three-game losing streak, yet what really surprised was their attack, which has not delivered during North Macedonia 2022. Only two sides scored less goals than Brazil, as they have an average of only 22 goals per game in the first six matches.
17/18 Placement match 
Montenegro vs Spain (16:00 CEST, Jane Sandanski Sports Centre, Skopje) 
Just two national teams stay in contention for the President's Cup, and both represent Europe. Spain, who lost to France and Hungary in the preliminary round and were frustrated to miss a main round berth, went on to claim four consecutive victories, most recently against Faroe Islands on Sunday evening. In turn, Montenegro boast a three-match winning streak, including yesterday's Balkan clash against Slovenia. Both rivals hoped to reach the main round at the start of the competition, but now they are determined to win the consolation trophy, so their encounter should be tight and exciting. 
19/20 Placement match 
Slovenia vs Faroe Islands (17:00 CEST, Jane Sandanski Sports Centre Hall B, Skopje) 
Two more European teams lost a chance to win the President's Cup following their defeats on Sunday, but each of them want to end the tournament on a high. However, while Slovenia will in any case take their lowest position at the IHF Women's Youth World Championship, debutants Faroe Islands can be already proud of their performance. After all, the islanders have already beaten Austria, India and Kazakhstan – and they will be happy to add Slovenia to that list. 
21/22 Placement match 
Switzerland vs Czech Republic (10:00 CEST, Boris Trajkovski Sports Centre, Skopje)
On Sunday, 43:23 against Uzbekistan was Switzerland's biggest ever win at the IHF Women's Youth World Championships – and they also scored the largest number of goals in their history in the competition. But they will most definitely face a tougher opposition in their last game at North Macedonia 2022. Maybe overall it is not the best tournament for Czech Republic, but their yesterday's 36:22 win against Austria was quite impressive. 
23/24 Placement match 
Uzbekistan vs Austria (12:00 CEST, Boris Trajkovski Sports Centre, Skopje)
Uzbekistan, who finished 24th in both of their previous participations in the IHF Women's Youth World Championship, have a chance to better that result with a win against Austria. However, it will be difficult, as Uzbekistan have never beaten a European team at this level. Austria will be favoured in this match, even though their performance at North Macedonia has been quite mediocre. 
25/26 Placement match 
Slovakia vs Argentina (10:00 CEST, Jane Sandanski Sports Centre, Skopje)
Both opponents took their second straight victories on Sunday – and notably, those wins were quite confident. While Argentina proved too strong for Kazakhstan (30:18), Slovakia showed their firepower and hit the 40-goal mark against Senegal (41:25). So their Monday clash for the 25th place should be exciting, and both teams will have a chance to win. 
27/28 Placement match 
Senegal vs Kazakhstan (12:00 CEST, Jane Sandanski Sports Centre, Skopje)
34:32 against Uzbekistan in the preliminary round is still Senegal's only win in the current tournament. After that, the Africans lost three games in a row, against Algeria, Montenegro and Slovakia. However, they will probably have a chance to end that losing streak in their last match at North Macedonia 2022, playing against Kazakhstan. In turn, the Kazakhs are on a five-match losing run, but they also want to leave with their heads held high, hence they will fight. 
29/30 Placement match
Guinea vs India (13:30 CEST, Jane Sandanski Sports Centre Hall B, Skopje)
Both teams are debutants at this level who finally celebrated their maiden wins on Sunday. Guinea did it in style, defeating fellow African side Algeria 41:17, while India beat Uruguay much more narrowly, 27:25. However, both rivals have obviously boosted their morale and confidence, and each of them hope to taste the victory once again before they return home. 
31/32 Placement match 
 Algeria vs Uruguay (10:00 CEST, Jane Sandanski Sports Centre Hall B, Skopje)
No team want to finish last-placed, so both Algeria and Uruguay are motivated to end the tournament on a high. In their debut World Championship, Algeria have already celebrated their maiden win, against Senegal. In turn, Uruguay are the only team in the competition to have suffered six straight losses, but they will be happy to end that unlucky run.