The Debutants: Uruguay
14 Aug. 2020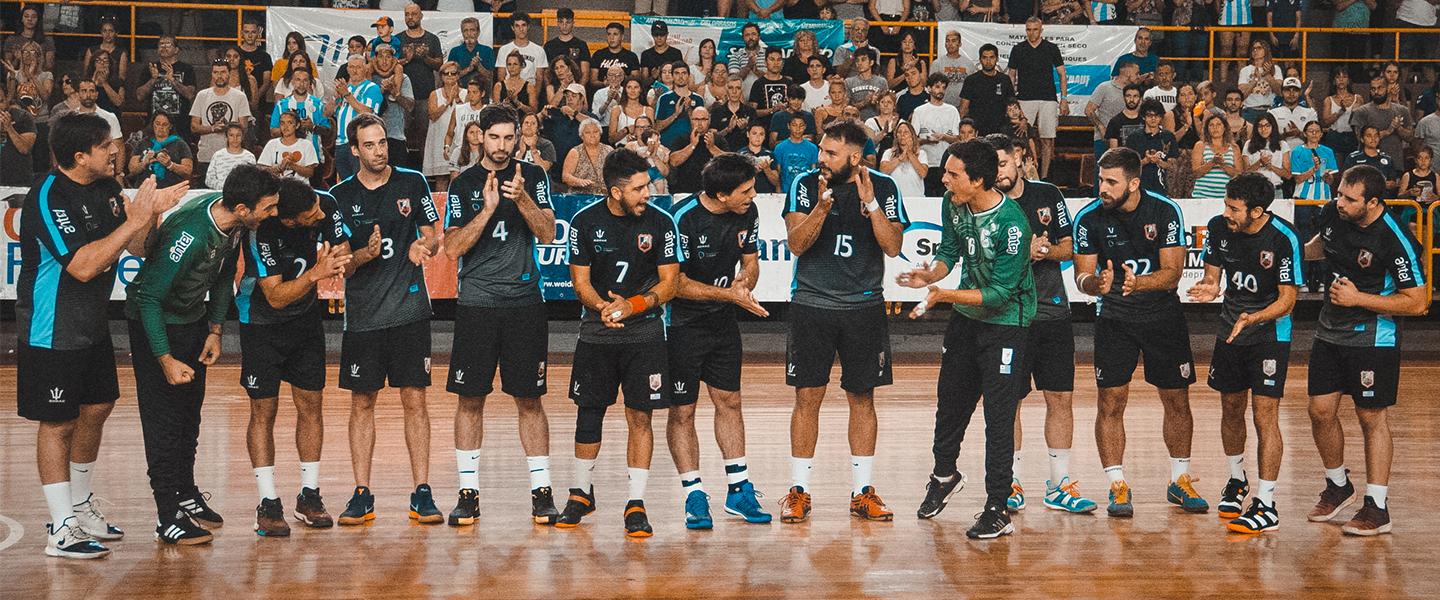 The world of handball is ever-changing with nations at all different levels of development making their mark on the global stage for the first time in various IHF competitions, creating their own pieces of handball history and this is reflected in this special ihf.info series, entitled: 'The Debutants'.
Next January, the 2021 IHF Men's World Championship in Egypt will throw-off, and the newly-expanded 32-team competition will feature the Uruguayan men's team who will be making their debut at the event.
History in Brazil
Uruguay booked their ticket to Egypt after finishing third at the 2020 Men's South and Central American Handball Championship (SCACH) which took place in Maringá, Brazil, from 21-25 January.
The round-robin tournament saw Uruguay beat Chile 28:25, followed by a loss against Argentina (17:33). That defeat was quickly forgotten with an expected win against last-minute replacements, Bolivia (55:1). 
But a 14:31 defeat against Brazil meant it all went down to their last match against Paraguay, with the Uruguayans knowing a win would secure their golden ticket to North Africa, but knowing that a loss, combined with a Chile win against Bolivia, would see the Chileans go through instead.
However, by half-time they were 14:8 ahead already and kept up their performance into the second half, eventually winning 34:20 to spark wild celebrations. But it would turn out to be that very first game against Chile to be the decisive one in the end, a fact not lost on Uruguay coach Jorge Botejara.
"As a group, we were fully aware that it would be a decisive match in our aspirations to qualify for Egypt," said Botejara to ihf.info about the significance of their opening game. "Before the match, we had feelings of great determination and confidence with the tension of knowing how decisive it was to win, but we also knew that [even if we won] there would still be a long way to go to quality and that it would not be possible to complete this path without beating Chile.
"At the end of the game, however, we felt the logical joy of having completed a very important step in qualifying, but we were clear that there were still four matches ahead of us. We knew that until we beat Paraguay in the last match the focus was always on competing and only until then were we able to celebrate this long-awaited step for Uruguayan handball."
The match against Chile saw Uruguay captain Nicolás Fabra score eight goals and he would go on to finish as one of the leading scorers of the tournament, but for coach Botejara it was not about singling out any player.
"He obviously also has a very powerful arm, but Nicolas is as important as all the players," said the coach who played as a centre back or line player for Peñarol and National Regatta Club, but who never played for Uruguay.
"The result in handball is built by all the players of a team, and in that context, he is very important because of his determination to win. He is an example of personal persistence, and this has cemented the high level of the group cohesion that we have."
Argentina would eventually win the tournament, beating Brazil on their home ground, but the Brazilians have, for many years, been the leading men's team in South America, providing Botejara and the Uruguayan Handball Federation a marker to judge their progress by.
Against Brazil, they were just four goals down at half-time (9:13), so how impressed was the coach  with the first half performance, what did it prove his team can do and what is needed in the future? 
"It's a very interesting question and look at the subject," he said. "Sustaining the level of performance is a central aspect of our work. In order to be competitive with more minutes and more matches against more powerful rivals, we must continue to expand the quality and quantity of players on our roster and to realise that possibility you have to play against stronger opponents often and continue with the process of inserting players into the European leagues.
"In this sense we will make the most of all the opportunities that Egypt 2021 will provide us."

Coach Botejara
Botejara has a wide and varied experience of coaching, taking his first role with the Casal Catalá women's team in 1987 and then the Uruguay women's national team the same year – a role he held until 2003 and which included a third place position at the 1997 Pan American Championship and qualification through to the 1997 IHF Women's World Championship in Germany, where the team finished 24th.
He also coached the women's teams of Peñarol and Club Nacional de Regatas and the men's teams of Hebraica, C.N.R. and Macabi. Most recently, he returned to the Scuola Italiana (Italian School) of Montevideo for a second time (2018-20), following a spell from 1999-2012.
The ticket to Egypt 2021 ensured Botejara has written his name permanently not only in the history books of Uruguayan handball, but that of Uruguayan sport, as handball is the only team sport in the country where both the men's and women's national teams have qualified through to senior World Championships.
It also expands the Uruguayan history in IHF competitions with both men's and women's teams competing in IHF Beach Handball World Championships, the women's teams competing in IHF Youth and Junior World Championships and one appearance at the IHF Men's Junior World Championship (2015), meaning just one elite championship – the Men's Youth World Championship – missing from having a full set. This is not bad for a country of just 3.5 million people and with around 1,950 registered players.
Those players compete throughout a national league system of nine age groups: Under 10 (mixed female and male), U12 (female and male), U14 (female and male), U16 (female and male), U18 (women), U19 (men), U21 (men), U23 (women) and senior (women and men). 
The best players in those leagues have numerous options for national team selection with the indoor game boasting U14 (female and male), U16 (female and male), U20 (women), U21 (men) and senior (women and men) squads, and the beach game featuring female and male selections at U16, U18 and senior levels.
A number of men's national team players play their club handball in Europe, with Maximo Cancio, Diego Morandeira, Gabriel Chaparro and Santiago Ancheta making the journey abroad – Chaparro recently joined Cancio at Spanish club Atletico Novas.
A leader's love for the sport
Uruguay captain Nicolás Fabra caught the handball bug aged eight at his local neighbourhood club, Shangrila, and is looking forward to proving himself on one of the biggest handball stages in the world, while remembering his roots.
 
"Uruguay will gain a lot of experience at Egypt 2021 where we will measure ourselves against stronger teams who will be superior in every aspect of the game," he said to IHF.info. "But this makes you raise your level and will serve us to grow and fulfil our dreams; to play against the best in the world. 
"I started playing handball like every child; looking to have fun, playing everything and at that moment a teacher invited me to play in a handball school that was starting out, so there I met the sport and I loved it and never stopped practicing it. I really like the emotions it generates, it is a very dynamic sport, very physical and in turn very tactical – it becomes very intense, all of which makes it a very exciting and entertaining sport."
Fabra plays his club handball for the Scuola Italiana in Montevideo and is looking forward to representing his nation with his teammates on the world platform.
"It's something that's very hard to explain," said Fabras when asked about his feelings of lining up for his country before games. "When that moment comes it gives you goosebumps and a lot of things go through your mind; a lot of experiences, everything you fought, trained and worked hard for to be at that moment doing what you love most and representing your country. It is one of the most beautiful sensations that you can have without any doubt. 
"Our team is a firm, consolidated group with a lot of hunger to grow, improve and continue to make history," he added. "For me, the team is everything, it is the greatest pride that you can have – representing your country and wearing that beautiful shirt has no explanation; we are a group of very humble people who know our limitations and that in turn makes us stronger in search of the goals set."
Life on the beach leading the way
With the ongoing success of Uruguayan beach handball on the world stage – both men's and women's teams have qualified for the last four editions of the IHF Beach Handball World Championships – and the men's indoor team now joining the women's senior indoor team at that level too, right wing Alejandro Velazco, who was part of the team in Maringá as well as part of the men's beach team who appeared most recently at the 2019 ANOC World Beach Games in Qatar, is well-placed to talk about how beach and indoor complement each other in the South American country. 
He is also joined in the indoor team with fellow beach players Andrés Miranda and goalkeeper Felipe Gonzalez.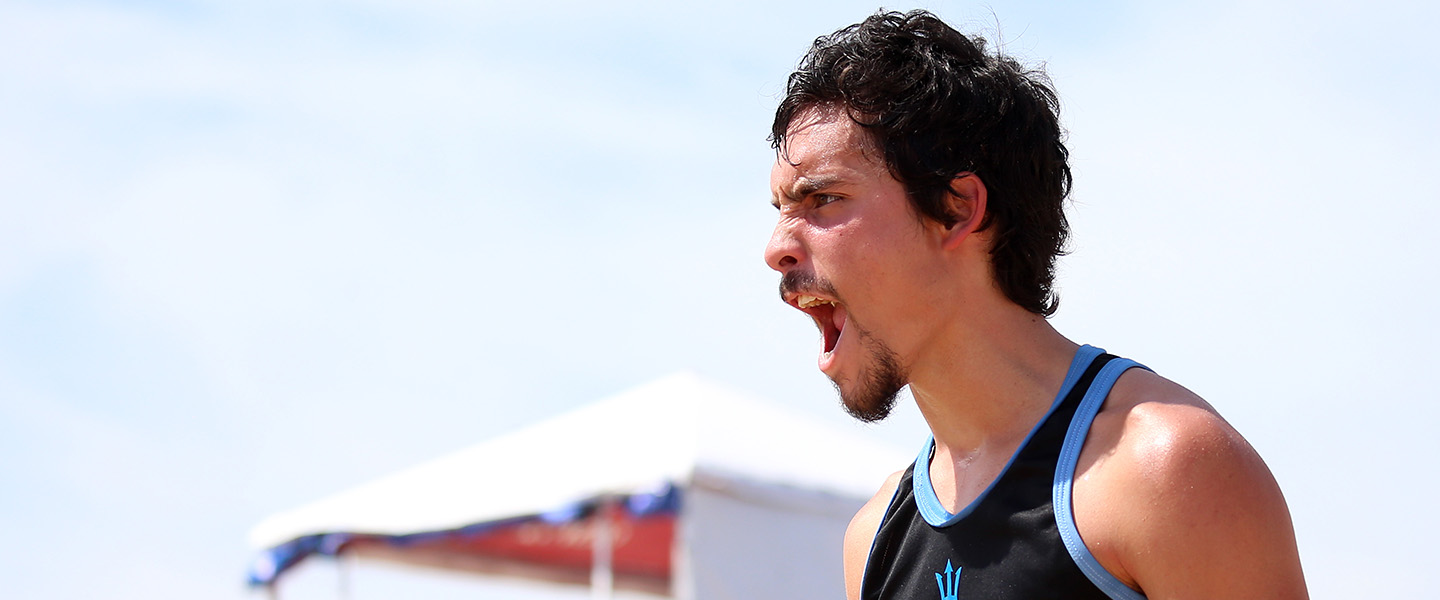 "Personally, I think playing beach on the world level has helped me get rid of those debut World Championship nerves and pressure and I was able to be on a par with the great powers and fought with the boys in all the games," said Velazco to IHF.info. "Many skills apply to both sports, even though they are very different, such as managing the timing of the game, when to hurry, when to sleep, and at what time to attack. 
"Beach is unique in that it starts again from zero in the second half, which, in turn, teaches you not to lower your arms, not to give up on any game as a lost cause and to always continue until the end. 
"Time is short and the goals are worth double, so each ball weighs a lot, therefore learning to take care of them and learning to manage game time are skills that I developed in beach and which I quickly applied on the indoor court as well."
This is a view backed-up by coach Botejara who has nothing but praise for the duel-sport players. "It is clear that having previous World Championship experience will help us to face all encounters in Egypt with a greater dose of tranquillity and control of anxiety, plus their sporting virtues are such that they are highlighted in the two modes of our sport."
However, despite the sports being different, some things are just the same: wearing the national team shirt, hearing the national anthem and seeing the national flag.
"It's a mix between pride and responsibility," said Velazco about what he feels when he lines up for his nation before games indoors or on the sand. "Pride of having achieved it, with what that implies in our country, of being at the top and at the same time the responsibility that implies representing our country, singing our anthem and wearing our shirt – without doubt they are moments full of emotions.
"Egypt is our first (indoor) Men's World Championships and we hope to be able to mark a before and after in the handball of our country, to take it as the beginning of a new path, of learning and growth. We are going to go as far as possible and learn in each instance."
Velazco started playing handball when he was 12 for the Uruguayan powerhouse Colegio Alemán (German School) in Montevideo, where he still plays, enjoying the game just as much as he did as a child.
"What I like the most is the collective part," said the 27-year-old. "It is a sport where responsibilities are very shared and where the same player has many roles and functions at the same time.
"We are all part of everything, and matches are won together, I enjoy sharing victories and defeats. I also love the dynamism, how fast the changes of possessions happen, the goals, the quick attacks. It is a dynamic and agile sport."
Looking back and looking forward
Uruguay's preparation for Egypt 2021, like all qualified nations, has been severely restricted by the global COVID-19 outbreak with Botejara's team currently not allowed to train as a team indoors in Uruguay.
Players based in the country continue to prepare individually, in centralised coordination with the coaching team, and tentative plans have been made to look at possible friendly games against Argentina and Brazil from 15 August, ahead of a Spanish tour in December, depending on the then COVID-19 situation.
But despite the immediate future looking unknown, the long-term future of handball in Uruguay is looking healthy according to Alejandro Acosta, General Secretary of the Uruguayan Handball Federation.
"As a founding member of our federation in 1983 and as a former player, it was truly a great joy and a great pride for all of our players and technical staff to qualify through to a senior Men's World Championship," said Acosta to IHF.info.
"It was a dream that has always been present, and it was one that was finally realised after many years of hard work and commitment and under conditions as a totally amateur sport. The resources received by us from the government, although always very welcome, are never sufficient for the international activity that our selections maintain year by year in all categories.
"Uruguay is a very small country with a little population and with a very strong tradition of football, a sport which takes the vast majority of, mainly male, players from a very young age," he added.
"In addition to that, handball is totally amateur, and with high costs for the players to play, many are lost along the way, so it can be difficult to bring them closer to our sport. The female to male ratio of our registered players is 70/30 but in recent years, more male players have grown in the training categories and this suggests a long-term growth in the number of male players who will play handball in the future. 
"Qualifying for Egypt 2021 is the reward after a long road of work and a unique opportunity for national exposure of our sport, which we believe will increase the adoption of handball as a sport at the male level."
With a generation of men's players considering handball to football now potentially, Acosta is also aware that further work is needed to spread the game out geographically, whilst providing a base, but is also excited to see the long-term benefits of qualification through to their debut Men's World Championship.
"We are always attempting to develop handball throughout the country and not just around the capital, but, currently, the strongest area of development is in the coastal area in the south of Uruguay; the departments of Montevideo, Canelones, Colonia and Maldonado," he said.
"We have great challenges ahead of us, such as being able to have our own space for both indoor and beach which will allow us to achieve greater development of the sport and its infrastructure.
"We want to position handball as an alternative sport for our young people and we are convinced that Egypt 2021 qualification is a good sign for the future."
Follow the Uruguayan Handball Federation through their official Instagram and Facebook channels.
Photos: Argentinian Handball Confederation; IHF