Three-time Swedish Olympic medallist Olsson joins USA handball
23 Sep. 2019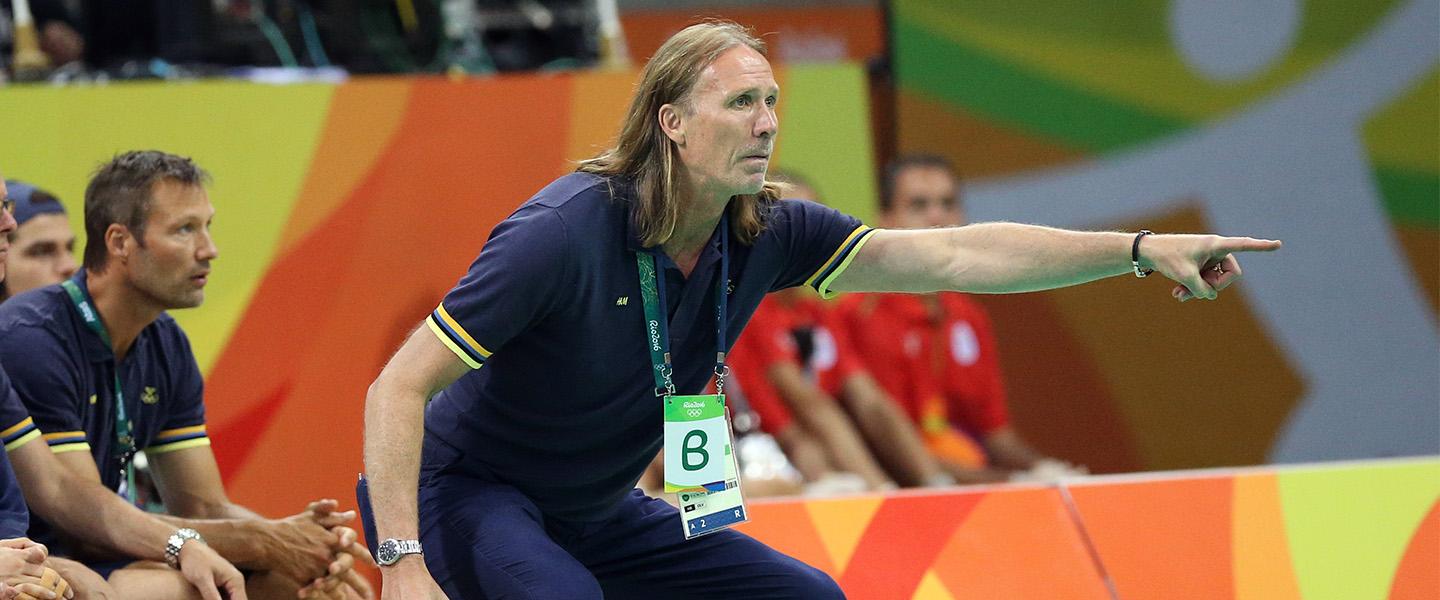 Former Sweden and Paris Saint-Germain coach Staffan Olsson has been announced as the new High Performance Director for USA Team Handball (USATH).
The role oversees the "management and direction of USA Team Handball's national teams, determine a pipeline of new athletes at the elite level, and develop a training programme for coaches and officials at various levels of the sport, among other things," according to the media release.
As a key player for during Sweden's successful 'Bengan Boys' period, Olsson won the 1990 and 1999 IHF Men's World Championships, took silver in 1997 and bronze twice (1993 and 1995). He also won three Olympic silver medals in a row (1992, 1996, 2000) and four EHF EURO gold medals (1994, 1998, 2000, 2002). During his 18-year (1986-2004) national team career the left-hander scored 852 goals in 358 appearances.
After his playing career finished, he started coaching and oversaw a 10th place finish for the Sweden men's team at the 2015 IHF Men's World Championship, an eighth-place finish at the 2016 Men's EHF EURO, and 11th-place finish at the 2016 Olympic Games. Most recently, in June 2018, he helped guide Paris Saint-Germain to a third-place finish in the Men's EHF Champions League.
After a year-long coaching break this past year, which has seen Olsson take up playing water polo, he is now back in handball with the 55-year-old reuniting with former Sweden teammate and coach of the USA men's team Robert Hedin. America holds bittersweet memories for the pair who took silver at the 1996 Olympic Games at the Georgia Dome in Atlanta losing by one goal to Croatia in the final (27:26).
"I am truly looking forward to working with the athletes, coaches and staff at USA Team Handball," Olsson said. "This is a very exciting new step for me, and I will fully embrace the challenges that may come with the task. I plan on working very hard to help the sport of handball develop and grow in the United States, so that Americans will begin to love and celebrate the sport that I have dedicated my life to."
"We are so excited to have one of the greatest handball players and coaches come aboard and join our team," added USA Team Handball CEO Barry Siff.
"Staffan brings the tremendous wealth of experience and skill that USATH strongly needs in order to further develop its players and talent, as well as to significantly help develop a strong pipeline process for new talent development.
"I have no doubt that he will make an incredible impact on our players, coaches and staff."
USATH, an IHF member since 1962, has been working closely with the IHF on developing handball in the North American country as they look forward to the 2028 Olympic Games in Los Angeles, USA.
In August 2018, USATH released a '10-Year Strategic Plan' in the lead up to the Games, with former IHF Vice President Jean Brihault working as a special adviser to the USA.
And in a busy period since, they have been well-represented on the global stage with the men's and women's national teams appearing at a variety of competitions including the 2019 Pan American Games, 2019 IHF Men's Emerging Nations Championship and a debut appearance at the IHF Men's Junior World Championship (2019).
Their men's and women's beach handball teams are currently preparing to appear at the debut ANOC World Beach Games in Qatar next month, with both teams already sealing their spot at the 2020 IHF Men's and Women's Beach Handball World Championship in Italy.
Last month, on a club level, New York City Team Handball Club women's side appeared at the debut IHF Women's Super Globe, held in China, while the men's team qualified through to the men's edition, held in Saudi Arabia.
In other USATH news, three new members have joined their Board of Directors including current men's beach handball captain Bill Bigham as an Athlete Representative, plus a new role of communications manager has been created. A 'Collegiate Club Working Group' has also been formed with a mission to "establish a sustainable approach toward helping colleges and universities establish collegiate team handball clubs". 
This past weekend an 'Open Tryout & Staff Selection' for the youth and junior USA women's teams was held in Lake Barrington, Illinois, as USATH looks towards the 2019-20 IHF Women's Trophy – North America and Caribbean Zone competition which will be held in Montreal, Canada in mid-October.
You can follow the progress of USATH through their official channels: