USATH CEO Johnson: "We're really excited"
25 Feb. 2021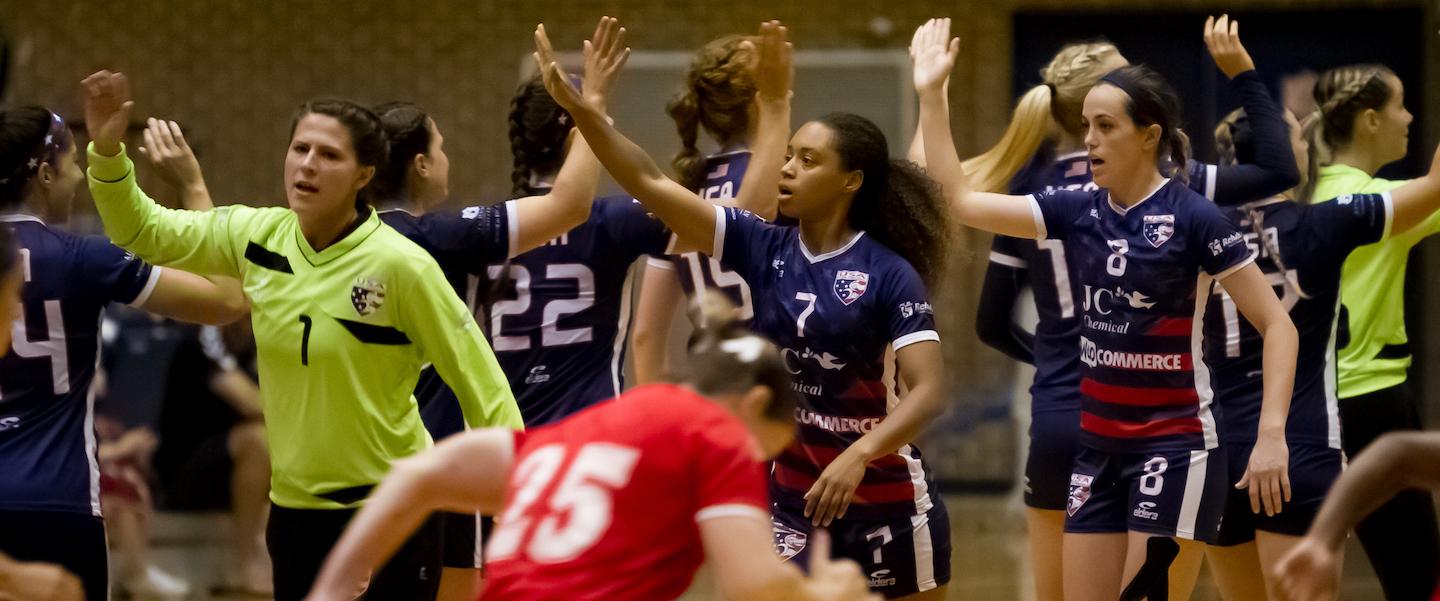 It has been a busy past few months for USA Team Handball (USATH), with an action-packed 2021 ahead. ihf.info brings you the latest news on their developments.
Promoting Diversity
After having been formed in October 2020, the USATH Committee for Diversity, Equity and Inclusion (DEI Committee) met for the first time last November to examine, assess, and address various aspects of their membership, board, staff, and national teams.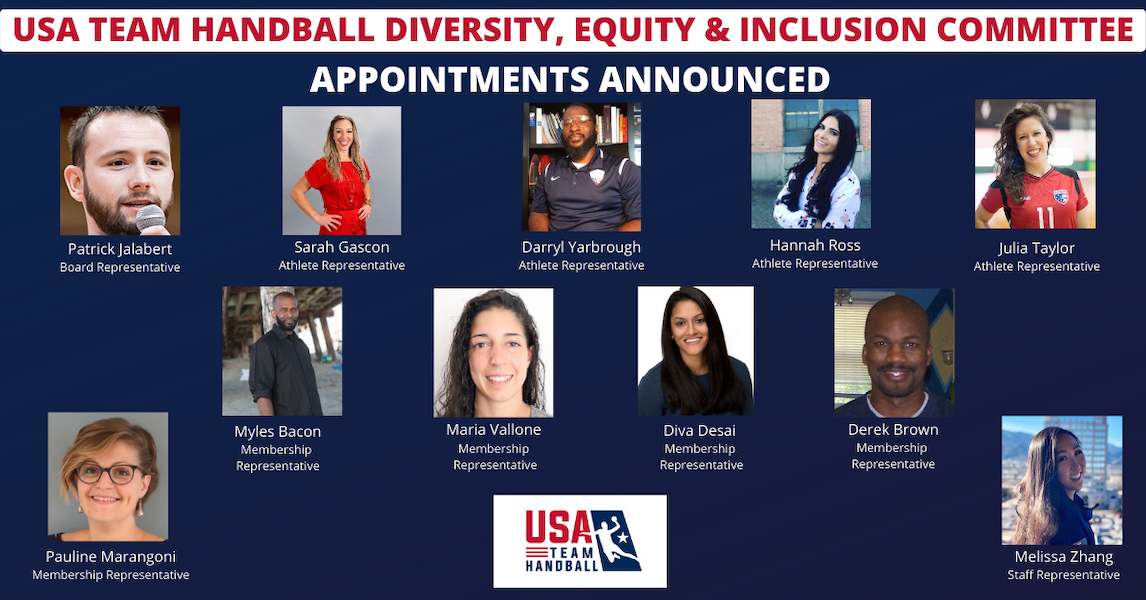 For more information on the USATH DEI visit here.
Black History Month
American historian Carter G. Woodson – known in the USA as the 'Father of Black History' – created 'Black History Week' back in 1926, a week in which he envisioned American students could showcase what they had learned about black history and black heritage. 
Woodson originally chose the second week of February as Black History Week to pay homage to the birthdays of American abolitionist Frederick Douglass and American President Abraham Lincoln. 
Eventually, Black History Week became Black History Month which continues to inspire Americans to explore more of black history and re-educate themselves on the status of race relations in America.
In honour of Black History Month, USATH interviewed several current and former black USATH handball athletes to celebrate their achievements within the sport and understand where progress can be made to improve diversity, equity, and inclusion in handball.  
The athletes included current beach player Ebiye Udo-Udoma (The Handball Ninja) and women's indoor handball athlete Monaye Merritt amongst others.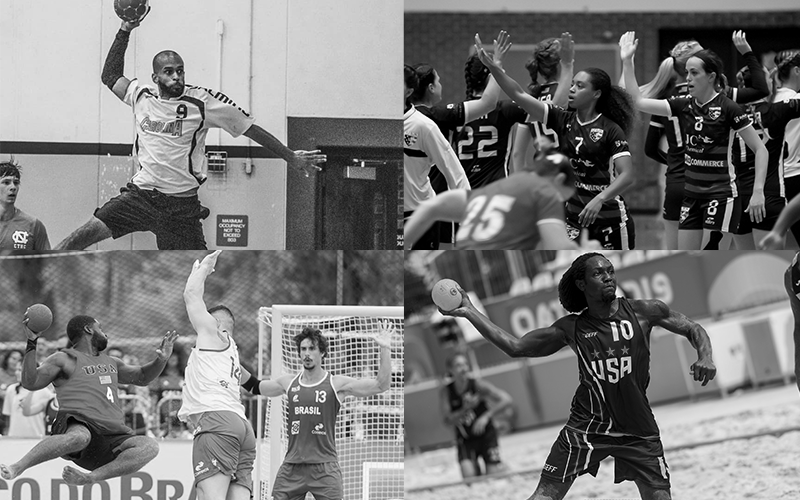 For more information on Black History Month and to read the interview with the players click here.
USATH Town Hall
In North America, a 'town hall' refers to a meeting, or forum, where politicians and leaders can meet the communities they affect directly in person and provide information, answer questions and discuss everything and anything.
New USATH Chief Executive Officer (CEO) Ryan Johnson, alongside USATH President Michael Wall were the speakers at the latest USATH Town Hall, held virtually on Wednesday, 18 February.
Born in California, but raised in Colorado, Johnson was announced as the new CEO on 9 December and started his role in January 2021 after a wide-ranging and thorough recruitment process.
In his town hall introductory speech this week he gave an overview about how he saw the current state of USATH and what his hopes are for the future.
"As a federation, USA Team Handball has had lots of ups and downs through the years and has struggled to develop a lot of consistent momentum in programming and opportunities for members but there are a lot of reasons to be optimistic about our present and our future," he said.
"What's really unique for USA Team Handball, within the Olympic Movement, is the supporters we have from a corporate standpoint; the US Olympic and Paralympic Committee (USOPC), the International Handball Federation (IHF) and Verizon (sponsor).
"Those three pillars of support are very unique," he added. "Not a lot of NGBs have such relationships with their international federation and major corporate partner, ones which can give us a nice runway to get our own engine running in terms of membership, events, coach education and talent development here in the USA.
"Another reason why I'm really excited where we are headed is the energy and enthusiasm around our college (university) programmes. Developing an infrastructure around our college programmes is one of the most important and impactful things we can do for a wide variety of reasons and along with that, I've been overwhelmed by the willingness of volunteers ready to jump in and do whatever they can to get that up to a high level.
"We're really excited about the roadmap we're getting in place and expect to see a lot of movement from us in that area over this year."
In addition to the immediate calendar year, Johnson also looked forward to the Olympic Games being held on American soil in seven years.
"There is an opportunity that comes with the Los Angeles Olympic Games in 2028, with elevated attention, awareness and energy associated with every sport in it," he said.
"If you look at the history of USA Team Handball the most successful period came between 1984-1996 which encompassed two Olympic Games hosted in the US (LA 1984, Atlanta 1996), but for a variety of reasons things have been up and down since, we haven't [had] a real strong consistency. 
"LA 2028 means we have an incredible opportunity to harness the energy that we will generate in order to build sustainable programming long after the Games have ended. This can serve as a catalyst to igniting exponential growth and everything we're trying to accomplish."
Johnson went on to talk about his disappointment of the USA men's team missing out on Egypt 2021 due to COVID-19 but added that all the players and coaching staff had arrived home safely. He then confirmed further discussions with television broadcaster ESPN were being held with the aim of "…bringing handball content to US audiences on a more consistent basis."
Johnson then elaborated on the national, continental and international events that USATH would be involved with this year as well as the 2022 World Games, before thanking the audience for "…welcoming me into your community."
USATH President Michael Wall then talked about governance and matters relating to the board and committees before the floor was opened to questions from the chat or live video with a variety of topics covered, including university handball, outreach and community programmes, funding, support for clubs and much more.
The previous USATH Virtual Town Hall meeting was held in September and can be read about here.