Dr Moustafa visits USA for NACHC opening and development meetings
01 Nov. 2019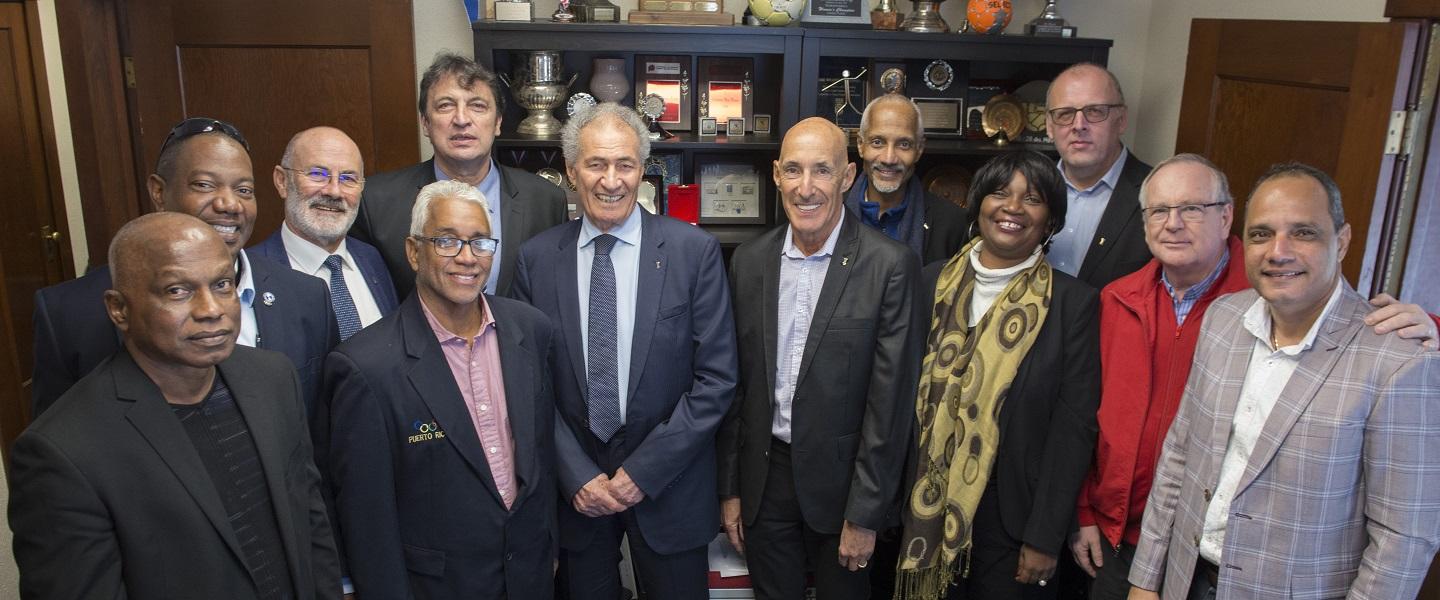 IHF President Dr Hassan Moustafa travelled to the USA last weekend to attend the North America & Caribbean Handball Federation (NACHC) office opening as well as development meetings with the USA Team Handball. Dr Moustafa was accompanied on the visit by IHF Adviser for New Markets' Project in USA and former President of the European Handball Federation Jean Brihault.
The opening of the NACHC office in Colorado Springs was the first stop, and involved not only meetings with the nine executive committee members of the NACHC, but with US Olympic & Paralympic Committee (USOPC) CEO Sarah Hirschland, Colorado Springs Mayor John Suthers, and members of the USOPC International Relations department Chris Sullivan and Dragomir Cioroslan. 
Following the stop in Colorado Springs, Dr Moustafa travelled to Chicago to attend the two final days of the Michael Lipov Memorial Cup. There, he met with athletes and coaches of the 16 clubs participating which represented several different regions in North America, from California to New York, from Houston, Texas to Alberta, Canada.
Dr Moustafa also addressed those in attendance, and presented to former USATH CEO and Director of Operations Michael Cavanaugh with an award in acknowledgement of his four decades of work in handball.
While in Chicago, Dr Moustafa was part of several important discussions focused on promoting club handball to boost domestic competitions. 
The USA visit concluded in New York, where Dr Moustafa attended a USATH Development Meeting with the advisory working group. Also present at the meeting was Executive Vice President of Olympic Programming at NBC Sports Peter Diamond, Verizon CEO Hans Vestberg and Managing Director of FC Barcelona in New York Xavier O'Callaghan. Topics of focus included strategies for exposing Americans to handball, improving the national teams, introducing handball into schools, and potential partnerships with companies and sports franchise owners. 
"I am incredibly grateful for the tremendous effort and time that President Moustafa has dedicated to our cause here in the United States, travelling with us from Colorado Springs to Chicago to New York City," said CEO of USATH Barry Siff. 
"He whole-heartedly expressed to our athletes and coaches that he is fully committed to making our dream a reality. I leave this week feeling even more invigorated and encouraged by this huge demonstration of support from Moustafa and the IHF, and I have no doubt that USA Team Handball is on the right track." 
 
PHOTO: USA Team Handball