Tunisia through to President's Cup final
25 Jan. 2021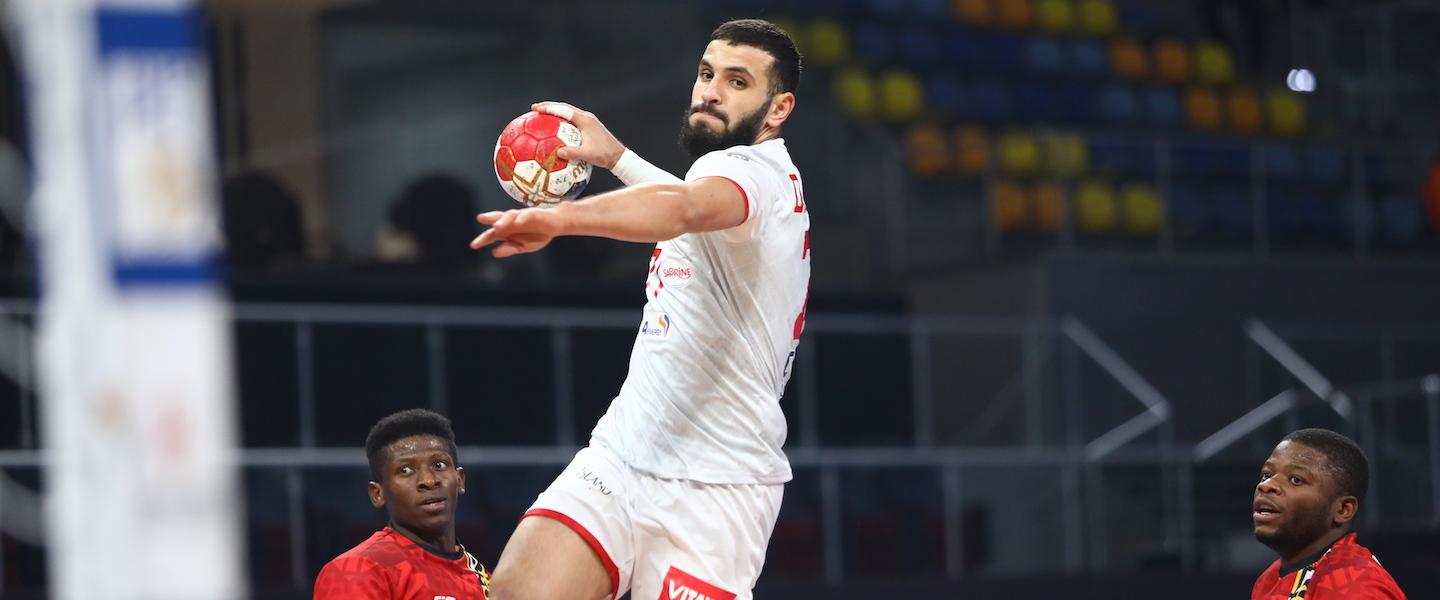 Sami Saidi's Tunisia did enough against continental rivals Angola to set up a 25/26 placement match in New Capital City on Wednesday (27 January) against Austria, while Angola will play Morocco in Giza in the 29/30 placement match.
PRESIDENT'S CUP GROUP I
Tunisia vs Angola 34:29 (14:13)
Angola are still without a win on court at Egypt 2021 as they lost for the second time in a year to their North African rivals as Tunisia's right wing Issam Rzig had a perfect game scoring 12 goals from 12 attempts, nearly all in the second half.
The teams had met at the 2020 CAHB Men's African Championship in Tunisia, with the host nation easily dispatching Angola in the semi-finals, winning by 16 goals (39:23) under previous coach Toni Gerona.
In 2021, Tunisia now have Saidi in charge and the Tunisian made three changes to the team which beat DR Congo on Saturday (23 January), dropping centre back Khaled Haj Youssef, line player Islem Jbeli and shotstopper Mehdi Sadri Harbaoui, with goalkeeper and captain Marouen Maggaiz returning, along with line player Ghazi Ben Ghali and left back Rami Fekih.
The first half saw Tunisia lead by three several times, but Angola rallied to come within one at the half-time break (13:14).
Despite Rzig going into overdrive, scoring nine times in the second period, a devastating performance in itself, Angola kept in touch.
However, as they were coming back (26:27, 52nd minute), Adilson Maneco was shown a direct red card for interfering with an Oussama Jaziri attempted shot and Tunisia used the subsequent penalty (28:26) as a platform to push forward to victory.
"It wasn't easy," said Saidi after the game. "It's the fifth game for the team, so we were a little bit tired. We weren't focused enough, because we knew we are in the finals, even if we lost today. 
"You know, games need motivation and today I felt that my team wasn't focusing enough, they played with 60-70% of their potential. In the end we knew how to win the game against a great team who presented a very good performance.
"The Austrian team is a great one, with players who are playing in the Bundesliga," he added. "They played in a difficult group with Switzerland, France and Norway but have 48 hours [now to prepare] and will be watching videos and working on their strength and weaknesses."
The result means DR Congo will play Chile for 27/28 place in New Capital City.
hummel Player of the Match: Mohamed Amine Darmoul, Tunisia
With thanks to Ebtessam Osman for quotes
PHOTO: Egypt 2021