From student to Secretary General and beyond
10 Mar. 2022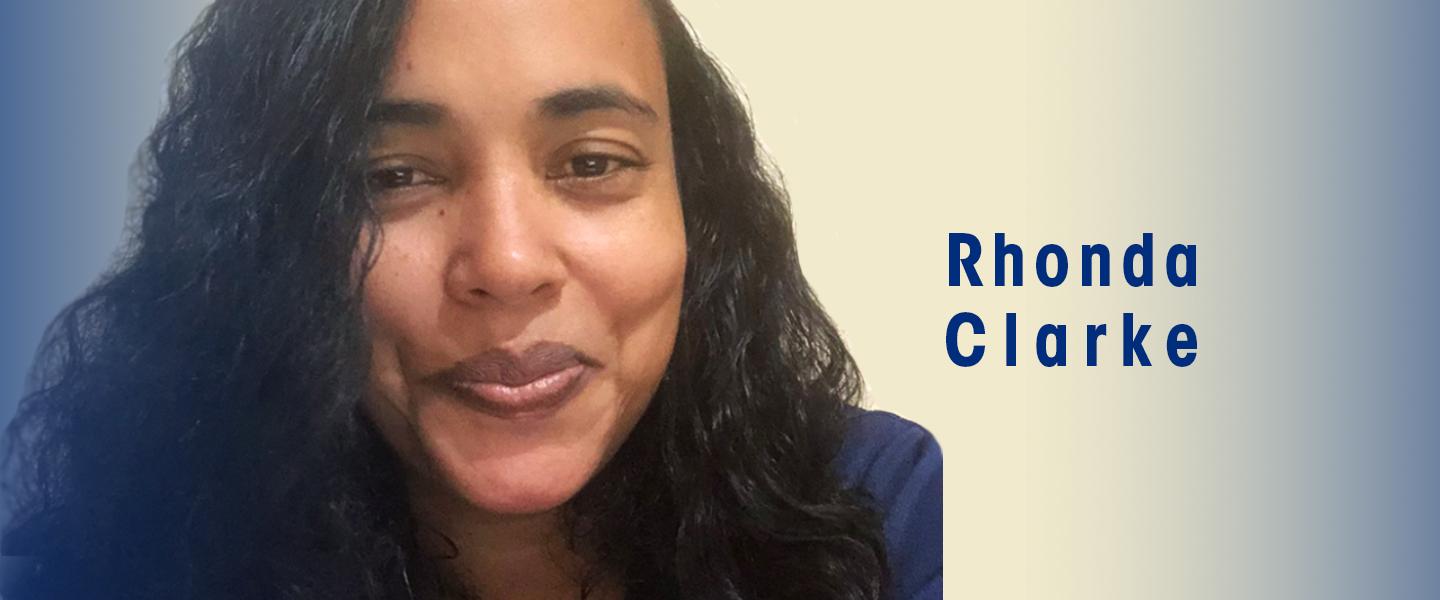 Throughout the month of March, the IHF celebrates women in various roles in handball in a special series. Part three focuses on Rhonda Clarke, Secretary General of the Trinidad and Tobago Team Handball Association as she talks about handball journey, equality in the Caribbean and her hopes for the immediate future of the sport in her country.
Discovering handball and reaching the top
"I wouldn't say it was an easy journey," says Rhonda Clarke to ihf.info about her progression from university student to Secretary General of the Trinidad and Tobago Team Handball Association.
Journey is the right word for Clarke. 
The telephone interview starts in the capital city Port of Spain in the northwest and ends 25km further south, just outside Chaguanas, the largest city of the dual-island nation.
"I'm actually heading from one handball session to another session, one was an admin meeting and the next one is training," explains Clarke.
The fact she is so busy and can only talk when she is en route between two handball sessions is testament to the hard work Clarke and those involved in handball in Trinidad and Tobago have been doing in recent years.
But being busy is the life of any hands-on secretary general, a role Clarke voluntarily started in 2016 and a role she voluntarily combines with her work as an instructor at The University of Trinidad and Tobago, where she has been for the past 16 years.
"Back in 2015, I completed a three-year Masters in Sport for Development at the university, who supported me on the course while I continued working for them," explained Clarke about her first steps towards discovering handball.
"I had to do something to give back to the university and wanted to work with a sport that was not as popular in the country as other sports, and which could be geared towards student development.
"I knew handball was present in the country at the time, but not many were involved in it, so it was a perfect platform to start things up."
Clarke approached President of the Trinidad and Tobago Team Handball Association Roger Salandy to see if he would be interested in working together on a sport for development project. 
"We had a lot of students at the time in the Sports programme at the university who were not involved with a sport or playing sports at the university," explains Clarke. 
"Handball came in and it created an excellent after-school programme where a lot of women became involved, and we were even able to develop a women's university team. It provided an avenue for women to not only take part in physical activity but also to be a part of something. 
"In 2016, the programme had more than 50 students and with its success Roger asked me if I could come over to volunteer with the association, to help with sport for development."
Her handball programme is now cemented into the university as a course in the Kinesiology programme with Clarke herself teaching and coaching handball as an activity to sport and education students who go out to do teaching practice, a "huge success" according to Clarke, who has also ensured it is soon to be included in the curriculum development section with the Trinidad and Tobago Ministry of Education.
After joining the federation, Clarke's role expanded quickly. In addition to sport for development, she moved into the elite end of the sport, managing national teams and, from an administrative perspective, running the association.
"Roger is the President and oversees what we do, but as Secretary General I basically see and do almost everything when it comes to staff recruitment, club recruitment, national teams, external programmes and community programmes."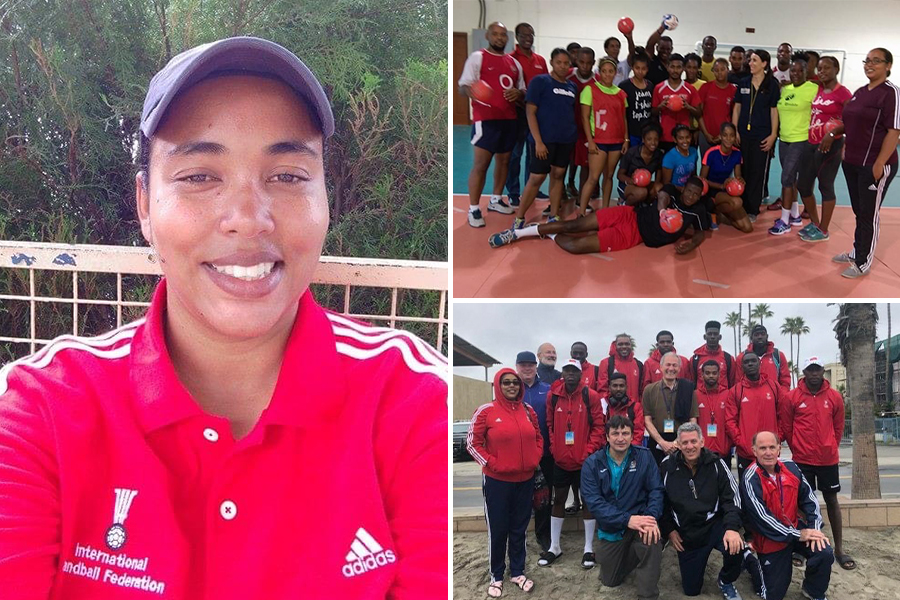 Influence of those close to her
Clarke grew up in the southwest coastal area of Cedros, which, on a clear day has views towards Venezuela, just over 11km away, but sport was not a large part of her childhood, only coming to the fore as a young adult.
"I was not active as a child growing up, I was very sheltered," explains Clarke. "My father was a police officer and was protective of us girls in the house. He used to play a lot of sport and coming home from school you would see him playing table tennis and other things, but I didn't get to go outside much, although it was never really something I was conscious of at the time.
"However, coming out of secondary school and heading to university, I started to struggle with being overweight because of my inactivity, and that is what triggered me playing sports. I was introduced to beach volleyball by a good friend who was in school with me as well. She said to come and try, you never know what could happen.
"I didn't stay very long because as a female it was difficult because we didn't have much assistance."
Breaking the bias, being proactive
It is at this point, Clarke explains the limitations she faced.
"One of the reasons why I stopped playing at an early age was back then you got into sport, you played, you got excited and when you noticed that you could go somewhere, you realise you didn't have much provision," she said.
"Ladies from the country area in Trinidad and Tobago very rarely achieved much in sports, because culturally, just like in neighbouring Venezuela and Latin America, as a woman, you're basically bred to be a homemaker – sport for women was perceived as a waste of time and people didn't really put an eye on the female athlete coming from these rural areas.
"I was actually able to fulfil that requirement of losing weight, by playing beach volleyball for a couple of years and also built my self-esteem and confidence," added Clarke. "That is when I decided. I said, 'I am going to study, to break that mental barrier in terms of how women are perceived in our society in terms of sports and sport education'. That is what fuelled me to study along those lines."
Clarke had to wait a few years, completing an undergraduate degree in Computer Science in England during her time away from the Caribbean (2005-2010) after receiving a scholarship, but eventually she could "branch off" into sport, returning back to the region and gaining a place on one of the few sport for development programmes in the Caribbean to understand how best to use sport as a vehicle for the betterment of communities and society.
Even with laws in the country that support women in high-ranking positions within organisations, Clarke says there are few women in positions like hers.
"It's a rare thing," she says. "If you suffer any sort of discrimination, people can be taken to court, but women getting into positions like me has its challenges. It can be very, very difficult because we are not taken seriously unless people see a tangible success and if they don't, they are not going to recognise us for that.
"Tangible success, in terms of politics, is having national teams going out and winning competitions, running competitions where we participate and generate revenue. They don't see success as being something where we go into our community and develop a sporting programme to help with obesity, for example. It can be very, very hard."
The future is sandy?
Amongst all her success, one of the biggest has been hosting the first-ever edition of the North American and the Caribbean Beach Handball Championship, held in 2019 with men's and women's teams from Barbados, Dominica, Haiti, Mexico, Puerto Rico, Saint Kitts and Nevis, United States of America, Trinidad and Tobago playing, along with the men's Dominican Republic team. 
And despite the COVID-19 pandemic taking up nearly all the time since, the legacy of the event, known in the region as 'NORCA', has had a profound effect. 
"After NORCA, beach handball became so much more popular," explained Clarke. "People are reaching out, wanting to know how they can join a club and we have a larger following on social media. 
"For example, we now see women who can't make the national team for netball or volleyball coming over to handball, we have established clubs, which we didn't have in the past and have well over 135 registered players. This might seem small, but with less than 20 players two years ago, it's a big deal for us."
With such a low base number to start with on both the playing and coaching side, gender equality with the men's and women's national beach handball teams happened by beautiful accident rather than by design with teams training, playing, and travelling together after they were formed.
"We only have one beach handball coach, Kenwin Goden, and he's only certified in football," laughs Clarke. "We didn't look at it from the get-go and say we have to have everybody together in one movement, we just had one guy that was able to work with everybody together and the culture developed from there, it just kind of happened – people came from the south with their own particular type of rhythm and culture and they came from the north with their own too.
"When we do come together it's more of a carnival atmosphere – not the rambunctious side of carnival – but the more fun, togetherness and oneness side. The men's team regard the women's team as their sisters."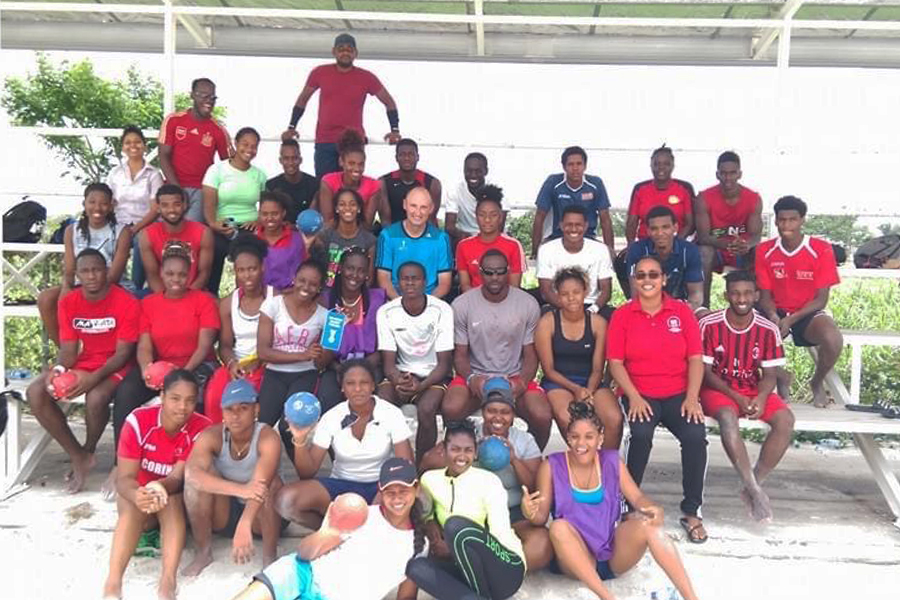 Hopes for 2022 and ahead
While the Trinidad and Tobago Olympic Committee provides access to use their training facilities for both indoor and beach handball as well as equipment, the dream for the federation is to have their own sand court and facility for training.
This is one of two goals to achieve by 2023 for Clarke, the other being to hold a national indoor championship or international beach competition. Potential sponsors are also actively being sought.
August has been mooted for a possible 'Caribbean Cup' beach handball tournament to complement the successful Mexico-hosted 'Copa Volcan' and USA-hosted 'SoCal' tournaments, with November or December identified as the ideal time for the indoor event.
"I am very determined to get one of those things off the ground, it has to get done somehow," said Clarke about the possibility of that new sand facility or large-scale competition.
And with so much already achieved so far through that determination, who would doubt Clarke achieving both in the next nine months?
Photos courtesy of Rhonda Clarke