Iran's women's youth make double history in Kazakhstan
29 Mar. 2022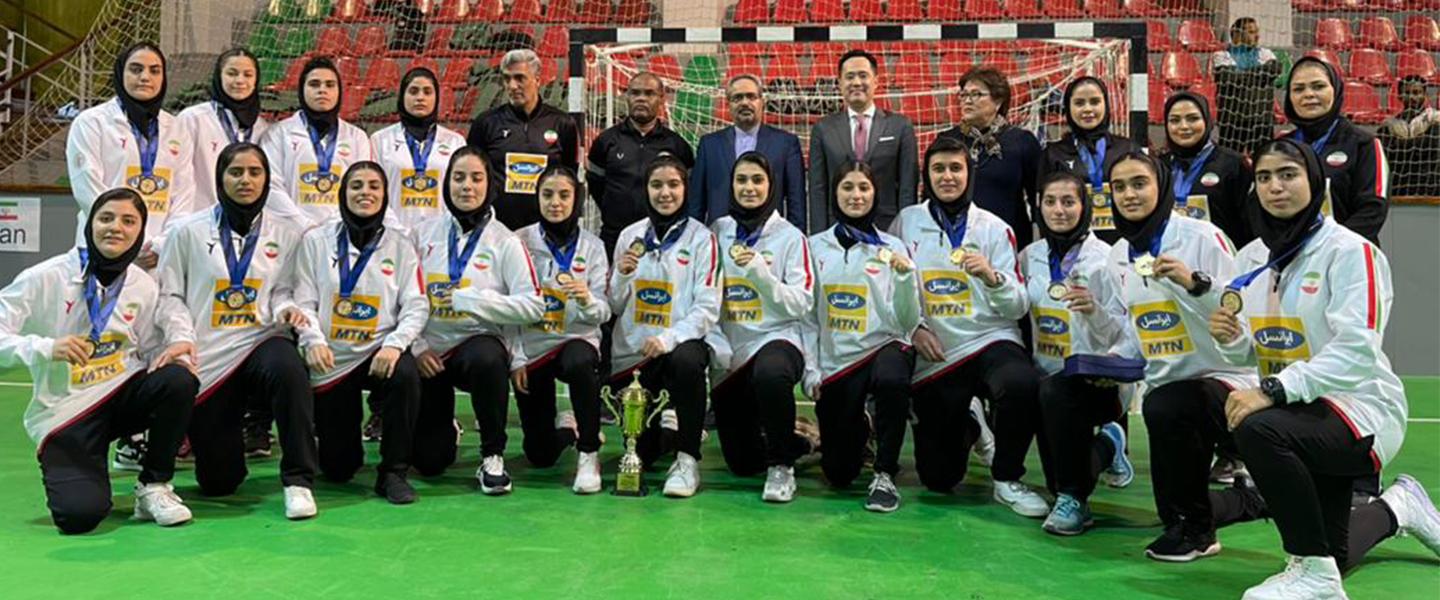 Islamic Republic of Iran have won the 2022 AHF Women's Asian Youth Championship, creating double history for the nation.
The title represents the first-ever continental gold medal for the country at any level in any gender as well as qualifying for their debut IHF Women's Youth (U18) World Championship, which will take place this August.
With four wins – against Uzbekistan (44:35), Kazakhstan (20:19), India (25:24) and Syria (36:21) at the Universal Sports Complex Dostyk in Kazakhstan – Iran finished top in the round-robin group on eight points, ahead of the hosts in second, who also qualify for the World Championship.
The tight win against the hosts was the first time Iran had beaten Kazakhstan at any level in the women's game and the squad were given a VIP welcome on their return home today.
"I congratulate these achievements and I congratulate the athletes and champions of Iran handball as well as the staff, supervisors and officials of the handball federation and the sports community of the country," said Dr Maryam Kazemipour, Deputy Minister of Women's Sports Development of the Ministry of Sports and Youth of the Iranian Government.
"I wish good health to the champions. The year is full of great success for the women's community. I have no doubt that with great effort and strength we will experience good things."
"Our goal from the beginning was to win the most colourful medal," said Iran's goalkeeper Mobina Haj Heydari. "With the efforts of the technical staff and players we were able to have four victories and take home the gold medal, and in addition, winning the World Championship place. We were able to achieve it with empathy and coordination and I hope we can get the best result in the World Championship as well."
"My players entered the court with a winning mind from the beginning of training and were able to get reward for their efforts," added Iran coach Fatemeh Mohammadkhani. "We were able to win first place in Asia for the first time without losing. [Now] we must continue the national team camps and prepare for the World Championship so that the players are ready."
A small piece of history was also made for Syria, whose youth team became the first side from the nation to appear at a younger-age continental championship
Due to ongoing restrictions related to COVID-19, Republic of Korea, Japan and the People's Republic of China, amongst other nations, did not appear in Kazakhstan. 
Korea had won all eight previous editions after the championship since it started in 2005 and the trio of nations had taken 21 of the 24 medals on offer before Kazakhstan 2022.
Final ranking
1. Islamic Republic of Iran*
2. Kazakhstan*
3. Uzbekistan
4. India
5. Syria
*Qualified for the 2022 IHF Women's Youth (U18) World Championship 
Photo: I.R. Iran Handball Federation