A new masterplan for Switzerland: Schmid's star shines with an eye on the future
24 Mar. 2023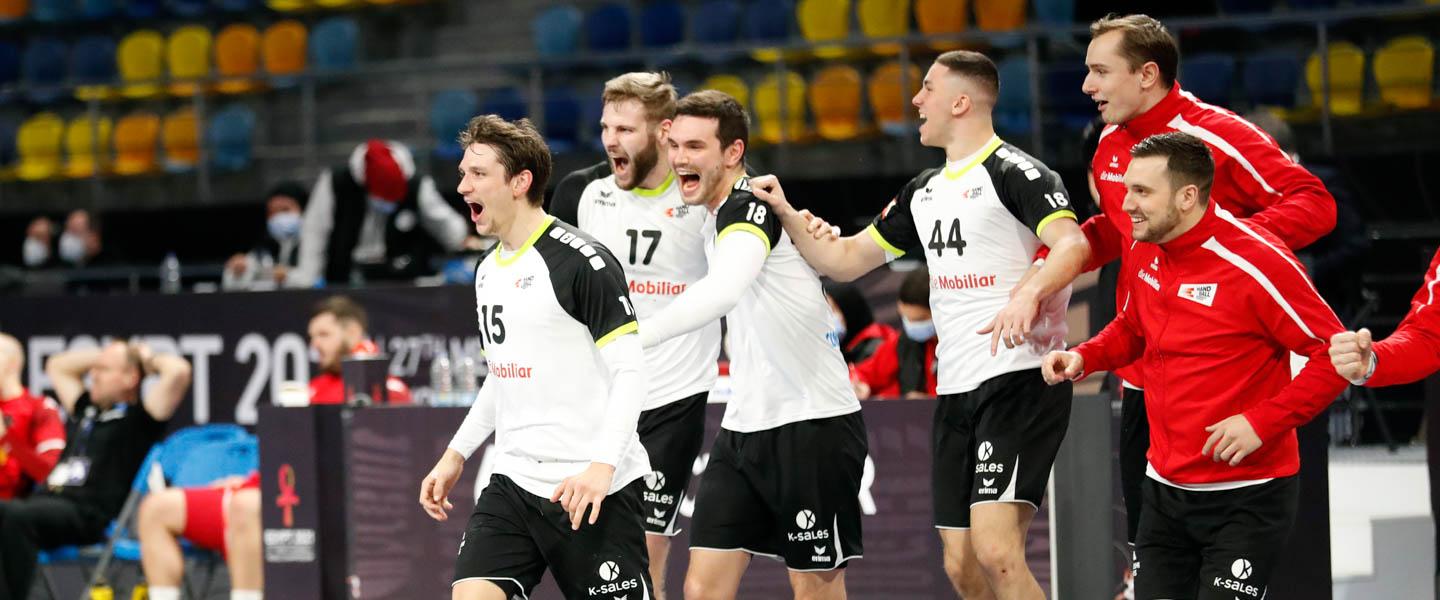 Only Marc Baumgartner has scored more goals than Andre (better known as Andy) Schmid's 1046 in the history of the Switzerland men's national team. Schmid has truly been an icon of the team, but he is now 39 years old and his playing career is closer to its end than its prime.
However, his experience is close to none in Switzerland – Schmid is a two-time champion in the German Bundesliga with Rhein-Neckar Löwen and was named the "Player of the Season" in arguably the best European league five times in a row between 2014 and 2018.
With his experience, tactical nous and star power, Schmid was seen as a perfect candidate to replace Michael Suter when the contract of the current national team coach was up, being identified as the right man for the job while also proactively helping Switzerland to develop handball even more.
"Of course, this is a big honour and an excellent start for my coaching career, because I love handball and I love Switzerland. I came back here after many years abroad, in Germany, and I am home now, ready to work. It will be a difficult job, there is a lot ahead, but I am happy to be here," says Schmid in an interview for IHF.info.
Schmid's appointment is just part of a masterplan of the Swiss Handball Federation (SHV) to improve the quality of the sport in the country, which has participated in the IHF Men's World Championship only once in the last 26 years, finishing in 16th place at Egypt 2021 after being awarded a wild card.
The ambition is to deliver a good performance at the EHF EURO 2028, which Switzerland will be co-hosting alongside Portugal and Spain, but also to develop the sport from the ground up, with a particular focus on creating a framework for players to thrive even from the youngest of ages.
"There is an interest in handball for Switzerland, and we are building everything at the necessary pace to create an even bigger improvement in the sport. Of course, there is a lot of work to be done, especially in some regions in the South and West of the country, but we are getting there," says Schmid.
Indeed, results have been good at developing players and club level in Switzerland's German-speaking part. Still, the SHV wants to tap into all the potential in the country, finding new players and helping handball get a strong foothold in the French and Italian-speaking parts of the country.
According to the SHV's "Strategy 2025", the plan is to increase the handball community to 250,000 people in the country, strengthen the top leagues in both men's and women's handball, increase the budget of handball via marketing income and promote handball throughout the country.
"In order to achieve this goal, we put people who are interested in handball at the centre of our work. It is about participation in handball on and off the court. Our commitment applies to grassroots projects (including the development of the women's handball academy) as well as to the basis and breadth of our sport," is the SHV's take on their website.
But Schmid, who was the leader of the national team over the last 15 years and took part in two editions of the EHF EURO, in 2006 and 2020, and at one edition of the IHF Men's World Championship, was seen as the perfect fit for this strategy of the SHV.
With plenty of experience and connections, Schmid was named the men's national team coach from the summer of 2024 onwards, but his role will be broader than only following players in their clubs and coaching them at the Switzerland national team.
"It is a must to have a strategy from the top going down to the junior and youth levels. The players coming into the system need to learn and apply what they are encouraged to do. I am a big fan of the Scandinavian system, which is modern, fast and entertaining," says Schmid.
"I will use my contacts there to try and set up some meetings, to learn more and to take this knowledge and apply it to Switzerland. Of course, we will not be world champions, that is for sure, but I think this beautiful sport can be developed over the years in Switzerland."
Over the last few years, handball in Switzerland has been getting more and more popular, with the men's team featuring in major competitions, while the women's team has also secured a berth for the EHF EURO 2022, their first in history.
Steps have been taken to make handball more attractive and more inclusive, with Schmid also being an ambassador for the "Together League", a competition with five teams in a joint partnership with Special Olympics Switzerland.
In the "Together League", people with disabilities can participate in competitions, with four teams from Switzerland – ATV/KV Basel, HC Winterthur, TV Unterstrass and SV Fides St. Gallen - and one team from Germany – Hochrhein – joining the tournament.
The idea was born three years ago when Special Olympics Switzerland joined forces with a Swiss handball club – TV Unterstrass – offering handball classes and training for people with disabilities through the Unified programme. The sisters Elena and Maya Röthlisberger took up the programme and started teaching handball with TV Unterstrass and ATV/KV Basel as two other teams joined the programme.
"This is also one of the pillars of the vision of the SHV, because we want to make handball accessible and inclusive for everyone. It is very important to do so because this sport has to give back and offer something to the community because it has the power to do so," says the current centre back.
Schmid has also worked intensively to take up his coaching badges and will transition into coaching in 2024, after the EHF EURO in January, where Switzerland hope to qualify, being primed to seal a place in the final tournament in Germany, which will be the centre back's last. It would be an apt ending to a star-studded career for Schmid, who played 12 years in Germany, between 2010 and 2022, for Rhein-Neckar Löwen.
"I would lie to say I am not a bit emotional, I will be frank, and I will say that it is a big challenge. But I am up for it, and I want to make Swiss handball good, to help improve it with my know-how and my knowledge," concludes Schmid.