Spain secure home win in the Torneo Internacional de España
31 Oct. 2022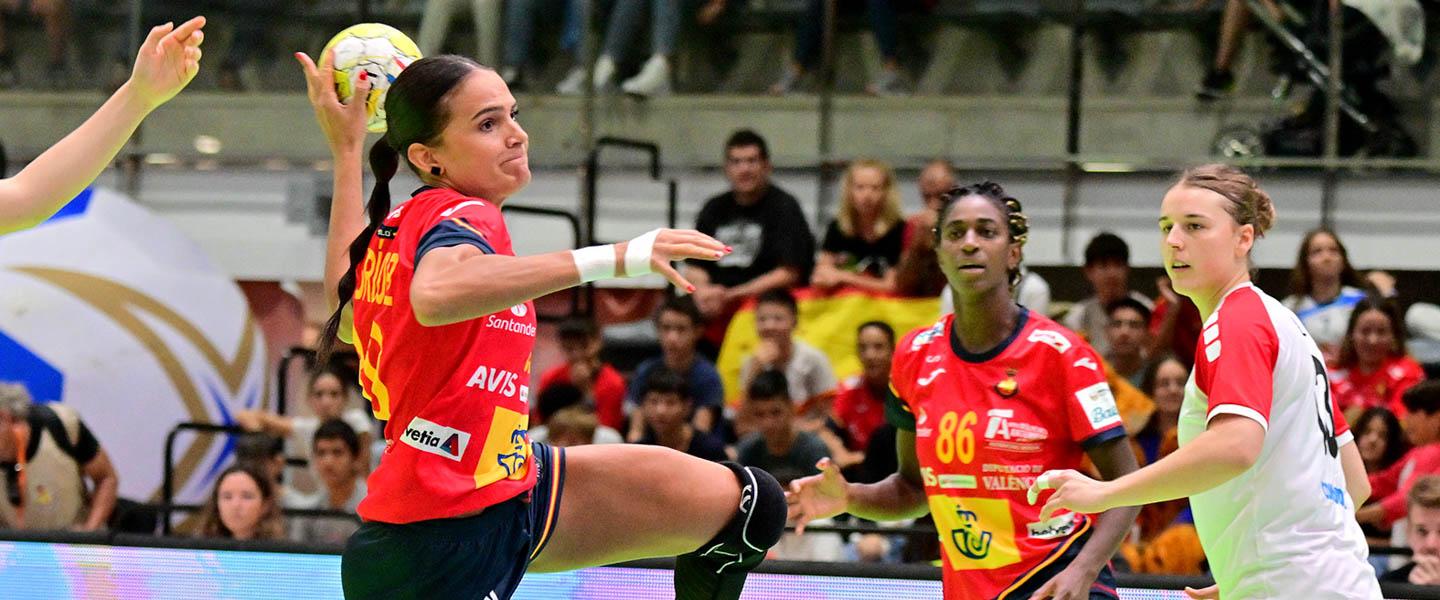 Two European and two African sides preparing for their respective continental championships, faced off in the 25th Torneo Internacional de España, which took place in the Palacio de los Deportes de Torrevieja, 2021 IHF Women's World Championship venue, from 28 to 30 October 2022.
Spain and Switzerland went unbeaten during the first two days, both winning against Egypt and Tunisia, with the two European sides facing off on the last day, with a clear win sealed by 'Las Guerreras', who also secured the title.
The hosts, who finished in fourth place one year ago at the 2021 IHF Women's World Championship on home ground, are still one of the top sides in Europe, despite missing some key players. One of them is right wing and former captain Carmen Martin, who will also be missing the EHF EURO 2022.
However, they still have a stalwart in Alexandrina Barbosa, the experienced left back who was the top scorer of the 25th Torneo Internacional de España with 20 goals, followed by back Paula Arcos, a huge talent, who scored 14 goals, and left wing Jennifer Gutierrez with 12 goals.
Spain secured three clear wins, starting with a 39:29 victory against Tunisia, following up with a 34:23 win against Egypt and another clear 37:26 win against Switzerland, averaging 36.6 scored goals per game in an excellent display of attacking prowess.
Las Guerreras, who will be in Group D at the EHF EURO 2022, alongside Germany, Poland and co-hosts Montenegro, proved their strength, displaying some excellent handball at times, showing that Jose Ignacio Prades' side is ready for the European top handball tournament.
Switzerland, who will make their debut at the EHF EURO 2022 and will definitely eye for their first-ever berth at the IHF Women's World Championship come 2023, finished on the second place, with a 37:28 win over Egypt and a 41:31 win over Tunisia.
In the next-to-last game of the tournament, the two African sides collided, with Tunisia taking a narrow 27:24 win in an excellent display of talent and mentality from Egypt.
Egypt played their first international matches after a lengthy break, boasting several young talents from the team that finished seventh at the 2022 IHF Women's Youth World Championship, like Mariam Omar Ibrahim and Kenzy Hatem Mohamed.
In other friendly matches played throughout Europe, Hungary beat Romania33:28, Sweden took a 36:20 win against the Czech Republic and drew the second game against the Czech side 26:26. In contrast, France took two clear wins, 33:26 and 30:19, against Poland.
Photo: RFEBM / J. L. Recio