Powerhouses finetune their game one month before the start of EHF EURO 2022
04 Oct. 2022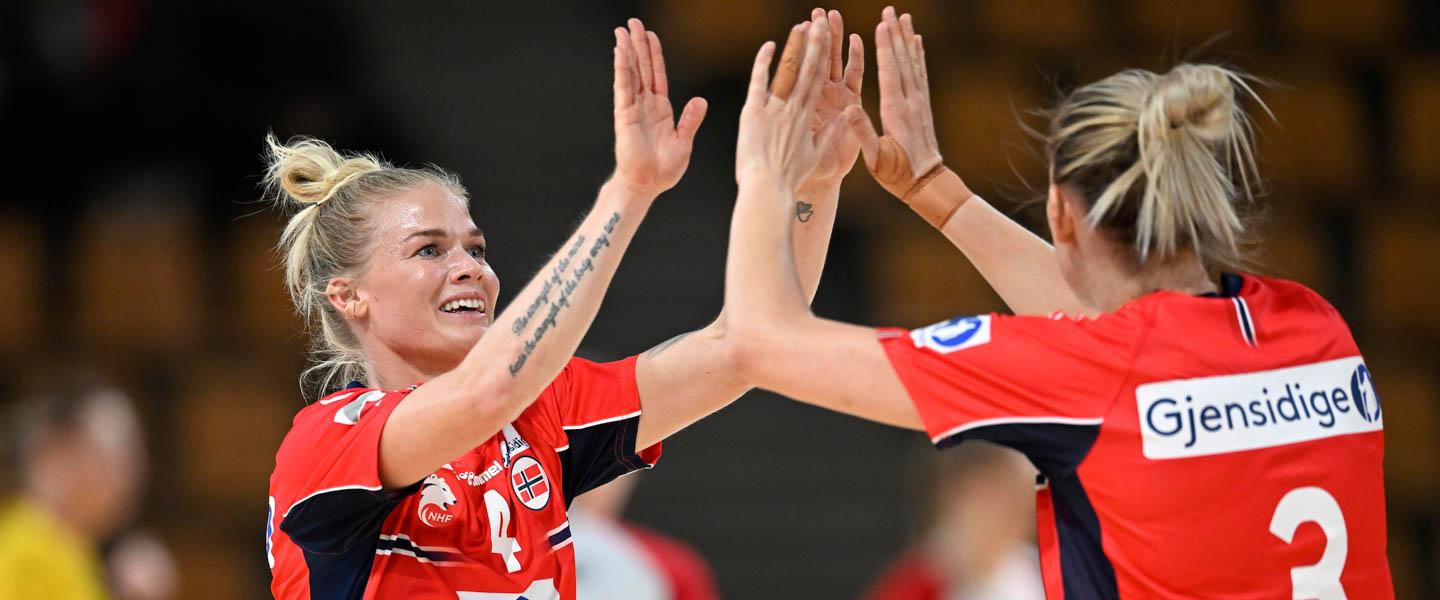 Club handball in Europe made way for the national teams last week, as the Women's EHF EURO 2022 in Montenegro, North Macedonia and Slovenia is just around the corner. 
Some of the best players in women's handball have joined their national teams to finetune their preparations before the European premium handball event, with several friendly tournaments taking place throughout the continent over the last weekend.
The highest-profile one was the Golden League, which took place over three days in three different venues in Denmark, with the reigning world champions Norway featuring alongside Denmark, Netherlands and Switzerland, whose participation in the EHF EURO 2022 marks their debut at a major international event.
Norway clinched the trophy with three wins – 39:22 against Switzerland, 27:19 against Netherlands and 29:27 against Denmark, despite missing crucial players from their squad.
Camilla Herrem, three-time world champion, five-time European champion and the All-star left wing of the 2009 and 2019 IHF Women's World Championships, was absent as she is not yet back in full training after an injury. Stine Bredal Oftedal was out due to injury as well, while right back Nora Mork only played in the game against Switzerland, being rested in the other two matches. Left wing Sanna Solberg-Isaksen and the MVP of the 2021 IHF Women's World Championship, Kari Brattset Dale, missed the tournament due to pregnancy. 
The reigning world champions proved once again to be a tough nut to crack, as Henny Reistad scored 18 goals, line player Vilde Ingstad added 14 goals, while Veronica Kristiansen put 11 goals past their opponents.
Netherlands finished second due to their clear 30:22 win against Denmark, while Switzerland ranked last, with losses against the Netherlands side and the hosts by the same scoreline, 25:38.
Romania secure Carpati Trophy
Another friendly tournament, with three sides which earned their berths at the EHF EURO 2022 took place in Bistrița, Romania, in a brand-new 3,000-seater arena.
Hosts Romania shook off a rusty start, 32:32 against Austria, to take two consecutive wins against Serbia, 26:20, and Spain, 25:23, clinching first place in the debut of their new coach, Florentin Pera, who replaced former coach Adi Vasile in September.
Left back Sorina Grozav was the top goal scorer and the MVP of the tournament. Her 19 goals were crucial in setting up Romania for the wins against Serbia and Spain, announcing herself as one of Romania's rising stars.
Serbia finished second with a 30:28 win against Spain, as the fourth-placed side at the 2021 Women's World Championship missed goalkeeper Silvia Navarro and captain Carmen Martin, with the latter not taking part in the EHF EURO 2022.
Friendly matches around Europe
Elsewhere, the preparations were in full swing, with only Croatia and Montenegro choosing to follow a training plan in Porec and Podgorica, respectively, without any friendly match.
The runners-up at the 2021 IHF Women's World Championship, France, secured two wins against Germany. Markus Gaugisch started getting to know his team better after being appointed at the helm of Germany earlier this year.
Plenty of goals were scored as France took a 34:30 win and another 30:29 win, with right wing Alicia Toublanc scoring 11 times.
Co-hosts Slovenia went undefeated in two games against Hungary, 22:22 and 21:19, while North Macedonia were thoroughly dominated by Norway's B team in Skopje, 37:27.
The EHF EURO 2022 will take place in Montenegro, North Macedonia and Slovenia in four venues – Podgorica, Skopje, Celje and Ljubljana – between 4 and 20 November, with the final weekend being hosted by Slovenia's capital.
Photo: Lars Moeller