Rwanda and Kenya take youth and junior honours in Uganda
23 May. 2018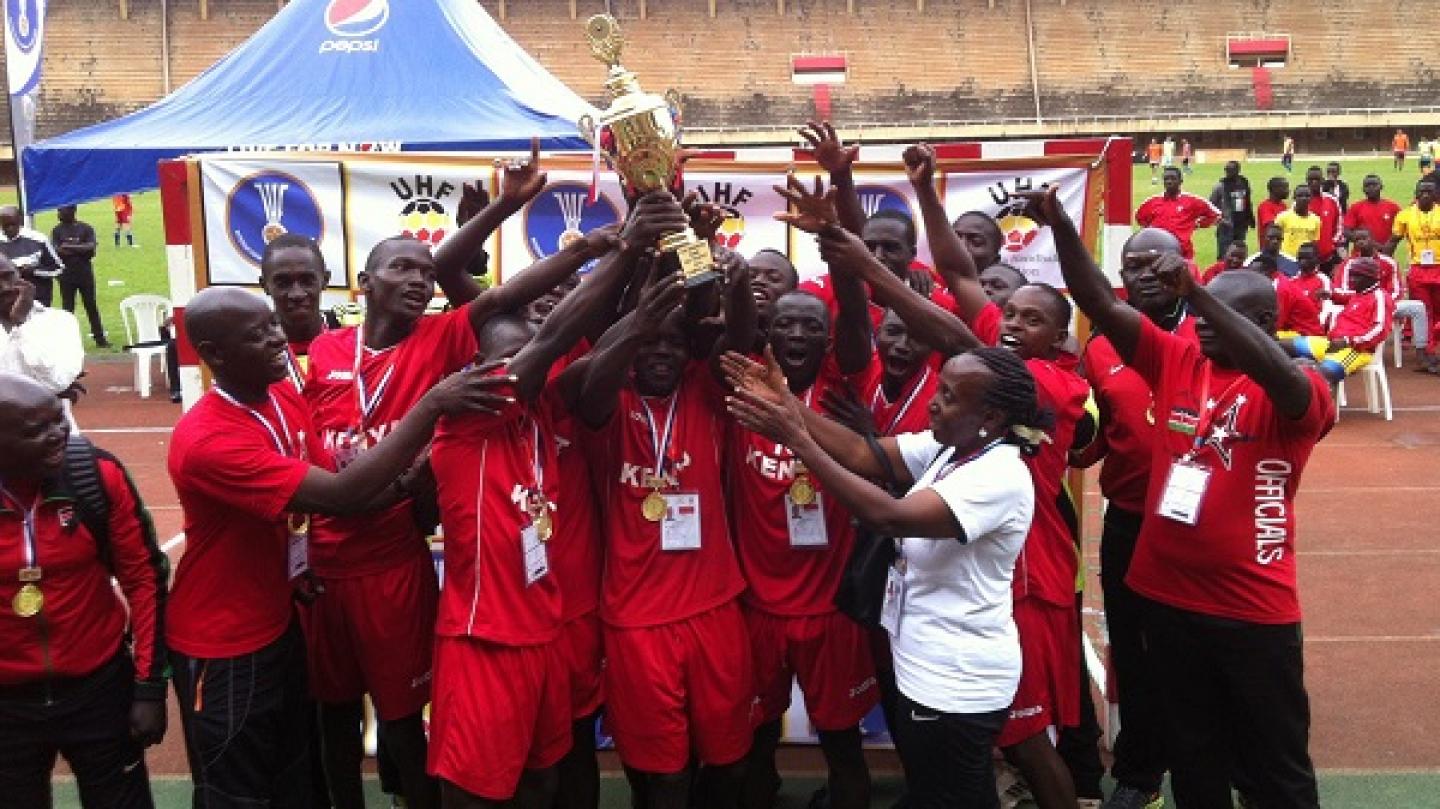 The IHF Trophy Africa - Zone V tournament concluded on Sunday (20 May) in Kampala, Uganda as teams from across the east of the continent battled it out for regional honours on the outside courts.
In the youth tournament, Kenya managed to get the ultimate revenge against Ethiopia, beating them 22:17 in the final after they had lost to them 33:21 in the group stages. The bronze-medal match provided happiness for the home fans as a commanding performance for Uganda saw them beat Somalia by 19 goals.
The host nation also grabbed a medal in the junior competition, although it was with disappointment as they lost 32:27 to Rwanda in the final, the Rwandans had won all four of the preliminary group games – including a tight 30:29 (14:14) victory over Uganda. 
"We are happy that as a team we have managed to win this regional trophy," said 48-goal Rwandan top scorer Honore Byiringiro to local media after the victory.
The victory means that Rwanda now qualify for the Continental Phase of the IHF Trophy later this year and also another defeat of Uganda in the competition after they beat them in 2016 in the IHF Trophy Africa Zone 5B.
"We have noted that the standards in the region have improved and our teams have what it takes to compete with other regions," said Sheila Richardson, President of the Uganda Handball Federation to local media after the event.
FINAL RANKING
Youth Competition
1 – Kenya (KEN)
2 – Ethiopia (ETH)
3 – Uganda (UGA)
4 – Somalia (SOM)
5 – Burundi (BDI)
6 – Sudan (SUD)
7 – Tanzania (TAN)
Junior Competition
1 – Rwanda
2 – Uganda
3 – Ethiopia
4 – Kenya
5 – Somalia
6 – Tanzania
7 – Sudan
8 – Burundi (disqualified)
RESULTS
Youth Competition
Preliminary Group A: Uganda, Sudan, Somalia
UGA vs SOM 31:12 (12:6)
UGA vs SUD 48:11 (20:8)
SUD vs SOM 0:10 Match forfeited
Preliminary Group B: Ethiopia, Kenya, Tanzania, Burundi
BDI vs KEN 0:10 Match forfeited
BDI vs ETH 20:27 (8:15)
TAN vs BUR 17:30 (6:15)
ETH vs BDI 27:20
KEN vs ETH 21:33 (11:17)
ETH vs TAN 42:15 (19:6)
KEN vs ETH 21:33 (15:17)
ETH vs TAN 42:15
KEN vs TAN 36:12 (17:4)
Semi-Final 1: UGA vs KEN 16:22 (9:13)
Semi-Final 2: ETH vs SOM 34:20 (16:11)
Placement Match 5/6:    SUD vs BDI 15:38 (9:15)
Bronze (3/4 Placement Match): SOM vs UGA 17:36 (9:19)
Final: KEN vs ETH 22:17 (10:9)
Junior Competition
Preliminary Group A: Sudan, Tanzania, Ethiopia, Kenya
KEN vs TAN 26:15 (12:4)
ETH vs TAN 34:23 (18:9)
ETH vs KEN 21:20 (9:12)
Preliminary Group B: Burundi, Uganda, Somalia, Rwanda,
BDI vs UGA 29:37 (15:18)
RWA vs BDI 37:22 (17:13)
SOM vs BDI 10:0 Burundi forfeited
SOM vs UGA 16:37 (5:16)
UGA vs RWA 29:30 (14:14)
RWA vs SUD 55:8 (28:3)
SUD vs SOM 20:24 (7:15)
SUD vs BDI 0:10 Burundi forfeited
RWA vs SOM 46:24 (20:10)
UGA vs SUD 60:23 (37:11)
Semi-Final 1: ETH vs UGA 21:35 (8:16)
Semi-Final 2: RWA vs KEN 31:20 (15:10)
Placement Match 5/6: TAN vs SOM 22:24 (9:12)
Bronze (3/4 Placement): ETH vs KEN 29:23 (15:11)
Final: UGA vs RWA 27:32 (11:20)
Photos: Uganda Handball Federation