Ugandan double in Zanzibar
18 Mar. 2019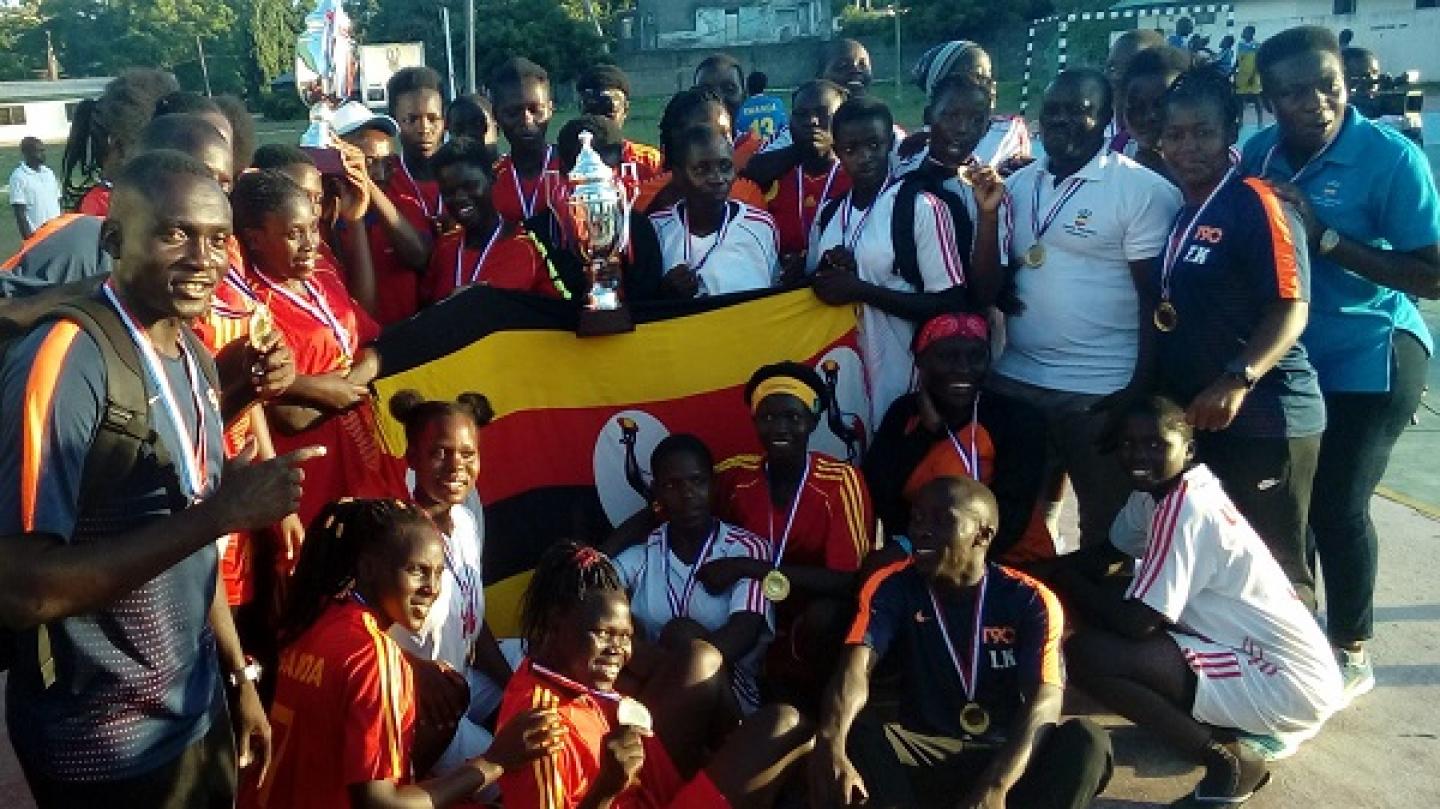 Uganda's junior and youth women's teams made it a double success in Zanzibar, winning the 2019 IHF Women's Trophy Africa - Zone V tournaments, with victories in their respective finals yesterday.
Hosts Tanzania (TAN), Burundi (BDI), Djibouti (DJI), Ethiopia (ETH), Kenya (KEN), Rwanda (RWA), and Sudan (SUD) had all been competing with Uganda (UGA) in the junior and youth competitions since Tuesday (12 March) for a place in the continental finals to be held later this year.
Yesterday, Uganda's youth side overcame Ethiopia easily in the final, 30:17, having led by 11 at the break (15:4). Rwanda finished in third, having lost to the Ugandans in their semi-final on Saturday, 37:15.
Following the youth title, the Ugandan junior women then made it a double, beating Kenya in a well-fought match, separated by just one goal (14:13) at the break in favour of the eventual winners who eventually managed to open up a second-half lead to take the honours 30:24.
Rwanda also finished third in the older age group after losing to the champions in the final four, 31:10, but were able to reset and come back to beat Burundi 26:9 in a dominant bronze-medal performance in Migombani.
For more information about the new format of the IHF Trophy click HERE.
2019 IHF Women's Trophy Africa - Zone V tournament
Final Ranking
Youth Competition
1 Uganda (UGA)
2 Ethiopia (ETH)
3 Rwanda (RWA)
4 Kenya (KEN)
5 Tanzania (TAN)
6 Burundi (BDI)
7 Djibouti (DJI)
8 Sudan (SUD)
Junior Competition
1 Uganda (UGA)
2 Kenya (KEN)
3 Rwanda (RWA)
4 Burundi (BDI)
5 Ethiopia (ETH)
6 Djibouti (DJI)
7 Tanzania (TAN)
8 Sudan (SUD)
Results
Friday 15 March
Youth Competition
Placement Round 5-8: TAN vs DJI 27:3 (10:2)
Placement Round 5-8: BDI vs SUD 30:2 (16:0)
Junior Competition
Placement Round 5-8: ETH vs SUD 12:0
Placement Round 5-8: DJI vs TAN 21:17
Saturday 16 March
Youth Competition
7-8 Placement Match: DJI vs SUD 13:7 (10:3)
5-6 Placement Match: TAN vs BDI 24:14 (11:6)
Semi-Final 1: UGA vs RWA 37:15 (15:5)
Semi-Final 2: ETH vs KEN 10:0
Junior Competition
7-8 Placement Match: SUD vs TAN 4:41 (3:20)
5-6 Placement Match: ETH vs DJI 19:13 (10:6)
Semi-Final 1: KEN vs BDI 23:13 (7:8)
Semi-Final 2: UGA vs RWA 31:10 (14:6)
Sunday 17 March
Youth Competition
Gold Medal Match UGA vs ETH 30:17 (15:4)
Junior Competition
Bronze Medal Match RWA vs BDI 26:9 (13:4)
Gold Medal Match KEN vs UGA 24:30 (13:14)
PREVIOUS RESULTS
Tuesday 12 March
Youth Competition
DJI vs ETH 3:52 (1:25)
BDI vs RWA 12:17 (7:5)
TAN vs SUD 48:3 (30:0)
Wednesday 13 March
Youth Competition
KEN vs UGA 29:9 (14:3)
RWA vs DJI 56:13 (29:6)
UGA vs TAN 41:11 (25:5)
ETH vs BDI 14:13 (10:5)
Junior Competition
KEN vs ETH 26:12 (14:4)
TAN vs RWA 14:28 (4:14)
DJI vs UGA 9:39 (4:21)
BDI vs SUD 29:1 (14:1)
ETH vs TAN 23:14 (13:7)
Thursday 14 March
Youth Competition
SUD vs KEN 2:56 (2:30)
RWA vs ETH 14:20 (8:9)
KEN vs TAN 23:8 (12:3)
SUD vs UGA 3:51 (1:24)
DJI vs BDI 3:18 (0:10)
Junior Competition
RWA vs KEN 15:28 (8:15)
KEN vs TAN 40:19 (19:11)
RWA vs ETH 21:17 (12:8)
SUD vs DJI 6:34 (3:17)
UGA vs BDI 28:10 (19:4)
DJI vs BDI 7:10 (5:3)
SUD vs UGA 1:49 (0:21)